Yeah, it's as bad as it sounds.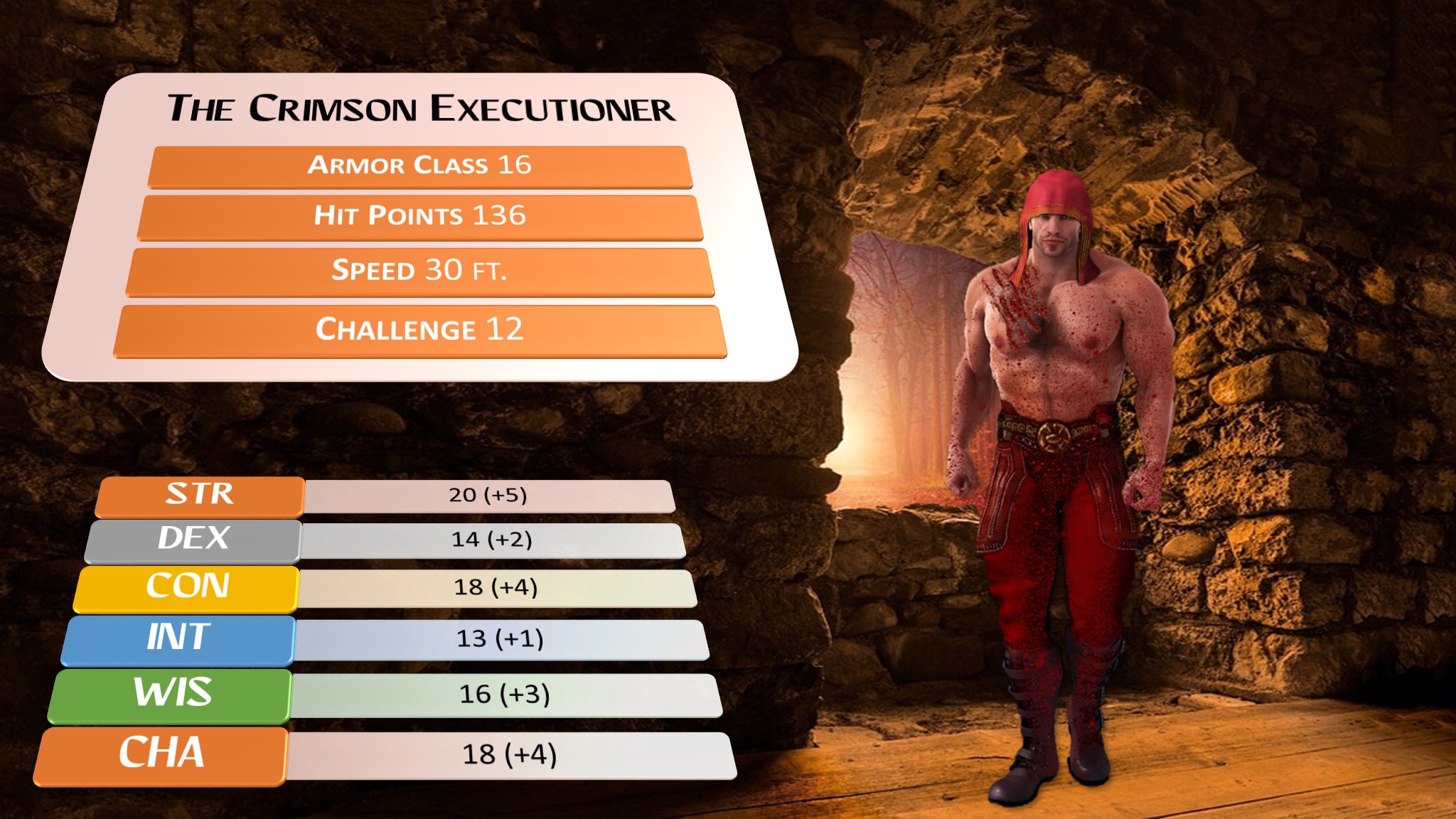 I've mentioned before how I look to
a wide range of media for RPG inspiration
. Thanks to the Internet, the possible sources can be overwhelming, so I chose to focus on just 50 -- 50 public domain thriller and horror movies to be precise. With over a century of movies in the public domain, there's plenty to choose from, but Bloody Pit of Horror is just one of the (utterly bonkers) classics.
Into the Pit​
Bloody Pit of Horror
(original title: "Il boia scarlatto") is an Italian horror film released in 1965. The film was directed by Massimo Pupillo and starred Mickey Hargitay (father of Mariska Hargitay of Law & Order)), Walter Brandi, and Luisa Baratto, among others. The movie revolves around a group of people, including a writer, his publisher, his secretary, a photographer, and several models, who venture into an old castle to shoot cover photos for horror novels. However, they soon discover that the castle is not abandoned as they had believed, and its owner, Travis Anderson, does not welcome their intrusion. The film is known for its over-the-top performances, campy atmosphere, and eccentric portrayal of the Crimson Executioner. It falls into the Italian horror sub-genre of "giallo," characterized by its use of mystery, suspense, and often graphic violence. With its setting in a castle presided over by the undead spirit of the Crimson Executioner, the Bloody Pit of Horror is fertile ground for a
Dungeons & Dragons
adventure.
The Adventure Begins​
The movie relies on the modern premise of models in a supposedly abandoned castle for a horror-themed photoshoot. PCs likely need no reason to explore an abandoned castle. But there are several inhabitants, including a former bard named Travis and his minions. Whether or not they encounter him is up to the DM; he might work behind the scenes, or gleefully reveal himself as a somewhat unwilling host. Travis is particularly disturbed by attractive people, and might become obsessed with characters who have high Charisma.
The Bloody Pit​
It doesn't take long before Travis takes action, impersonating (or possessed?) by the Crimson Executioner. He uses a variety of torture devices to ambush and trap the intruders. His attacks are ridiculously varied, from a whirligig with poisoned barbs called the "Lover-of-Death" to a mechanical net and spider that triggers a barrage of crossbow bolts. The Crimson Executioner is accompanied by several minions who can keep the PCs busy while the main villain tries to separate and ambush the party, inevitably facing them down in his lair, the Bloody Pit of Horror.
Themes​
As a giallo, the
Bloody Pit of Horror
provides a variety of traps to keep the PCs on their toes. The question of who the Crimson Executioner really is can be a mystery unto itself -- is he a possessing spirit, is Travis just a madman, or has the Crimson Executioner returned as a revenant? And of course there's the Bloody Pit itself, which can contain a host of traps inspired by the film or the DM's imagination.
You can watch Bloody Pit of Horror, which is in the public domain,
on YouTube
. We
discuss this movie
along with a host of other older films in our new podcast,
50 Date Night Screams
. Each week, we supply D&D statistics for the main villain, all of which are collected in
5E Foes: Gothic Villains
.
Last edited: