Hi everyone! The Kickstarter campaign for
Secrets of the Drow Trilogy
launches
September 14
(Tuesday next week)!
Join the
pre-launch list
at
https://www.kickstarter.com/projects/midnight-tower/secrets-of-the-drow-trilogy
You can also
read more
about the campaign at
The Secrets of the Drow Trilogy – Midnight Tower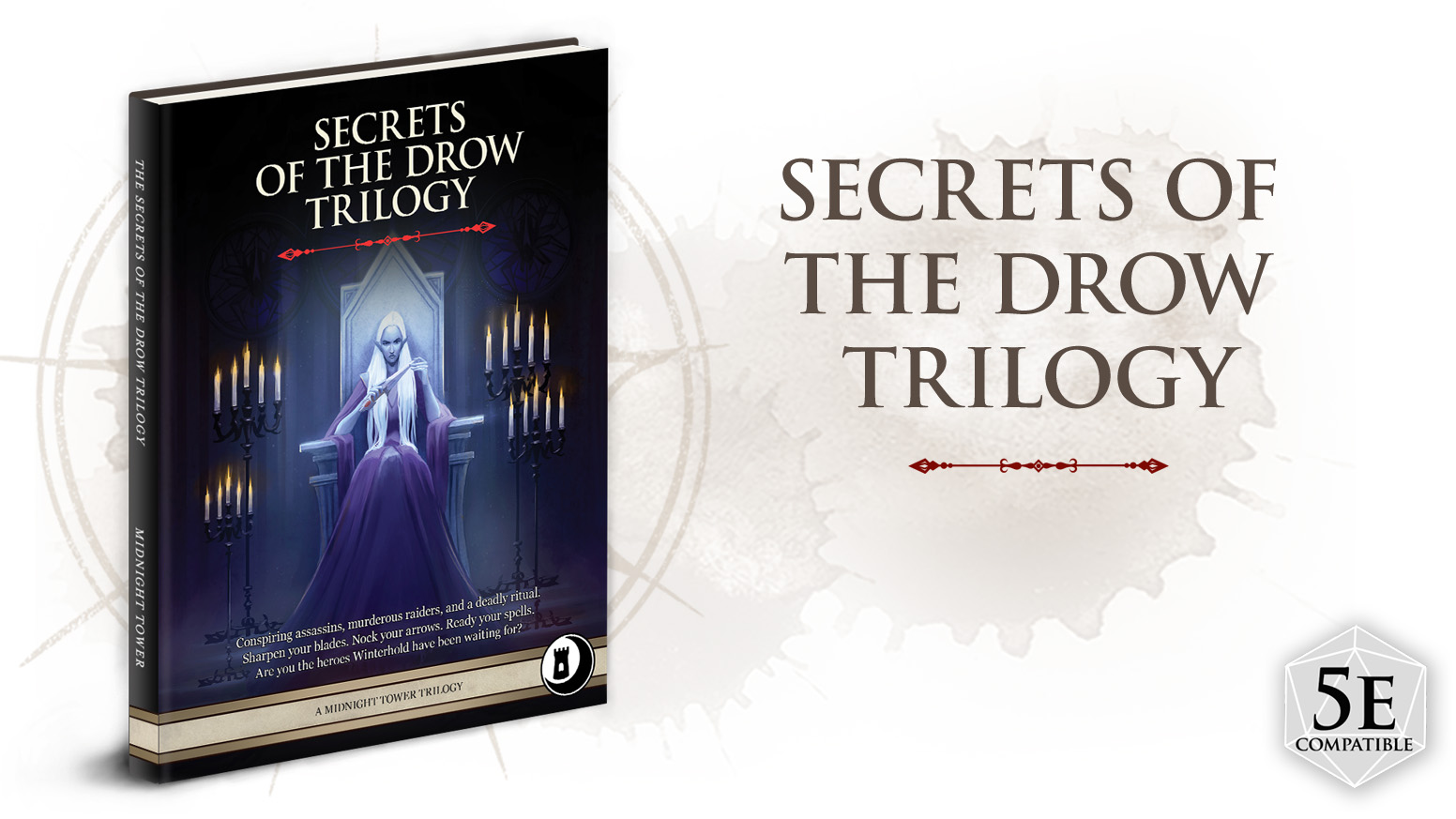 Secrets of the Drow Trilogy
is a book with three dangerous adventures for 5e. The adventures are designed for characters of level 4 to 6, but include scalable encounters to suit any level from 1 to 20.
The book will be approximately 160 pages if all stretch goals are unlocked, and available in hardcover, softcover, and digital format.
CAN YOU PROTECT WINTERHOLD AND STOP THE RITUAL?

The isolated mountain town of Winterhold is under threat.
Dark elves are raiding nearby villages, burning farms, and kidnapping innocents.

But why have the attacks increased so dramatically?
And how come the devious drow are always one step ahead of the game?

Deep in the caverns below Winterhold, the leader of the dark elves, Shade Drez'lyn, weaves a web of nefarious plans and plots. Her mysterious goal is soon within reach.
And unless she is stopped, it will be the end of Winterhold.

~ Sharpen your blades. Nock your arrows. Ready your spells. ~
Are you the heroes Winterhold have been waiting for?
Join in at
https://www.kickstarter.com/projects/midnight-tower/secrets-of-the-drow-trilogy
, and learn more at
The Secrets of the Drow Trilogy – Midnight Tower