Prof. Emeritus-Supernatural Events/Countermeasure
there is something strange going on that I am unsure what it is
In this screen shot . . . . .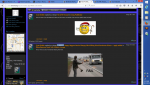 you will notice the christmas smiley. I did not put that there on that post and if you go there
http://www.enworld.org/forum/showth...hread/page17&p=6894820&viewfull=1#post6894820
you will notice it is not seen there.
the second post is likewise
http://www.enworld.org/forum/showth...thin/page174&p=6894779&viewfull=1#post6894779
except I did put a snoopy on a rainy day pic instead. I recall seeing the hitchhiker with the ax some time in the past but do not remember who or when it was posted.
I do not know if this is some sort of malicious act or just a bit of scrambling, like when I woke from my coma.
if this is not malicious, just take your time with looking into it, there are far more important issues at hand.