Irongard
by Ed Greenwood

​
You have found your way to the city of Arabel in the kingdom of Cormyr. The fabled crossroads draws all manner of merchants, traders, and smiths. Having a need of supplies before setting off upon your next venture.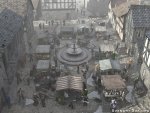 ​
The sun warms the golden scales across Rilla's arms as she sits on the edge of the central bazaar's fountain, enjoying a bit of respite from the mornings haggling. Rafika sits to her right looking to also be enjoying the sun's rays, while Zenrik and Theros are buying the rest of the supplies for the planned long journey south.
Looking about at all the strange comings and goings her eyes catch a few interesting sight. The first of which is two dark elves walking together hoods up high, but their manner and dress (along with their ebony hands) give away their race. They will soon pass by where the dragonborn sorcerer sits, maybe she will get a better look at them.
The second sight that instantly puts a smile on her face is that of a leather clad gnome to her left, trying to take a drink from the fountain. Oddly he isn't cupping his hands to bring the water to him, but instead he is leaning forward trying to lap at the water like a hound.
And suddenly blocking her view is a strange old human with a scraggly beard, and grey robes, that plops down almost beside her. He throws an old ragged pack to the ground beside him and sits brooding, mumbling to himself as if having a conversation.
Standing to leave Rilla stops as music fills the air, and a dwarf strumming a lute comes around from behind the fountain playing something somber. He looks to be playing for whatever tips people wish to toss his way, and as he nears the gnome still drinking a board grin breaks across his face.
Rilla pauses again to allow the two drow to pass her by, before she heads off to find her other retainers. And then suddenly the old man disappears with a loud *thump* the tall tell signs of magic sparkle as a
*splash*
shakes the sorceress out of her awe.
Alberich strummed away as he walked not paying attention on his music (that came naturally), he just didn't wish to waste the chance to earn a couple more coins. Then the old wizard vanished in an instant using some great magical spell, but why did he leave his belongs behind. And then he notices his feet were wet.
Zuleyka and Ssz'irac were heading as fast as they could across the sun drenched marketplace for the Black Barrel tavern across the way. They skirted the central fountain as best they could not wanting to step on anyone's toes they watched where they were going. They were nearly completely surprised when an old human casts a spell and quickly vanished. Ssz'irac nudges the other elf and nods towards the old pack.
Just then the gnome pops up out of the water of the fountain, spitting a stream of water in an arch, he rubs water out of his ear before asking...
"What just happened?"
[sblock=Party]
Greenmtn:
Bilkar
gnome druid
JustinCase:
Ssz'irac
elf(drow) rogue
Charwoman Gene:
Rilla
dragonborn(gold) sorceress
KahlessNestor:
Zuleyka
elf(drow) wizard
tglassy:
Alberich
dwarf bard[/sblock]
[sblock=Experience]
- Merrim 100xp each
- 3 stirges 15xp each
- 5 axe beaks 50xp each
- RP 75xp each
- 2 flying daggers 15xp each
- tricks & traps 75xp each
=
330xp
to each PC
Note: @
Charwoman Gene
Rilla earned 100xp[/sblock]
[sblock=Rewards]
Gold:
200gp each character from loose change/gems, and selling ornate staff and other nonmagical items
Downtime:
5 days
Magic:
- scroll longstrider -
Zuleyka
- scroll cure wounds -
Bilkar
- scroll magic stone -
Bilkar
- scroll thunderclap -
Zuleyka
- potions of cure wounds x3
Ssz'irac, Rilla, Alberich
2d4+2 plus faerie fire 1d4+1 rounds
- potion of climbing - potion with red stripe -
Ssz'irac
- ruby of the war mage -
Alberich
- boots of enduring: these magical boots resist wear and tear -
Ssz'irac
- dread helm -
Bilkar
- dagger (once animated) -
Alberich
[/sblock]
[sblock=Trinkets]
Ssz'irac = 11 & 52
- 1 oz. block of unknown material
- ornate oil lamp
Alberich = 35
- white sequined glove sized for a human[/sblock]
LINKS:
One Shot RG
One Shot-Discussion
Irongrad OOC
Last edited: