Rodney Thompson. You may remember him from such games as
Star Wars Saga Edition
,
Lords of Waterdeep
,
Dungeons & Dragon
5th Edition, and
Dusk City Outlaws
(to name just a few). He's back with a new superhero RPG,
Spectaculars
, and he's been kind enough to send me along an exclusive preview of the game!
Dusk City Outlaws
on Kickstarter, and was super-pleased when it arrived. A gorgeous boxed set, it was a game themed around players planning and then executing a heist.
Spectaculars
is more of the same high production values - a boxed set containing a superhero game (the same game system, 1000AC, used by
Dusk City Outlaws
) with which the players create and shape their own comic-book setting during play. To that end, you get pages like the previews below, which are used to create elements of the universe.
Here's how the rulebook itself introduces the game:
Spectaculars is a roleplaying game for three to five players where you and your friends take on the roles of superpowered heroes and struggle against the forces of evil. More than that, Spectaculars is an entire comic book universe packed into a single box, and it's one that you create from scratch as you play the game. You define the setting's most important aspects, you create teams of heroes to populate that world, and you tell incredible comic book stories set against a backdrop that you have crafted. Each Spectaculars box set is the equivalent of a unique comic book imprint, one that grows and evolves as you play through the stories it contains.
Character creation is similar to that of
Dusk City Outlaws
in that you combine a number of cards. It's pretty fast and simple. You create a character by choosing an archetype, then drawing some cards from a deck of
power cards
(flight, energy blast, super strength, and so on), and another deck of
identity cards
(your civilian life), and adding a
team role card
(artillery, leader, tank, striker, support).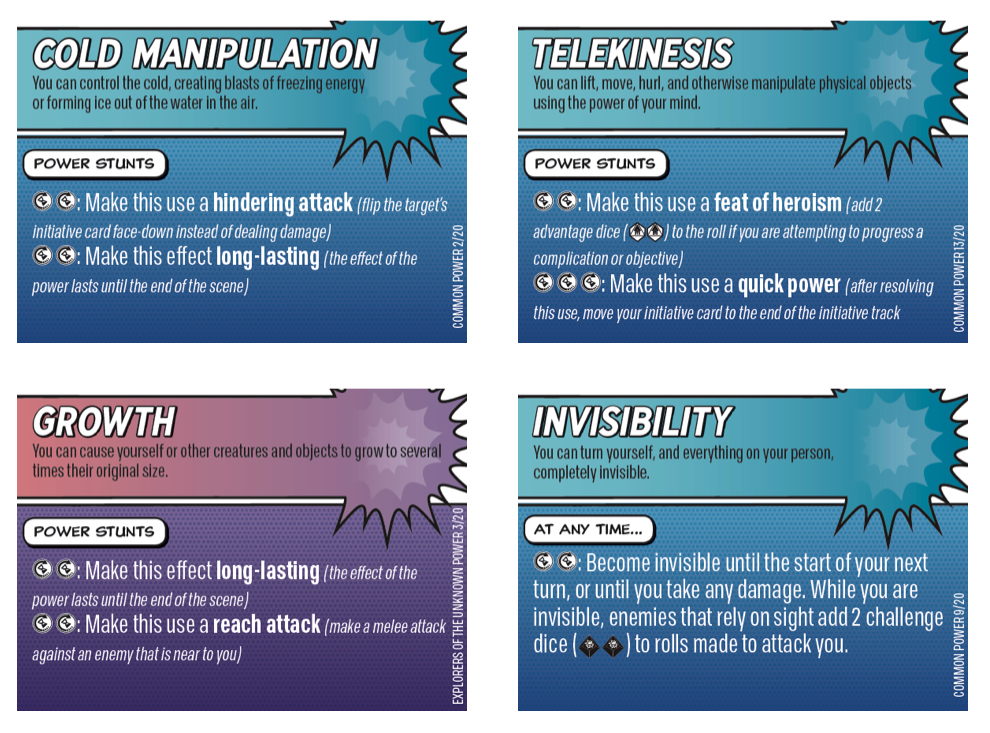 The boxed set comes with a rulebook, a setting creation book,"series pads" which contain scenarios and other elements, cards, dice, and tokens. The game itself focuses on four different styles of superhero game: street-level, super science, sorcery, and cosmic.
The game is aimed at letting you start play without lots of prep time. All the props and series pads, etc., are all designed to facilitate that.
Those "series pads" are key to the game. There are four pads - one for each genre. Each contains a selection of sheets, compiled into "issues", which includes a one-shot adventure, including villains and more. There's 50 issues in the core game, and each is designed for 2-3 hours of play. There's an example of one below (taken from the Kickstarter page).
So where, you ask, can I get this?
It's on Kickstarter right now
! Run, don't walk... though you can fly if you like, I guess. I've had a look through the rulebook, setting book, and various cards, and they all looks gorgeous even before they end up on glossy cardstock!