Standing Bear
(Post prompted by finding Ulrick's post in Q&A with Gygax from 2003 and realizing I had many of the answers they were looking for. Sorry I am nearly 20 years late to the conversation)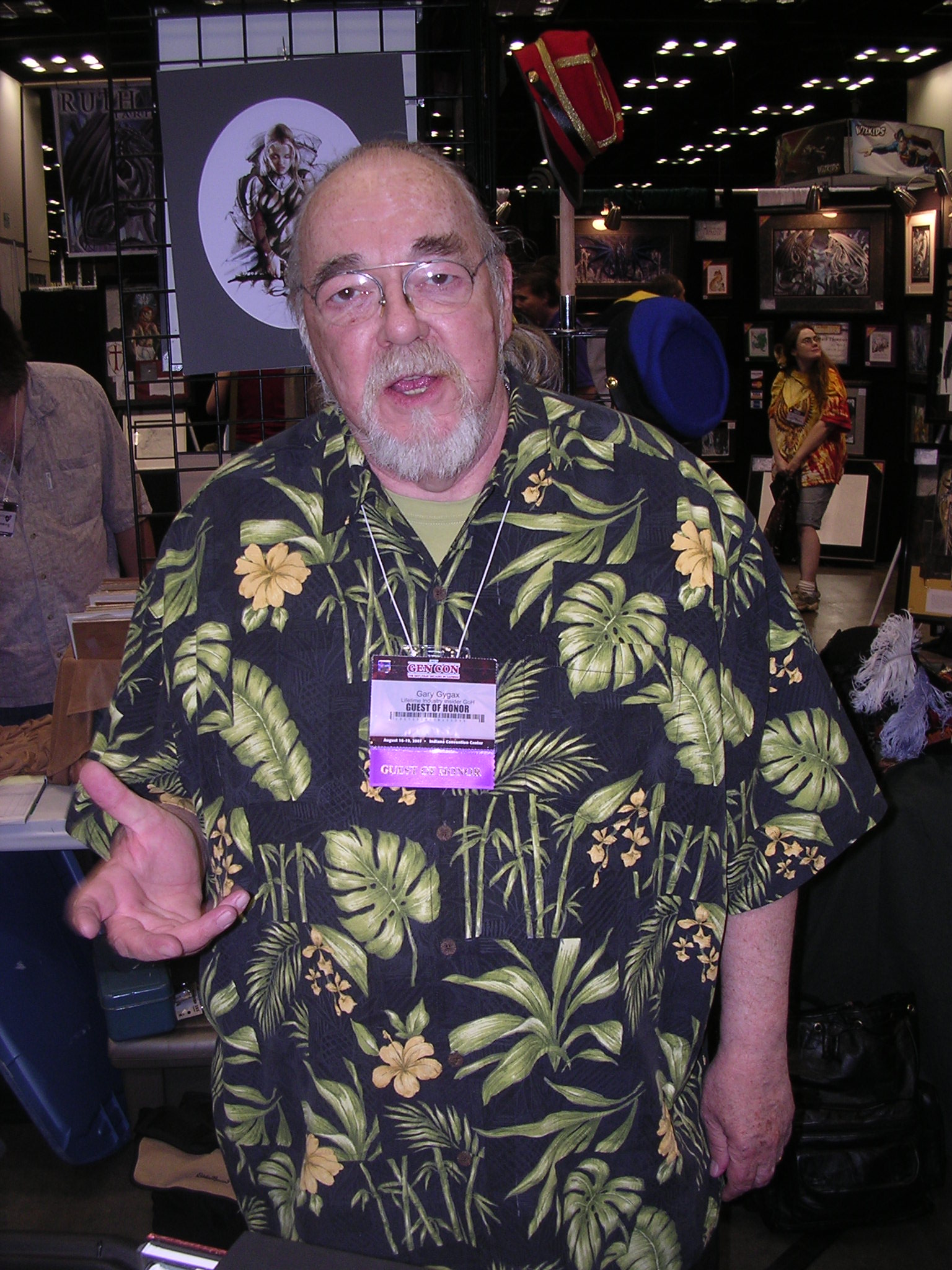 This is the multi-year Q&A sessions held by D&D co-creator Gary Gygax here at EN World, beginning in 2002 and running up until his sad pasing in 2008. Gary's username in the thread below is Col_Pladoh, and his first post in this long thread is Post #39.

www.enworld.org
William Dawkins, known by most as 'Standing Bear' lived in Boone, Iowa (~1925-1996).
Standing Bear was a regular annual attendee at GenCon from the first one (as I gathered through stories) until the mid-1990's when his health declined. He was a character of a human being and ran the most open, inclusive, and entertaining gaming table I have ever heard of. Outside of GenCon he ran a weekly public game every Saturday and a Sunday afternoon game in his home all set in his homebrew world.
I first met him in the early 1990's by hearing about his D&D game that was open to the public. A couple friends raved about it and as a gaming starved seventh-grader I was keen to try. I was not new to Dungeons & Dragons as I played through much of elementary school at the daycare center I attended (Woodstock Daycare). The game Standing Bear ran was held in the Commons dining room of the Iowa State Memorial Union on the campus of ISU. As a land grant university it is public property that afforded large oak tables, plenty of chairs, and vending/restrooms on the premises. Bear's World ran every Saturday from Noon to 10pm or later. (Sadly, recent remodels have destroyed the historic feel this location once had).
Standing Bear, as I met him in the 90's, was 60-something year old man of average height and build with a bit of a belly who typically wore a mustard yellow t-shirt with iron on transfer white block letters that said 'Standing Bear'. He had an off the shoulder mop of silver hair, a full matching beard, and blue eyes that made him look like a cross between Gandalf and Santa Claus. He was amiable, polite, and ran a great game.
Bear ran a homebrew gaming system that largely resembled Advanced Dungeons & Dragons in mechanics. He freely admitted that he adopted mechanics/ideas from any game he liked to improve his game/setting. This was a medieval high fantasy setting world with a sandbox approach. I am far from an expert on his world's contents but I will try to give you a feel of the setting/play for the years I gamed with him.
His table was open to anyone. I never saw him refuse a player or eject someone. The man was the best recruiter I ever saw for gaming, yet passively so. He chose tables adjacent to the main path through the thousand square feet plus dining room which had a great deal of foot traffic also being adjacent to the University bookstore. Anyone was welcome to sit and watch and there was always a player willing to help you make a character if you wanted to play. Bear typically ran two sessions per day in his world (Noon-4/5pm, dinner break, 4/5-10pm+) so a new player might only have to hang around for a few hours until they had a chance to play. This is because Bear's sessions were each headed by a 'party leader' based on attendance history to give everyone a chance to play.
The 'party leader' was either a new player or the player of those present who had been absent the longest. Bear had a note tablet chronologically listing every player and he took attendance weekly. That player list was around a hundred people, with about fifteen to twenty regular weekly players. What this meant was that some players might only come once or twice a year but that we remembered and welcomed them nearly every time. Each session the 'party leader' invited whoever they wanted of those present to play. There was an unspoken limit of a dozen players to each session, though Bear was willing to squeeze any number, when necessary. For logistics of play Bear upped the risk/lethality a bit for groups 13+ which deterred crowding while giving everyone a chance to play at least once a day.
On a typical Saturday at Bear's World you were able to play both sessions or hung around at the periphery listening and playing other games with fellow queuers. It was a game world that was fun to just watch due to the table energy and the style of play. Magic the Gathering showed up at the waiting to play periphery of Bear's World the week after GenCon on the year it first released (Beta). We played two starter decks against each other for hours, passing them around. The inclusive atmosphere made it a safe space, set in a public place, for everyone to play TTRPGS.
The overall feel of Bear's World was medieval high fantasy with strong comedy tones. Imagine a melding of Tolkien and Terry Pratchett. Bear had a wealth of magic items and things in his world that I had never heard of. Trashberries, Wortleberries, 'Good for One's (wish item), Magical Mushrooms (eat for XP or other effects), and more. This sheer variety often came from another storytelling tool Bear used called the encounter deck.
The encounter deck was a stack of index cards in a recipe box. At the beginning of Saturday each player received a blank index card. You could write a suggestion on the card; Monster, treasure, event, anything. When you turned it in he would read it. If he didn't like it the card didn't go in the deck. If he liked it went in the deck. If he really liked the idea he would also silently pass you another blank card. Once or twice we managed a laugh out of him when he read the card. Blank cards were treasured as a blank ticket to help write the game. Getting a bonus blank card was a huge affirmation that also felt like a secret only you and he knew about the possible future of the game (positive/conspiratorial). Famous cards in the deck included 'A Glimpse of Elvis' where a mysterious figure would croon something about blue shoes and vanish, leaving a faerie ring of magical mushrooms, a tactile digitator (think TARDIS designed by a race of four armed white apes), and the terrifying six-foot white rabbits with crossbows that shoot rods of cancellation (percentile roll to see which of your items is hit).
The only world plot I recall from Bear's world was the Tree of Life quest. 101 legendary magic items could be collected and assembled to allow one person a wish of limitless power, essentially remaking/restarting the game world. There were always villains or NPCs working on collecting the items as well, but this always felt like a background overarching plot because it rarely drove week to week story arcs.
Bear's World was little more than a 3-ring binder, a legal pad (attendance), a set of dice, a recipe box (encounter deck), and a yellow retractable Bic pen. With that he entertained hundreds of players for more than twenty years. He was a member of an ISU based club, the ISU Wargamers and Roleplayers Guild. From retellings it sounded like the club had existed at ISU potentially pre-D&D, as there were several miniatures playing members even in the 1990s who played historical miniature reenactment battle systems alongside early fantasy systems very similar to chainmail and proto-D&D game systems. The ISU Commons with tons of rearrangeable tables and lots of space to spread out, had been host to miniatures and TTRPG gaming since at least the mid to early 1970s. ISU and these players never claimed ownership of D&D that I recall. It was more that there was deep history there, whether as first players, or as parallel gamers who adopted the mechanics when a published system inevitably came along.
Eventually two players broke Bear's mechanics. They painstakingly hand copied all Bear's rules over months, one offered page at a time until they had a mostly complete view. From there they manipulated the mechanics to essentially become all powerful and live forever. Bear ended his world and asked his player base if anyone had a game mechanics system that they recommended, since homebrew was no longer something he felt like running. GURPS was suggested, Bear ran fantasy GURPS for several years, and the stories continued.
Eventually, when diabetes damaged Bear's sight enough he started bringing clear dice with no pips. "If I can't see the numbers why should anyone else!?" he would chuckle.
I wandered away from the table off and on in the latter part of high school so I wasn't around when Bear passed that I recall. The GURPS core group that stayed with him for those last years continued to play for years after, and I have run into them off and on, though nothing was the same without Standing Bear.
Doug Westvold (Boone, IA)
Ulrick's Original Message: (answers I know inserted)
Well, I did some digging and asking around, and nobody seems to remember his "English name."

It is a mystery, indeed.

So far I know the following:

1. People at the Guild who knew Standing Bear claim you were on amicable terms with him.
I recall stories of Bear meeting Gary Gygax and other names in the industry. I recall Standing Bear being fairly 'well known' at GenCon, but it didn't sound like famous, just well liked/historic/impactful. I never attended GenCon, personally.
2. You vaguely remember an American Indian gamer from Iowa.
Standing Bear never presented himself as American Indian. His explanation of the moniker was that when his son was in Boy Scouts he taught merit badges at the summer camp. One of them, the Indian Sign Language badge, led to the adopting of an Indian name. That is where 'Standing Bear' came from. I realize that is standard cultural appropriation for the era. It doesn't make it OK, but I can attest he was respectful of cultures and religions in every other context I saw at that time. As a sidenote I was in Boy Scouts at that time independent of any interaction with Bear and they were still offering that badge if I recall.
William Dawkins (a.k.a. Standing Bear) was born in Beaver, IA ~1925 and lived much of his life in Boone, IA, some 10 miles east. Boone, IA is the county seat of Boone County and is mainly known as a historic railroad town and the birthplace of Mamie Eisenhower.
3. You met this gamer at a Gen Con or two when D&D was just starting.
This seems credible and likely, based on the stories I heard around the table. See answer 1
4. Standing Bear also went by an English name.
Standing Bear was not Native American. see answer 2
William Dawkins was listed as white in census records
(
Ancestry.com - undefined
)
I saw his driver's license when I asked what his real name was one day at game: William Dawkins, Iowa Driver's License. I never heard him say that name out loud, though. Everyone at game only every addressed him as Bear, or referred to him as Bear or Standing Bear in third person.
I got one of his business cards. Kept it in my wallet for decades. Two lines "Standing Bear" & "Skald".
5. I found out that Standing Bear did run an RPG before D&D game out. He switched to D&D because it had a better system.
Standing Bear stated that his first RPGs were something to do other than play cards during downtime in the military. I always presumed WWII or Korea based on Bear's age though he may have served in the Iowa National Guard or something. He stated that several fellow soldiers liked fantasy and medieval history and they started creating stories. Bear would have hit selective service (18yo) approximately 1943 so tail end of WWII or Korea would have been possible. I don't recall specifics given other than 'the military'.
Bear readily acknowledged that he picked and chose any rules from any game he liked to incorporate into his homebrew world's workings. He liked Dungeons & Dragons and it was the one most people knew so that seemed to me to be the skeleton of his mechanics for the most part.
I do not recall any discussions of Bear specifically being a part of the history of D&D canon. That doesn't give weight either way on this question.
The past, though lived, still changes. Every individual remembers it in his or her own way.

Which, of course, makes me more curious about the past...

But its the stories, however, that makes this search interesting. I don't know their true or not but I think these might be a little amusing. Keep in mind that these come from unreliable sources and I maintain that they are highly likely to be false (I don't wanna start rumors).

1. One member of the Guild claims that Standing Bear helped you create the original D&D game along with Dave Arneson--huh?



2. Another claimed that D&D was made as a collaborative effort among you and your friends, and you just happened to see a business opportunity and took advantage of it. And your friends weren't too happy about it.
Standing Bear never published anything that I am aware of. All his homebrew mechanics where hand written on 3 ring binder pages. players would hand copy sections for personal reference. The early 90s still felt like the 80's where copy machines were uncommon, required a special trip to the copy shop, and few players would let their copied page(s) out of their sight.
Standing Bear's son messaged me on Facebook locally when I shared a memory of his dad a year or two ago. He has considered putting together a publication of Bear's setting though he was looking for information to fill in some of the gaps from what he still had copies of. I tried to put him in touch with those I knew and gave him the names of others I couldn't reach but I doubt that may become a reality. It would be a wonderful thing if it did, though.
I hope Ulrick see's this at some point. Gygax is no more. All of this is just history.
If you knew Standing Bear please feel free to add or correct anything.
If you have old copies or remember mechanics/items/trivia about his game(s) I am sure Bear's son would be interested.