Six months ago
the Swedish game studio Järnringen ran a successful crowdfunding campaign on IndieGoGo, aimed at raising funds for translating their hit roleplaying game Symbaroum into English. Now the work has been done and one week ago, after having been read and played by the fundraiser backers for roughly two weeks, the digital download edition of Symbaroum's Core Rulebook launched for sale. You can find it on your favorite digital download site and in Järnringen's webshop.
The reactions to the game have been fantastic, in regards to both setting and ruleset. The game world has inspired reactions like "awesome", "breathtaking" and "mind-blowing", while the system has been described like "a perfect blend of a more narrative system like FATE or Dungeon World and a more gamey system like D&D or Pathfinder". Regarding the images and style the feedback has been even more jubilant, as one reader commented: "I have a pretty large number of spectacular looking RPG books but this one might be at an entirely new level."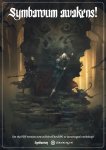 Printed versions of the CRB will hit the shelves over the months to come. In December 2015 various print-on-demand formats will become available on digital download sites. The offset print edition will reach retailers all around the world in February next year, but a pre-purchase campaign is also currently running in Jarnringen's webshop, for those who cannot wait.
Moreover, a number of game supplements are on the way. The character sheet is already offered for free download, so also the narrative introduction to the heart of the setting – the short novella called On the Nature of Davokar. Before the end of November the Adventure Pack PDF should be added to the list and some weeks later the adventure The Mark of the Beast.
More information can be found at:
www.jarnringen.com
https://www.reddit.com/r/Symbaroum/
http://drivethrurpg.com/browse/pub/8878/Jarnringen
http://butik.jarnringen.com/en/shop.php?id=41105