I finally took the leap and invested in a table specifically for gaming. I never imagined it would take me several years before the table finally made it to my game room.

The First Attempt​
My first attempt at a gaming table was to make it myself. How hard could it be?
My game room is large but not very deep, so I needed a table that could fit in the room but also be moved out of it as needed. My game room is doubles as a video game room where players will often sit on the floor and they need an obstructed view of the television screen. We also use this room for when the kids play with their friends so they frequently watch movies here as well.
All this added up to a table I could easily move in and out of the game room, and I thought I found
the perfect solution in plans to build a Folding Gaming Table
.
The table uses the same technology behind blackboards to swing out horizontally for gaming and revert to a vertical position for storage. Mind you, it's essentially taking up one entire wall in storage, but I was confident that was worth the compromise.
When I redesigned my basement, I negotiated with our contractor regarding the game room. I realized that, given that I had the plans already, so it would be a simple matter of asking my contractor to build the table too. He threw it in as a concession to our negotiations. I had worked with this contractor for over a decade, so I took him at his word that he'd finish it.
A few things became apparent as the game room progressed. Due to flooding in the past, the previous owner elevated what would eventually become the game room by five inches, making the ceiling height smaller than I realized. The table would still fit vertically, but it would essentially cover the whole room. As it was in the basement, there is only one window. With the table folded up, it essentially would become a wall, blocking all light into the room.
My contractor discussed at length using the plans and as the game room came together, the table never materialized. The last time I saw him, he explained that his son's friend had broken the table in the shop. He then announced he was retiring to his home country and that was the last I heard of him. Given the table was "thrown in" as a bonus and I had concerns about fit, I wasn't that upset about it.

The Second Attempt​
Now that I had the game room finished I could understand the dimensions better. One whole side is taken up by a mini-fridge and miniature case. The long side has a large television mounted on the wall with two bookshelves on either side. The opposite wall has chairs and the entrance from the outside. That leaves the smaller remaining wall for storage. Like the Folding Table, I would need a table that could adjust to those dimensions.
That's when I discovered the Transformer Table 3.0
.
This table is essentially a transformer. It can stretch from 18 inches to 10 feet, seating two to twelve gusts by adding leaves to it. It's made of real wood and comes with a coffee table to store all the leaves (of which there are many). It comes in a variety of colors; black (Canadian Oak) would work fine for my purposes.
I knew immediately this was the solution I was looking for: a table that could be small enough to function as a desk and large enough for playing with seven players at a time. I managed to get the early bird price of $1,599 CAD ($1,218 USD). With the game room finished, I just need to wait for delivery. It was Q3 2019, and with the holidays around the corner I looked forward to setting it up by the end of the year.
Given the costs invested in a piece of furniture like the
Transformer Table,
the backers were a bit different from other Kickstarters. There were backers who got rid of their dining room tables in anticipation of their new investment's arrival by December, just in time for holiday dinners. They were about to be disappointed.
The first problem was that the
Transformer Table
company underestimated which wood would be the most popular. It turned out EVERYONE ordered Canadian Oak. The company was caught by surprise and had to ramp up production. Additionally, there were assembly issues with the coffee table that caused the company to put a halt to shipping while they fixed the problem. With all that resolved, they resumed shipping. None of these delays bothered me; I had too much junk in the game room anyway and was still working out how to fit everything in it, but some customers demanded their money back.
Then the pandemic hit. This squeezed
Transformer Table
on two ends: shipping around the world slowed down as ports closed and staff could no longer work as quickly (or in some cases, even come in) given the possibility of infection and the close proximity of the work. Production and shipping slowed down even further. I finally got my table a few months ago.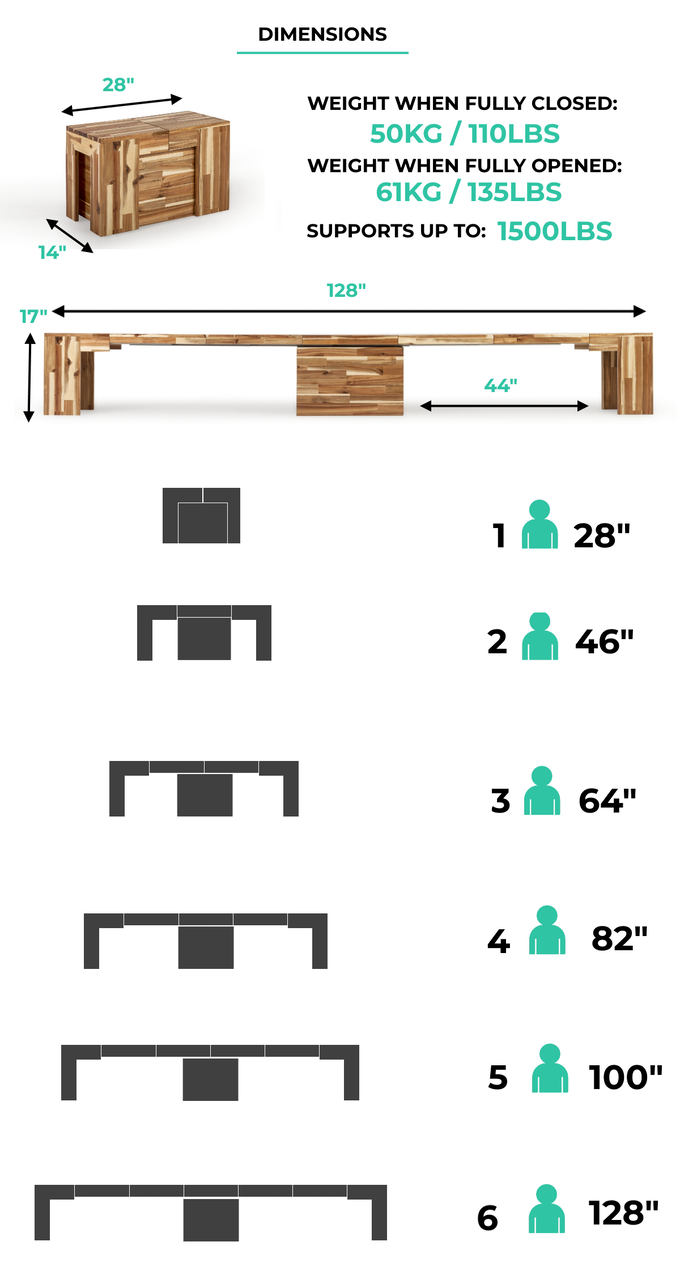 The Verdict​
As my job shifted to 100% remote, I needed a desk and an office. The game room became my office during the day and the
Transformer Table,
with no leaves in it, became my desk. It worked perfectly.
The table is heavy--much heavier than a table of its size, especially when compressed--because the metal sliders that allow it to expand and still hold its weight are incredibly sturdy. This isn't a criticism so much as a factor to consider when investing in a table like this.
The leaves have to go somewhere and in that regard the coffee table is a necessity. All the leaves stack in it. We tuck the smaller table into the corner when not in use. It's worth noting that the coffee table is open on both ends and if you push the leaves in too far for storage, you need to nudge them from the other side first to get them out.
Assembling the leaves is fast, but not so fast that you want to do it while your players are waiting. The leaves have latches underneath them that ensure there's no gaps or seams once it's assembled. This is where it's possible to damage your table so you need to be careful doing this; given this table is made of real wood, it's not something you can easily repair. One of my leaves was slightly chipped in shipping and the company gave me some paint to cover it up.
I no longer play with anyone in person, but I had a chance to game with my kids on the table and put it through a trial run of assembly. We put four leaves in it and it was an amazing experience to finally be able to stretch out all our gaming material comfortably. There is a sliding leg in the center that can move back and forth to allow additional seats to tuck under the table, ensuring everyone has space.
Was it worth the wait and cost? Absolutely. Unfortunately the pandemic has put my dreams of playing with adults in-person on hold. But until then, it makes for a great desk. You can purchase many different variants of the table at
Transformer Table's web site
.
Last edited: