Presenting:
THE GRIM: Spells of Necromancy


http://www.dmsguild.com/product/232249/THE-GRIM-Spells-of-Necromancy-5e
More than a hundred new spells from the school of necromancy for your 5th edition Dungeons & Dragons campaign!
This product contains the following:


✦ A table of contents, including page numbers for all of the spells.

✦ A foreword from the author.

✦ 1-sentence summaries for the spells in the book.

✦ Class spell lists for the spells in this book.

✦ A poem for necromancers.

✦
124 necromancy spells (as of v1.1 update).
You can follow the author's updates on Facebook (@JohnnyRPG) and Twitter (@StorytellerHero)

Please feel free to leave a comment for feedback or a review. It helps to improve the product.
#DnD
#DungeonsAndDragons
#tabletop
#RPG
#DMsGuild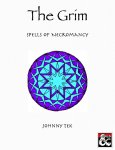 Last edited: