Over the last month, I've sought nominations, held two giant polls which received thousands of votes, and announced the results on my own podcast. Now, here are the Top 10 tabletop RPG podcasts of 2019 in both the "Talk" and "Actual Play" categories as voted on by you!
Last year we had 99 nominations; this year we had over 150! The results
were announced last week on our podcast
, and here they are in readable format.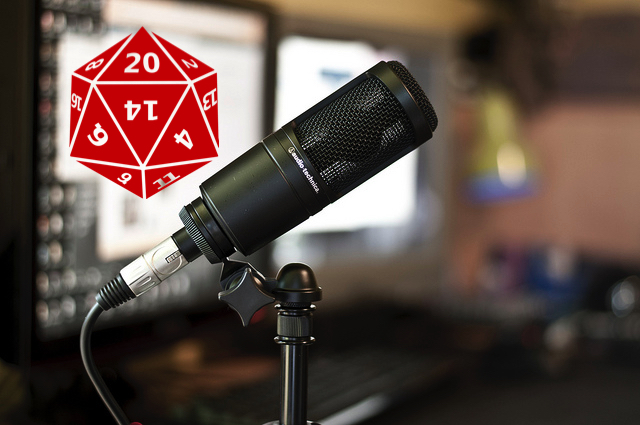 TOP 10 ACTUAL PLAY
Actual Play podcasts are podcasts where the podcasters play an actual tabletop RPG for your listening enjoyment. They range from hour long one-shots to multi-year campaigns; some have voice actors, while others are hobbyists sharing their love for the game. While many are D&D podcasts, there are many podcasts for a wide variety of game systems, in a wide variety of styles. I personally enjoy the podcast format for AP, as I find it a lot easier to consume while walking my dog or driving than watching a video.
Last year's winner of the Actual Play category was
The Adventure Zone
. You can
see last year's Top Ten for both categories here
. Previous winners werenot eligible in the poll.
1 Nocturne/Darkfire/Zero Blue Orion (Tablestory)
ZeroBlueOrion
https://www.tablestory.tv/series/zbo/
Zero.Blue.Orion is a comedic anime-style mecha show using the Lancer RPG system and follows several test subjects as they try to stop an impending disaster that could undo thousands of years of work.
Nocturne
https://www.tablestory.tv/series/nocturne/
What if you could no longer determine what in the world around you was real or not real? What would you give to get that certainty back? Nocturne is a mature, supernatural thriller about what lurks in the darkest places.
Darkfire
https://open.spotify.com/show/5LKSuWLatkCiG5SFbOIZrq?si=dQC3sH8DTHWclkMp4_YjNA
Spell and sword clash in a world where the ancient magic of the Magi await those courageous and resourceful enough to find it. Darkfire is a twisty D&D 5e actual play fantasy drama full of intrigue and powerlust that follows four adventurers bound together by a mysterious deity.
2 Sweden Rolls
https://www.swedenrolls.com/
Four actors play the best of swedish RPGs with one of Swedens most experienced and appreciated podcast GMs. AP playing various Swedish RPGs - Forbidden Lands, Coriolis, Kult, Tales from the Loop etc.
3 The Stubborn Heroes
https://www.stubbornheroes.com/
The World of Varian has a rich and bountiful history of heroic triumphs, and great calamity. A world besieged by the endless wars between Light and Dark. 3500 years have passed since the Dragon Empire fell, during which time the Realm has seen great prosperity and Growth across all three continents.
4 Dying Order
https://www.podbean.com/podcast-detail/tq7zh-9f641/Dying-Order---DD5e-Homebrew-Actual-Play-Podcast
Four will be chosen. The fate of the world rests on their shoulders. Dying Order is a D&D5e homebrew actual play with GM BradWOTO and featuring DisbeArex, KatiePetersPlays, Pokket, and Pumpkinberry. Return to the world of Lacrin, it might not exist for much longer.
5 Dungeons & Randomness
http://www.dandrpodcast.com/
Dungeons and Randomness is a weekly Dungeons and Dragons podcast with multiple groups playing in one world (Theria) in which their actions affect one another and tell a giant, sprawling story. The world is always turning and there is always something to listen to. Not convinced yet? Here are a few more reasons!
6 Kollok 1991
https://kollok1991.simplecast.com/
Join us if you will, in a small Pacific Northwest town, Kollok, in 1991. This is not a real town, you won't find it on any maps, no pictures of it's beautiful landscape, no stories in your history books. It's real to us. Hop on, your chauffeur awaits passenger, to take you wherever it is you want to go. Kollok 1991 airs live on Monday nights on
twitch.tv/hyperrpg
, the entire production is produced live with audience feedback built into the show.
7 The Glass Cannon Podcast / Androids & Aliens (Glass Cannon)
https://glasscannonpodcast.com/
Following the rules of the Pathfinder and Starfinder RPG systems, The Glass Cannon Network endeavors to create weekly captivating epic fantasy stories accessible to gamers and non-gamers alike. Interweaving immersive storytelling with irreverent, improvised humor, the GM and players deliver the experience of what it's really like to sit around a table rolling dice with your closest friends. Professional high-quality audio, complex and memorable three-dimensional characters, instructional elements designed to enlighten both new and veteran players, and a commitment to community-building amongst their fans all combine to make The Glass Cannon an exciting and innovative voice in podcasting.
8 How We Roll
https://howwerollpodcast.com/
HowWeRoll Podcast is a UK and Ireland based Actual Play Show, focusing on Dungeons and Dragons 5e and Call of Cthulhu 7e.
9 Red Moon Roleplaying
https://www.redmoonroleplaying.com/
We are an ENnie-award winning podcast that plays roleplaying games set in dark worlds. Current campaign is "No Man is an Island" for Vampire: The Masquerade.
10 Rude Tales of Magic
https://glasnostmedia.squarespace.com/rudetalesofmagic
Rude Tales of Magic is the actual play podcast you've been waiting for. Polaris University, and its hallowed arcane halls, has vanished. Now, the unlikely survivors— a talking crow, a lich in a wig, a bubbly fawn, a sasquatch punk, and a tiefling hunk— must solve the mystery and return balance and higher education to their world. It's going to be very hard, and very, very rude.
Come, and join artists, writers, and comedians from Adventure Time, Steven Universe, Marvel comics, and more as they fight and fumble their way across the madcap, and exceedingly rude, fantasy wasteland of Cordelia.
An entire universe of adventure calls out to you. Are you rude enough to answer?
---
TOP 10 RPG TALK
Talk podcasts include interviews, reviews, discussion, opinion, advice and (my favourite!) news. They cover a vast array of tabletop RPG related topics. In one you might be hearing a review of the latest D&D book, while another delves into old Call of Cthulhu adventures from the 80s. One might interview a famous game designer, while the next might offer advice on tricky gaming situations.
Last year's winner of the Talk category was
The Good Friends of Jackson Elias
. You can
see last year's Top Ten for both categories here
. Previous winners were not eligible in the poll.
1 The Grognard Files
https://thegrognardfiles.com/
I'm Dirk the Dice and this is the GROGNARD files podcast, talking bobbins about table-top RPGs from back in the day and today.
2 Manifest Zone
https://manifest.zone/
The Eberron podcast that explores the tabletop fantasy RPG setting with co-hosts Keith Baker, Wayne Chang, and Kristian Serrano
3 What Would The Smart Party Do?
https://www.whatwouldthesmartpartydo.com/
Gaz and Baz have spent decades talking about games, ever since University, which was far too long ago for their liking.
All RPG problems were solved in whiskey-fueled late night sessions, with the disappointing realization they couldn't remember any of it the following day being the only fly in the ointment.
Now older, wiser and more experienced, the plucky duo have decided to commit their enthralling discussion to this new fangled podcast technology, in the vain hopes of capturing something useful or interesting. It should be a conversation starter if nothing else.
Getting them to start talking was never the problem. Making them stop however…
4 Mud & Blood
https://9littlebees.com/mudandbloodcast/
Mud & Blood is a podcast focused on tabletop RPGs of a grim & dark nature. Join Liam Stevens and Matt Kay as they discuss and review RPGs and interview their creators.
5 Gaming and BS
https://gamingandbs.com/
Based out of lovely Wisconsin, USA, Gaming and BS is a podcast that talks about tabletop role-playing games. We are system agnostic, sort of. It can be difficult to reference rpg's and not mention big ones like Dungeons and Dragons, Call of Cthulhu and their respected derivatives. Listening to Gaming and BS you'll realize that we don't take ourselves too seriously. We're semi intelligent, but we didn't want to make this show too academic. Sure, we're buddies, but that doesn't mean we don't make jabs at each other or agree on every topic. Take a listen, you'll see.
6 Morrus' Unofficial Tabletop RPG Talk
https://morrus.podbean.com/
A weekly RPG news show which rounds up the latest stories, releases, and rumours in a casual, light-hearted manner. Each week also has a comedic D&D-themed skit, as well as frequent industry guests.
7 Down With D&D
https://misdirectedmark.com/category/podcasts/dwdd/
Shawn and Chris talk about the brand and game of DnD. News, DM topics, reviews of products, articles, and play test material, movies, streaming, the DMs Guild, writing and publishing, they cover anything and everything to do with Dungeons and Dragons.
8 Know Direction
http://knowdirectionpodcast.com
Well known Pathfinder podcast. News, reviews, interviews.
Our flagship podcast, Know Direction, is the number one source for Pathfinder news, reviews, and interviews, as well as convention coverage! Always stay informed with the latest Pathfinder info. Recorded LIVE twice monthly.
9 Plot Points
https://plotpoints.libsyn.com/
Plot Points has been discussing role-playing games as literature since 2013. The podcast takes a deep dive on the influences, origins, joys, and meaning of tabletop role-playing games. The Plot Points gang talks about new releases, old gems, and speaks with the most influential and exciting creators in the tabletop role-playing game space.
Find a cool new game, discover a strategy for your home group, or learn a fresh take on the theory of role-playing.
10 The Tome Show
http://www.thetomeshow.com/
The Tome Show is a D&D show that has grown to include a large number of shows each with their own focus and hosts. A variety of shows, including news, reviews, interviews, advice, actual play, and book clubs. The common theme, however, we love D&D and will never stop talking about the game.
Last edited: