April Kit Walsh and
Evil Hat Productions
are kickstarting a new
Powered by the Apocalypse
RPG,
Thirsty Sword Lesbians
.
EN World's
always awesome
Beth Rimmels
connected us to discuss this
Kickstarter
, the RPG, and how it all came about.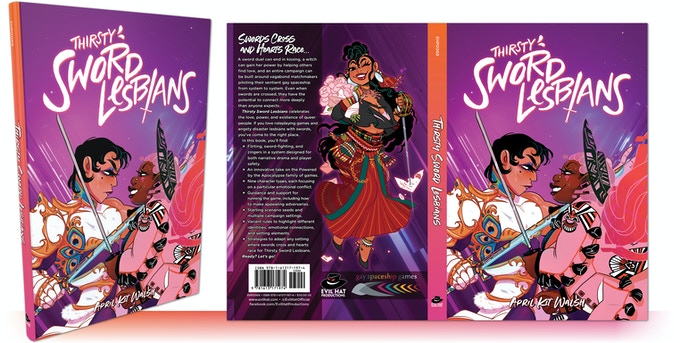 EGG EMBRY (EGG): First, I appreciate you taking the time to discuss this. Second, thank you for making this game, it looks awesome! Third, for those that have not seen, what is
Thirsty Sword Lesbians
(TSL)?
APRIL KIT WALSH (APRIL)
: Thanks for having me!
Thirsty Sword Lesbians
is a game celebrating queer love and power in any setting where swords cross and hearts race! It's about daring swordsqueers making connections and having messy feelings, with lots of angst, yearning, and action.
EGG: Thank you for creating a bold, proud tabletop RPG like this. What inspired it?
APRIL
: I've loved RPGs for a long time – I ran my first game in the second grade, rolling dice in a shoebox on the bus to school. Particularly since I've figured out my queerness, RPGs are one of the only places where I get to see authentic representation for people like me. Fanfic would be another. But in commercial mass media, the representation is at best watered down, and more typically it's harmful. I wanted to lean in hard on the capacity for an RPG to center and celebrate people who are marginalized on the basis of gender and sexuality and tell authentic, positive stories. This isn't misery porn. It's not for the male gaze. It's by and for queer folks and the themes have resonated with people experiencing other marginalizations as well. Every day people tell me "this is the first time I've felt seen by an RPG" and
that's
my inspiration.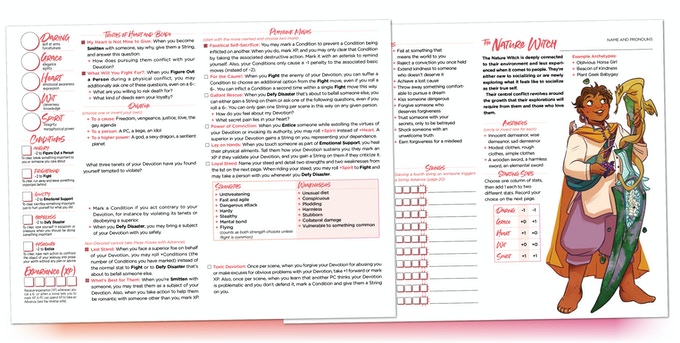 EGG: Why go with Powered by the Apocalypse (PbtA) as opposed to another system?
APRIL
: There are three games that approached parts of what I wanted to do for
TSL
, and all of them are
PbtA: Masks, Monsterhearts,
and
The Watch
. Each of them innovated some new system technology that helps to center feelings and the emotional stakes of the action.
TSL
brings together my favorite elements of those systems and updates them, makes them fit together, and builds from there. One thing that I adore about
PbtA
is the focus on narrative beats as opposed to success or failure, and personally I love including dice in that process to help foster the unexpected. But there are also mechanics that can give you a little more control over the narrative tone when you're invested in pushing for one outcome or another. If you're interested, I lay out a lot of my design thoughts in the book to help people who want to tweak the system or build something new.
EGG: I appreciate that you share your design insights, I can't wait to read them. You are destroying stretch goal after stretch goal in the
Kickstarter
and adding great creators to this game. Roughly how many pages is the book(s) going to be? What will be the mix of rules to setting to stretch goal adventures?
APRIL
: We had the game text and layout very close to final before even launching the
Kickstarter
, and we definitely don't want to make people wait for the stretch goals before getting their hands on this beautiful book. The stretch goals will be separate, and the core book will be 224 pages of full-color glory. The essential rules are a fraction of that, with guidance, examples, suggestions, and settings galore. The stretch goals are leaning towards settings and adventures, with some new playbooks and alternate rules, and as of today (October 21) we have about 28,000 words worth of stretch goals funded, plus three new playbooks, plus full color art. I'm just taking a moment to absorb that myself. Adding it all up is incredible. It's just delightful that there's going to be so much content for this game I love that I didn't have to write – I get to be surprised! It was similar with the five authors who contributed settings to the core book. I didn't want the game to be limited by my personal experiences, so there are five settings by other authors in there already, before counting the stretch goals.
EGG: A standout with this project is the art. Who is doing it, and how did you connect with them?
APRIL
: Kanesha Bryant illustrated the cover and the nine iconic characters for the playbooks, and I've been a fan of hers for a long time! Her patreon is [
here
] and you should absolutely check out her work. The brilliant logo is by Hannah Templer, who I found through her comic,
Cosmoknights
, which could absolutely be a
TSL
campaign itself. The comic is [
here
]. We're also going to have other artists involved for the interior art – we've just wrapped up the art spec and the art will continue to be really fun and special.
EGG: The costs for the backer rewards are lower than other campaigns at $10 to $69. Why provide so much value at these prices?
APRIL
: Personally, I don't want money to be a barrier to access. Times are hard and joy is important. It does require money to pay everyone involved in making the game, of course, from writing to art to printing, and we've structured our pledge levels and stretch goals to foster inclusion, access, and fair compensation. This week we hit our first stretch goal to give our contributing authors (those five for the core book and all our stretch goals) a 25% surprise bonus over the rates in our contracts, and you can expect more of that as the campaign continues!
EGG: That's outstanding! It's awesome that you're taking care of your authors! On the campaign page, you make it clear that this game is not for individuals that cannot respect everyone at the table. Evil Hat Productions' Fate of Cthulhu is noted for its
stance against HP Lovecraft's racism
. This is less of a question and more of a celebration of taking this stance, of putting your audience before trying to grab dollars, why do you feel this is an important stance to take?
APRIL
: When you try to engage with emotional topics, it's important to foster communication and use safety tools so people can engage – and the most important safety consideration is 'who is at the table.' Between the name of the game, the diversity of the art, and this kind of explicit statement of values,
Thirsty Sword Lesbians
attracts the people who are going to be able to tell positive, respectful stories of connection and repels others. There's only so much I can do as a game designer, but I'm trying to increase the odds that a person sitting down to play
TSL
will be respected and supported even if they're marginalized by wider society.

EGG: Let me continue down this trail, the campaign page lets backers know that they don't have to be thirsty or a lesbian or a sword in order to enjoy this game. While you state you don't want horrible people to participate, you still make this game accessible to all. How difficult is it to design a game for open-minded, accepting individuals versus one that targets a, shall we say, less open audience?
APRIL
: It's definitely a game that centers queers and welcomes everyone who is willing to approach others with empathy. It does require work to make the game welcoming, particularly to people whose experiences I don't know first-hand. That's why I had two sensitivity consultants and five contributing authors for the core book. We had rounds of playtests and I refined the mechanics to steer people towards connection and to make room to safely engage with being messy. The characters are far from perfect, and some of them are struggling with downright toxic beliefs and behaviors. But the game and the narrative are on your side as you tell a story about growth, which makes room to safely and constructively engage with these themes. In terms of how difficult it is to design one way or another – it does take work to escape the tropes and patterns of the hobby and to engage people to help cover and mend your blind spots.
EGG: Your Kickstarter has a large audience so I think that your direction is something many of us can embrace. Beyond Thirsty Sword Lesbians, what else are you working on?
APRIL
: You can find my itch [
here
], where I've published
End of the Line
, a GMless game about the crew of a sentient vessel on the way to being scrapped. I've also ported the Smitten mechanic from
TSL
into
Masks
with a new custom move to feed the drama, and I'm working on
I Will Carry You
, a deckbuilding RPG that distributes the GM role among the players and focuses on a sentient spaceship and relationships with and among the crew. When I'm not making RPGs, I'm a civil liberties attorney at a nonprofit protecting your rights to due process, access to justice and knowledge, protest, and more. So I'm keeping busy.
EGG: Thanks for helping with the legal system, and thank you for taking the time to talk with me. Where can fans follow your work?
APRIL
: Thank you! I'm on
Twitter
as
@GaySpaceshipGms
and, of course, don't miss out on the
Kickstarter
!

Thirsty Sword Lesbians
from
Evil Hat Productions
End Date: Thu, November 12 2020 4:00 PM EST.
"Cross swords and fall in love with this tabletop RPG by April Kit Walsh, celebrating queer love and power, Powered by the Apocalypse."
Egg Embry participates in the OneBookShelf Affiliate Program and is an Amazon Associate. These programs provide advertising fees by linking to DriveThruRPG and Amazon.