As gamers celebrate Thanksgiving today in the U.S. it's worth considering how our purchases can help fellow creators. These three charities are a great place to start.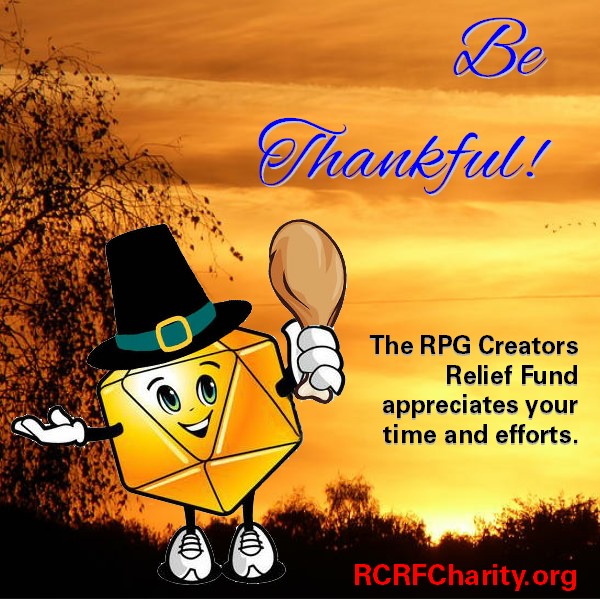 Extra Life
Of the three charities listed here, Extra Life is probably the most well known. Extra Life unites gamers around the world to play games in support of their local Children's Miracle Network Hospital. Since its inception in 2008, Extra Life has raised over $50 million USD for sick and injured kids. In that regard Extra Life works a lot like walk-a-thons and other fundraising activities in that the fundraiser commits to play games of their choosing on a particular day (a 24 hour span), and then they select which hospital they would like to support.
Extra Life's painless set up makes it particularly easy for livestreamers to participate. The top three teams who contributed so far are Rooster Teeth ($800K), Magic: The Gathering ($734K), and Dungeons & Dragons ($228K). Wizards of the Coast regularly supports Extra Life by releasing products on DMs Guild (like the recent
Adventure with Muk
) with 100 percent of the proceeds going to Extra Life.
Want to help kids in hospitals?
Join the Extra Life D&D team here
.
The Hero Initiative
We've talked before about
how early game designers are facing stark economic realities that make it difficult for them to pay their bills
, particularly if they have health problems. This issue extends well beyond tabletop games to all creatives, including comic creators. Enter the Hero Initiative, a not-for-profit organization dedicated to helping comic book creators, writers and artists in need. Founded in late 2000 by a consortium of comic book and trade publishers, including Marvel Comics, Image Comics, Dark Horse Comics, Wizard Entertainment, CrossGen Comics and Dynamic Forces Inc., the 501(c)(3) charity aims to assist comic creators with health, medical, and quality-of-life assistance.
To be eligible for financial assistance from Hero, an applicant must have been a working comic book writer, penciler, inker, colorist or letterer on a work-for-hire basis for no less than 10 years since January 1, 1934. Anyone who meets the eligibility requirements may apply for aid, which could vary from medical assistance, paying rent, or finding employment (in or out of the comics industry).
Want to help comic creators?
You can donate here
.
RPG Relief Fund
Like the comics industry, many of our early designers achieved legendary status without making enough money to retire on. Unlike the comics industry, tabletop role-playing doesn't yet have the cross-cultural marketing muscle to support a creator with royalties (
although we're getting there!
). The Roleplaying Game Creators Relief Fund (RCRF) is a 501(c)(3) nonprofit charitable organization founded to provide financial assistance to tabletop roleplaying game creators suffering hardship due to medical emergencies, natural disasters, and other catastrophic situations.
If you're an RPG creator in need,
you can apply here
. If you would like to help out the RPG Relief Fund,
consider making a donation
.
These three charities are important reminders that if we have our health and enough money to manage our expenses (medical or otherwise), we're truly blessed. And for those who aren't, it's comforting to know we have alternatives to help them out.
Last edited: