All is not well in Hengistbury. Children have been disappearing into the Weirwood; howls of an unearthly nature have been echoing across the Fogmoor; and Three-Fingered Jake has been speading rumors of treasure and hauntings in the ruins of Brockendale Castle. All this aside, however, tonight is a warm, balmy evening. Many of the villagers are gathered in and outside the Bleeding Heart Tavern, and troubles seem far away.
Well, except for that dragon in Skull Mountain...
This beautiful 400-page hardcover adventure path for D&D 5E and
Level Up: Advanced 5th Edition
has just launched on Kickstarter!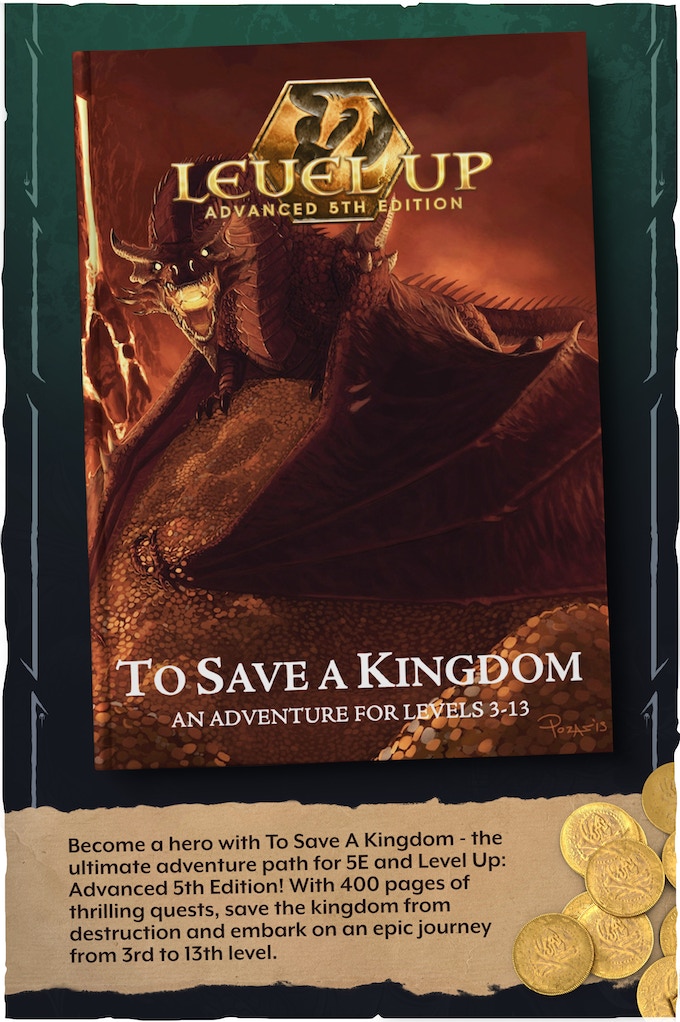 ​
This hardcover includes...​
3 epic adventures, pitting the heroes against a fiery dragon, a sinister vampire lord, and a mighty fiend.
Over 75 new monsters, such as the vampiric dire bear, Sheeltielle the Queen Spider, and the dwarven sunderknight.
Nearly 40 new exploration challenges, including a whirlpool, a mindrending gas trap, and engulfing moors.
Over 20 new magical items, like the shadow compass, the skull goblet, and the hammer of vengeance.
New mundane weapons and equipment, such as the bog sled, quickbow, or the bolas.
An overview of the world of Elissar, its lands, and its cosmology.
In-depth details about the village of Hengistbury, its people, and its locations.
A new culture, background, and 10 new feats.
And the best bit? We've done all the hard work already. If you've backed an EN Publishing Kickstarter before (and we've run and fulfilled over 30 successful Kickstarter campaigns!) you'll already know that we give you the PDFs as soon as the Kickstarter campaigns ends. By "as soon as", we literally mean within seconds.
And that's not all...​
We are also launching a brand new Actual Play livestream! Join us as we journey through the
To Save a Kingdom Adventure path
in our new actual play! Launching this Thursday 6th April at 7pm ET on
twitch.tv/enpublishing
!
You can find out all the details of the campaign setting, the cast, and the characters, at
enworld.live
. Narrated by
Lexi McQueen
, starring
Hamnah Shahid
,
Drak
,
Madeleine Mason
, and
Savannah Broadway
.
Last edited: