The process of bringing
War of the Burning Sky
to 5e took another step toward fruition as my Roll20 group started their campaign last night! Each entry for a party member contains their portrait, the information the other party members would possibly know, their background that only they know, and secret information that they do not know, but someone familiar with the campaign would find interesting. The party consists of:

Byron Kassonova
This blue tiefling College of Cirquelistes bard has skirted the law and has spent time recently working as a lookout for the thieves guild in Gate Pass.

Background:
While the Wayfarers were based in Ostalin, Byron maintained a secret year-long romance with Nadia, one of Khagan Onamdammin's daughters. During this time, helped awaken her latent spellcasting ability. The Khagan found out and tried to have Byron killed. Failing that, he banished the Wayfarers from Ostalin. Byron was exiled from the Wayfarers.
[sblock]
In this campaign, Nadia was sent to study at the monastery of two winds. She became bitter toward Byron for abandoning her. Finding acceptance and attention from Pilus, she became his greatest student. In this campaign, Nadia plays the part of Caela.

[/sblock]
The descendant of a long forgotten warlord from the island of Ostilin. After being exiled by a previous Khagan, he wandered the world looking to compile a comprehensive list of all theory relating to warfare (like
sun tzu)
. This elderly human Way of the Kensei monk has a long, flowing white beard and fights with a whip in each hand. He has made several contacts in the city council.
Background: D'buld served under Khagan Onamdammin's father. When Onamdammin killed his father, D'buld was exiled. While in Sindaire he met Trinja and took her under his wing.
[sblock]
I have not figured out how to more deeply integrate D'buld's background into the story for some interesting revelations later (beyond wanting vengeance on Onamdammin). I am open to suggestions.

[/sblock]
Trinja
The lone female in the group is a human Pact of the Hexblade warlock. She summons a glaive of physical shadow (think vantablack). She has been frequenting the temples as she wants to understand the source of her power.

Background:
For as long as Trinja can remember, she has had good luck, but it seems like that good luck comes at the expense of others in her village of Gathin in Sindaire. When her luck seemed to cause the demise of her parents, she ran away at the age of 13. That night in the forest, she had a dream. A deep resonant voice called to her. She followed the voice to a clearing where a black glaive is buried in the stump of a fallen tree. The voice told her to take the glaive and she would learn to harness her luck. She grasped the glaive, and the dream faded to black. When she awoke, she was back at her camp, but she soon discovered she could summon the glaive and cast certain spells. She gained the ability to magically disguise herself as anyone she wanted, usually taking the form of a 20-year-old woman. D'buld is the only one that knows she is a 14-year-old girl.
Additionally, Trinja is able to more consciously harness her luck. Often there is a sense that time momentarily slows down when she bends luck. When Trinja summons her glaive, she perceives time momentarily slow down and form over a half second, but everyone else sees it appear nearly instantaneously.
[sblock]
[/sblock]
Dro'Marri Oldenforge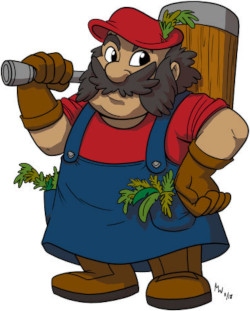 While he bears the family name of a long line of dwarven blacksmiths, and certainly capable of basic work, his talents, and interests, lie elsewhere. Rather than bring shame upon his family name, he left his family in Dassen behind, setting out for Gatepass. Blacksmith work paid the bills and allowed him to study Herbalism in his spare time. He is a Way of the Four Elements monk who favors fire, jumping to higher locations for tactical advantages, and swinging a light hammer as a weapon (and he wears blue overalls, a red shirt, and a hat). While he helps out the resistance with low-price repair work, he certainly did not expect to be called up to help with a mission out of town.
Background:
Mario and Peach Oldenforge were Dro'Marri's parents and led their clan from a stronghold near the Alydi Gap in northern Dassen. Shortly before he was born, his father took in a orc Ragesian officer who was unhappy with the lack of honor shown by his superiors. Bow-Tzaa of the Kupali Clan gained Mario's trust, but it brought difficulties for Dro'Marri being bullied because his father had taken in the orc and elevated him over the other Dwarves in the clan. When Dro'Marri was 10, Mario and Bow-Tzaa went on an expedition to the Glaskeel Cliffs to determin what creature was killing the griffons in the area. Bow-Tzaa returned with Mario's broken and lifeless body and declared the Glaskeel Cliffs as off-limits to the clan. The orc soon established control of the dwarven clan and married Peach. A year later, Luiij was born. All of these things caused the bullying to continue, and Bow-Tzaa's insistence that Dro'Marri take up the forge and combat didn't help things. After 10 years, Dro'Marri could not take it any longer and ran away from home, leaving behind his childhood friend Daisy. He wrote to his mother for a while, but eventually cut off all communication.
[sblock]

Mario was killed by a giant ape on the Glaskeel Cliffs. A story that Dro'Marri was never told (it was always just a "horrible monster").

[/sblock]
Zed Tracom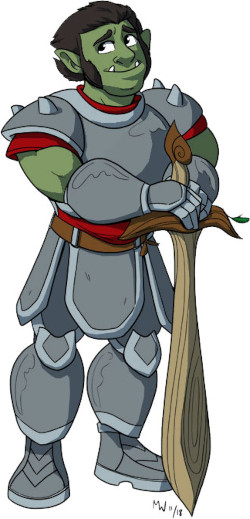 Zed grew up in a corner of Shahalesti where racism against half-orcs was still alive and well. He moved away and finally settled in Gate Pass where his martial talents were appreciated by the local military.
Background: From an early age, Zed only knew life as a second-class citizen in Shahalest. He grew up with his orc father who would not talk about Zed's mother or what happened to her. After spending his teenage years working as a bodyguard for hire, Zed left Shahalesti.

[sblock]

Zed's mother was a Taranesti elf. When the purge came, She made Zed's father take baby Zed and run so that they would survive. The were captured and forced into indentured servitude.

[/sblock]
---
We established that Zed and Dro'Marri knew each other previously from Dro'Marri having repaired some of, and Trinja and D'buld had arrived in Gate Pass together. Each player was also tasked with coming up with some secrets about their character which could be tied in with the story.

With the immortal emperor of Ragesia apparently dead, Ragesia has been lashing out and consolidating power. Spellcasters are especially to be pitied as rumors about that they are grabbed by inquisitors, Ragesia's magic-cancelling war clerics, and are never heard from again. The 2nd Ragesian Army has been ordered to take over the city of Gate Pass, hold its strategically significant location as the only way through the mountains to Shahalesti, and round up an magic users. The day before New Year's Eve, the PCs have been recruited by the Resistance, a group of citizens who work to ensure Gate Pass remains a free city-state, to help one of their agents escape the city with a case of Ragesian intelligence documents.
They prepare and arrive at the rendezvous point shortly before midnight on New Year's Eve. Torrent, a cleric from the Lyceum magic academy in Seaquen ushers them through a side door into an abandoned pub. There she lays out the mission: recover the case from another operative and escape from Gate Pass. The city is on lock down as the city council considers surrendering to the army to avoid a protracted fight.

As the conversation wraps up, distant explosions are heard. The wyvern rider Ragesian air force has arrived before anticipated and is dropping dragonbombs on the city. As they prepare to leave, D'buld hears creaking in the abandoned second floor of the pub. He moves to the boarded-up front window in time to hear, "Front door, go!" He whispers a warning to everyone else before taking a position to cover the stairs. Trinja summons her glaive and takes a stand in front of the boarded up door.

The door is smashed through moments later by two thugs manning a portable ram. They drop it and draw their weapons as they tell everyone to surrender. The heroes are not willing to take that sitting down and attack. The first thug is hit hard from several directions and is bloodied. Then some of the mercenaries who were sneaking in upstairs come down the stairs and attacking as a pair. Before more of them come downstairs, the pub is hit squarely by a dragonbomb,

Death screams are heard upstairs, and the blast throws one of the mercenaries down the stairs. The party fought 3 thugs and 2 scouts. 2 of the mercenaries ran after going below 25% hp, and the heroes knocked out the other 3. They dragged the 3 unconscious mercenaries out of the burning pub. Bruised but not beaten, they came face to face with the mercenary leader, a stern man on a horse. He looked down on the party with the countenance of a judge analyzing the accused...
Last edited: