A new adventure, new players, and a new opportunity to get everyone up to speed. I decided to do what I do best: share a PowerPoint presentation.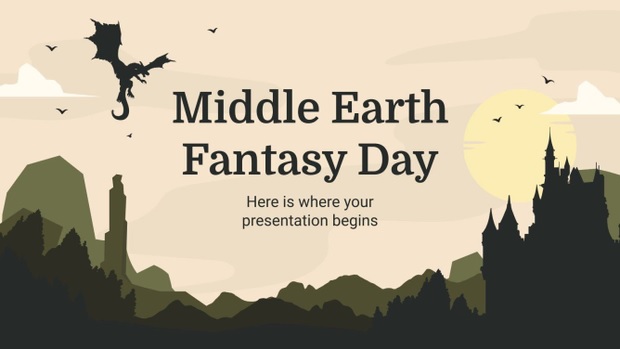 I've been in the business world over two decades, so PowerPoint is something I'm very familiar with. That, combined with the fact that we're on the third adventure in my series (which I'm writing, playtesting, and publishing as I go), was an opportunity to pull out all the stops to bring my new and returning players up to date. Here's how I did it.
Players Old and New​
After taking nearly a year each to finish each of the first two adventures I wrote, the magic number for players seems to be six. The rule is we play if we have at least four. Our existing group consists of a tiefling sorcerer (played by my wife, so if I'm DMing she's playing), a tiefling warlock, and a wood elf ranger. One of my players decided to change characters from a dwarf cleric to a gnome artificer. There are some concerns about what this meant from a healing perspective for the group, but artificers can cast cure wounds so that may help. We also have a player who skipped the last adventure but is returning. He originally played a human paladin and is back this time as a human rogue. Finally, there's our newest player to the group, the game, and this edition of Dungeons & Dragons. She's playing a wood elf druid.
Of this group, two players didn't participate in the last adventure and probably could use a refresher on what went before. We also had three new characters with different backgrounds that I intertwined with the other NPCs, so their backgrounds would be important. There's a lot to cover and I wanted to make our new player comfortable with the world.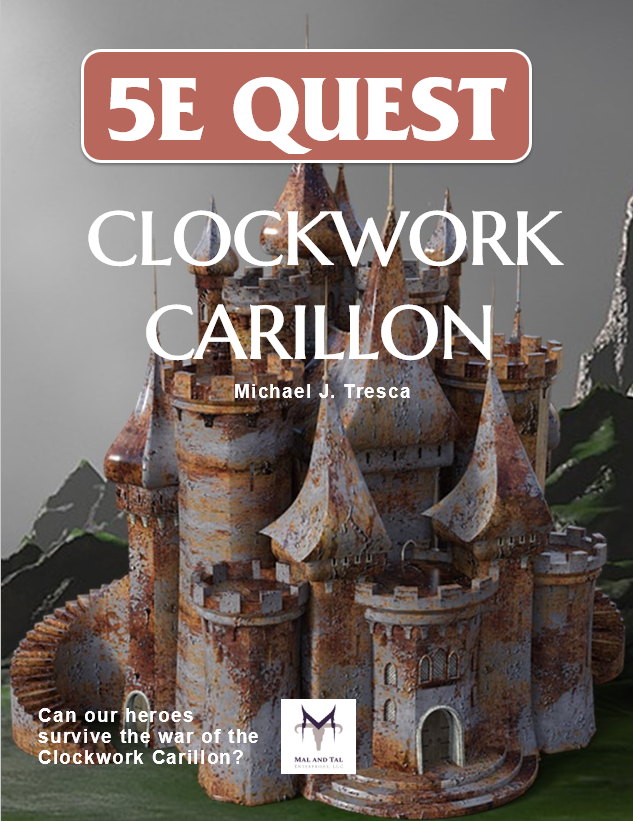 The Adventure​
The adventure is a
tournament arc
in which the PCs are tasked with defeating a villain in a tower. Seems simple, right? Complicating matters is that the entire effort has attracted mercenaries from around the globe. To manage these mercenaries and keep them from pillaging and looting the local community, the residential gnomes have created a clockpunk-powered game show. Multiple mercenary groups, each with colorful competitors of their own, are competing against our PCs for fabulous cash prizes. It's inspired by Squid Game, 80s video game cabinet art, daytime game shows, and tournament arcs from anime like Wakfu and Fairy Tail.
The competitors come from all over my game world, so their backgrounds are relevant. Some PCs know them well, others only know of the region, and some competitors come from places they've never heard of. I wanted to succinctly sum up what the PCs would know: where they came from, what happened in the last two adventures, and what our heroes would face next.
Unlike my last adventure, which featured mature themes, this is more of a hack-and-slash style game with a commercial gloss so there wasn't as much content warnings from me to share with the players. But it was a good way to get a sense of what was to come: clockwork technology interspersed with cheerful hosts commenting on the contestants slaughtering each other.
The PowerPoint​
There are many, many PowerPoint templates to choose from, but few are comprehensive themes. Often, they're a picture/color combination. Slidesgo however really invests time and energy in their themes.
There were a few to choose from. I almost picked the
Dungeons & Creatures Minitheme
, but in the end decided to go with the
Middle Earth Fantasy Day Presentation
.
But what to put in it? The first thing I realized was that while everything was laid out geographically in my head, my players didn't know that. So I created a map to demonstrate where the PCs have been so far and where they are now.
I wanted to make it easy for each player to visualize their character, so I created slides for each describing class, race, and home region. Then I added a slide explaining their home region with interesting facts that shape their characters. This also helped explain the contests, as one of the PC's is a gnome and it's his people putting on the "show." Now I just needed some thematic music to tie it all together.
I didn't have to look far. Pixabay's music section has some amazing choices and the Cinematic Music category has some gems. I needed something that sounded epic but also was long enough that it didn't repeat too many times. I ended up picking
Honor and Sword by Zakhar Valaha
. Zakhar's music can be found
here
, on
Spotify
, and
Apple Music
.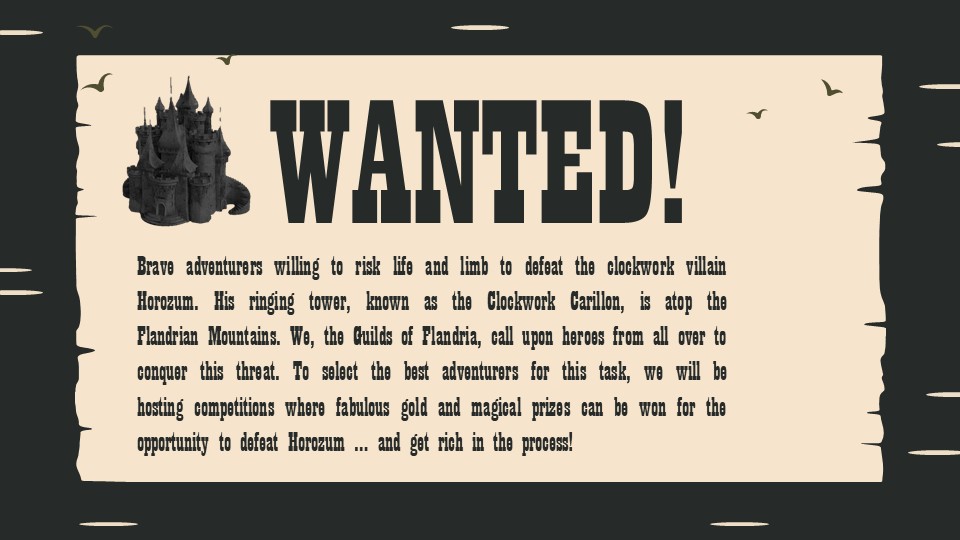 How It Went​
Session Zero was a great way to get everyone relaxed for the game. With a new player, I didn't want to overwhelm them with both introductions and new game rules. There was plenty of housekeeping to discuss: leveling up characters, creating new tokens for familiars and summoned creatures, and getting reacquainted with the Roll20 interface. We're also all friends, so it was an opportunity to catch up. Our last game was at the end of November and we went on hiatus while I finished up writing the next adventure and the players got ready.
The players loved it. I'm not sure my voice was quite movie trailer quality, but I did my best with the music and slideshow to immerse them in my campaign world. It took some work, but it also helped me distill down to the basics what is unique about the game and what each player character brings to it.
Your Turn: I kind of went overboard with my Session Zero. How much effort do you put into yours?
Last edited: