More adventure in the Old World of the
Warhammer Fantasy RPG
can be found in
Ubersreik Adventures II
. It includes five new adventures set in the Duchy of Ubersreik along with a guide to the Duchy of Black Rock and details on House Jungfreud. It even includes end papers (maps of Ubersreik) and an index along with handouts.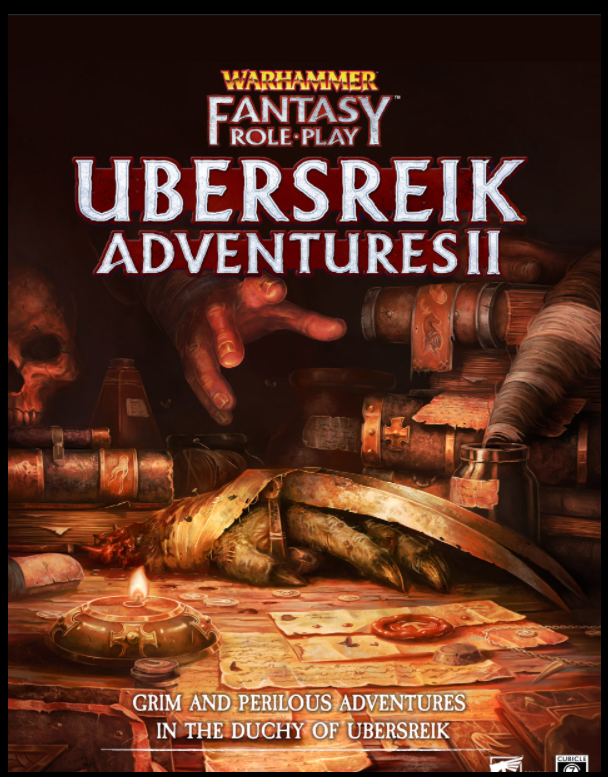 My thanks to Cubicle 7 for providing me a review copy to help me continue my coverage of everything
Warhammer
RPG. Like other
Warhammer
books, this adventure compilation is filled with great art, excellent maps of locations and settlements, player handouts, and a large range of NPCs. Even the end papers contain maps. Some of the adventures also have additional options to continue on with further challenges to overcome.
These adventures are a great mix of roleplaying, combat, investigation, and occasionally dark magic and daemons mostly taking place in or near Ubersreik. The adventures are quintessentially
Warhammer
with a blend of corruption, violence, and hidden secrets.
The rest of this review contains spoilers for all the adventures in the book, so if you plan to play as a player, I would avoid reading further but please feel free to return and post a comment about how the game went and if your rat catcher or other adventurer survived.
involves a mysterious box being delivered to the PCs. It takes into account that the PCs may be from the Starter Set and if not gives the GM a heads up that a few details might need tweaking. One of the PCs is delivered a box that appears to be addressed to them. Once they open it, they realize there has been a mistake since its contents stink of necromancy. The PCs take it from there, perhaps trying to track down the intended recipient and either bring them to justice or make some coin off of them. Even if they don't take the bait, the necromancer and his undead minions will wreak havoc and the person who delivered the package to the PCs will likely remember how uncomfortable the package made them feel and that maybe the PCs need to be questioned.
[*]In Fishhook Returns, a long lost outlaw seems to have returned. But the investigation will put the PCs in a real bind between justice and getting out without making a powerful enemy.
[*]Double Trouble embroils the PCs in murder and a nefarious plot to take over a noble family. The PCs will have to investigate carefully and act decisively to keep their patron alive and his family safe.
[*]In The Blessings that Drew Blood, the PCs investigate the murder of several holy people. Like so many times in the Old World, the trail leads to Chaos.
[*]The Grey Mountain Gold starts out with the PCs hired to do one thing and it quickly turns into something else altogether. There are also angry Dwarfs to dodge and their own personal gold to guard.
The book wraps up with a guide to the Duchy of Black Rock, west of Ubersreik. This guide is filled with over a couple of dozen adventure hooks along with NPCs, interesting locations, and schemes and plots. Possibilities for PCs range from smuggling to investigating haunted ruins and more. The book wraps up with how
The Enemy Within
events affect Ubersreik.
This collection of adventures will aid a time-strapped GM, even if their campaign is not set in Ubersreik. Many of the adventures can be transplanted to other locations. And NPCs, maps, and locations can be lifted out even if an entire adventure isn't used. Because of the wide range of options,
Ubersreik Adventures II
is an especially good buy for
Warhammer
GMs. This one comes highly recommended.