UK Games Expo
, which takes place in Birmingham at the end of the month with reduced capacity, has
updated its Covid guidelines
indicating that the convention will not require face masks. While they ask that attendees take a Covid test before the event, they do not require and will not check this. The convention is providing wider spacing for aisles and gaming tables, along with sanitizing stations and cleaning teams for high traffic areas.
Staff will have tests, and might (but are not required) to wear masks.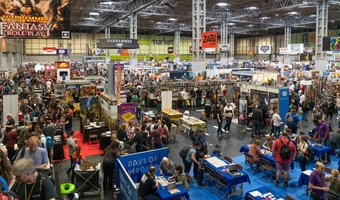 The rules for attending a mass event are set by Public Health England. As we have always said we will abide by the rules that they set.

If confirmed on the 12/07/2021 there will be no restrictions placed on events by Public Health England. This includes entry requirements, face masks, numbers attending, social distancing. UKGE will not enforce any requirements that are not legally required as we do not believe that will be practical on the day. However, UKGE and the NEC will do the following as it seems to be common sense:

We would request that if possible, you do a lateral flow test before coming to the venue. We will not be checking this test but please perform the test for your own peace of mind and to safeguard everyone.
We will maintain 4m wide aisles in all halls.
Open gaming tables have additional spacing to allow some social distancing when sat down.
NEC has hospital level ventilation.
Hand sanitiser dispensers are available in the halls. We recommend you bring your own supply as well.
Face Masks​
We do not require face masks but recommend you bring one as you may find times during the day where you decide it is sensible to wear one.
UKGE and Exhibitors will not require you to wear a mask, but their staff may decide to wear one.
Other attendees may wear a face mask.
We do require that EVERYONE who attends the show, in any capacity, respect the choices of everyone else.
We are currently looking at how we will handle ticket collection to see if we can prevent the massing of people for tickets and entry.