It's the spookiest month of the year! Originally published in PDF in EN5ider Magazine,
we're bringing you this collection of five horror-themed resources
for the 5th edition of the world's oldest roleplaying game for the first time in a brand new softcover book compilation!
A softcover book of horror-themed D&D resources; campaign ending just in time for Halloween!
www.kickstarter.com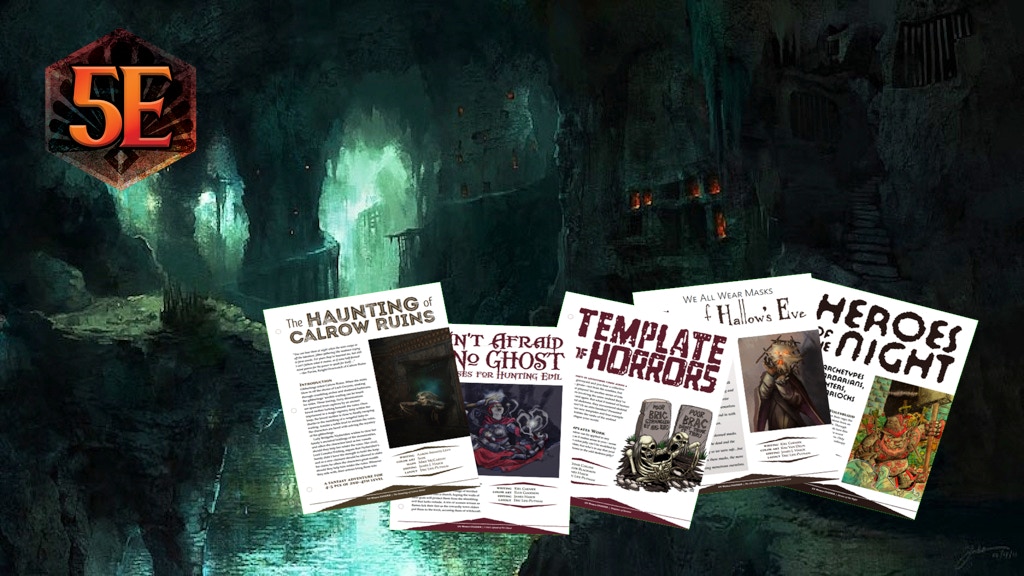 We Ain't Afraid Of No Ghosts
is a 40-page booklet containing five spooky mini-supplements, including a half dozen new class archetypes to help you battle the undead, a collection of creepy magical items, spooky templates you can apply to any monsters, and a full 14-page adventure called The Haunting of Calrow Ruins!
And the best bit? It's just £7 (under $10) in PDF format, or just £20 for the all-new softcover book compilation!
Quickstarter​
This is a "Quickstarter" -- it's only here for 10 days, so don't miss out! Note that if you pledge for the digital (PDF) versions, they will be delivered as soon as the Kickstarter campaign ends, just in time for Halloween! The softcover booklets will take a little longer.
That's right! This 'quickstarter' ends just before Halloween. And we'll give you the PDF versions right away.
What You Get!​
Here's a look at the five mini-supplements included in this Kickstarter.
I Ain't Afraid of No Ghost. A range of options for player intent on fighting the ghosts and ghouls who will feature throughout October! Kiel Chenier brings us Spirit, a Clerical Domain; Courage, a Paladin's Oath; and the Witch Hunter, a Roguish Archetype. Arm yourselves, because Halloween is gonna be spooky! Illustrated by Ellis Goodson.
Heroes of the Night. A selection of horrific new archetypes for barbarians, fighters, and warlocks! Barbarian lycanthropes can master the Wolfsblood path; The Haunted are fighters with spectral companions; and The Evil Eye is a pact for warlocks. By Brandes Stoddard; illustrated by Dan Nokes.
Faces of Hallow's Eve. Magical Halloween masks that impart the wearer with incredible powers, by ENnie Award-winning designer Kiel Chenier. A ghastly, wailing white mask grants the wearer the ability to interact with ghosts on their level. A hag's mask grants you the hag's powers, but now that hag sees through your eyes...and slowly alters you into her perfect vessel. And a stitched together collection of human faces grants you the bloodlust of 'the slasher'...but at a terrible price. Illustrated by Kim Van Deun.
Template of Horrors. Four horrific templates which can be applied to any creature! Use the zombie, wight, skeleton, and banshee templates to create horrors such as a Wailing Hermit (a banshee ettin), a Rust Monster Skeleton, a Crypt Stalker (a minotaur wight), or a Basilisk Zombie! By Cedar Collins; illustrated by Jacob Blackmon.
The Haunting of Calrow Ruins. "You can hear them at night when the mist creeps in off the lakeshore, jibber-jabbering like madmen trying to form words. For years they've haunted me, but still I can't fathom what it means, as if some half-formed mind yearns for the power to speak for itself…" Complete with character hooks, this 14 page adventure by Aaron Infante-Levy is suitable for 2nd-4th level characters. Illustrated by Sade.
A softcover book of horror-themed D&D resources; campaign ending just in time for Halloween!
www.kickstarter.com
Last edited: