In Memorum - Mark Monack "Wrecan"
THE THREE PILASTERS OF D&D
The developers of D&D Next have made a big deal of supporting what they call the three "pillars" of D&D: Combat, Exploration, and Socialization (which they inaccurately call "roleplaying"). I identified these pillars of D&D in my prior article series called Unbloodied Heroes. However, I also identified three other elements of D&D, which, while not as central a support as Combat, Exploration, and Socialization, are still important areas that I believe deserve some consideration. I hereby dub them the three "Pilasters" of D&D: 'Ludes, 'Sage, and 'Port.

TABLE OF CONTENTS
The Three Pilasters of D&D
'Ludes, the First Pilaster
'Sage, the Second Pilaster
'Port, the Third Pilaster
I plan to explore each of these pilasters in a separate article, but for now,I will just give you an introduction to the concepts and how they might impinge on the stated design goals of D&D Next.

'LUDES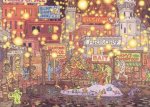 A "'Lude" is the stuff that happens before (prelude) in between (interlude), or after (postlude) adventuring. They include the background of a character, the hero's nonadventuring interests, and generally, all the things that a hero might accomplish when not traveling around with three to six other adventuring heroes. Does the priest spend time at the local shrine? Is the rogue maintaining his contacts with the guild? Is the wizard in the library? The druid at the grove? The fighter visiting her retired army captain? Because D&D is a team-oriented endeavor, it is generally not recommended to run 'Ludes at the table because it deprives other players of the chance to play their characters (though some DMs may assign players the roles of other characters in the hero's interlude). 'Ludes, however, are also the time when a player feels most attuned to a character because there is not much risk, and the player can relax and really delve into the character's personality without feeling that opening up in this way will expose the character to danger. Navigating 'Ludes is a difficult but crucial arrow in a DM's quiver. D&D has attempted a number of different mechanics to preludes and interludes.

'SAGE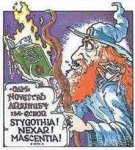 DMs are often struggling with ways to get players the information they need, without giving them an opportunity to get so much information they can avoid the encounter altogether. Research is something that is often done during interludes, but is just as often something that comes up in the middle of an encounter. What does a character know and what can a character discover. A bard might peruse local establishments, while the wizard consults ancient tomes, and the priest asks his superiors at the local temple. Others might cast lots to divine the future or scan the skies for omens and portents. How information is related to players can define a lot about what is at issue in a game and how much mystery a DM can maintain about the world in which the characters adventure.

'PORT


Adventurers generally spend all their time in one of two places: dungeons, where they get loot, and cities, where they spend loot (during 'Ludes). In between is type of adventure that brings a yawn to most adventurers: travel. Travel, or 'port, is usually a drudgery, filled with random encounters, or long, boring descriptions of local weather conditions and natural features that may or may not become relevant at a future date. But 'port is also an opportunity for the DM to immerse the players in the campaign world. There is a lot of space between the points of light of the cities and the points of darkness where adventure occurs. Having characters traverse this space without event conveys a feeling that the world is safe and secure, while burdening a party with frequent encounters in travel can bog down a campaign in unneeded minutia. Handling 'port represents a fine line for many DMs, but an important one.

In this series, I will explore the history of 'ludes, 'sage, and 'port in D&D and try to distill their essential nature and how it might translate to D&D Next.
Last edited: