Well, that was fun
Staff member
Before this goes public (a month or so away) I wanted to get some thoughts from you guys.
https://www.kickstarter.com/projects/enworld/853120791?ref=810774&token=cedff39d
The card image graphics near the bottom are placeholders right now, so ignore those, and we'll have another couple of page spreads plus at least one full class in PDF for free on the page. But any constructive feedback would be welcomed!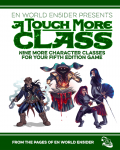 Last edited: