What main factor draws you to playing a fantasy RPG race?
For me personally, my favorite race to play is the gnome (especially the deep and forest gnome varieties). The two primary reasons for this are, I think,
1) I identify with gnomes on some level. Or at least, how I'm come to conceive of gnomes. They seem to be a race that is prone to hyper fixation on subjects that they find interesting. For rock gnomes that is often machinery, for forest gnomes it is often nature, and for deep gnomes it is often mining. However, I can easily envision gnomes more than other races as enthusiastic nerds (who are also more likely to be kind and welcoming than IRL nerds can be).
2) I find the magical traits of deep and forest gnomes in particular interesting and fun to use. I'm always tempted by the gnome racial feats Fade Away and Svirfneblin Magic.
3) Background lore for the race. The svirfneblin are noticeable for being one of the only Underdark races that isn't evil, though due to their harsh environment they also are more cynical and prone to dark humor. Various sources also paint them as paranoid, untrusting, and isolationist. They construct their homes as mazes with multiple traps and hidden passages. Even outsiders the svirfneblin trust are rarely shown much of an enclave for fear that allies might spill a community's layout and defenses under threat of torture or mind control. To sum it up, they're people just trying to survive in a deadly environment with many neighbors that would do them harm.
My second favorite is (variant) humans, but for a less interesting reason:
1) Overall mechanical effectiveness. A free feat is extremely tempting and honestly the only reason I ever make a human character. In games I DM I actively counteract this by giving every PC a free feat.
My third favorite is the duergar (it's also the only race I haven't actually played but very much want to):
1) Attractive appearance. Elves are usually considered the hot ones, but check this rad duergar lady out: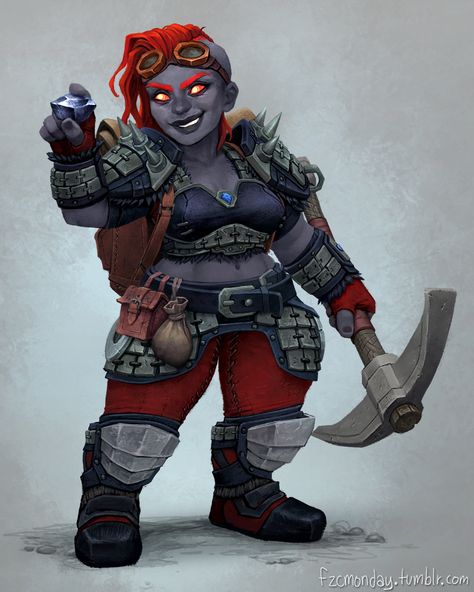 Of course, beauty is in the eye of the Beholder (which is why adventurers should be harvesting their eyes).
2) Background lore for the race. From my investigations into duergar-related content as part of the Underdark campaign I'm running, duergar society is orderly, pragmatic, and cold. Though they trend Lawful Evil, said evil is usually more mundane and utilitarian than pointlessly cruel. The 3E third-party splatbook The Slayer's Guide to Duergar also adds some interesting ideas: individuals worth is tied to wealth and determines a duergar's fate after death, duergar must prove their value and survival ability by embarking on and returning from a solo pilgrimage through the Underdark called the Lonely Year, and duergar are just as likely to use their Invisibility to hide from political rivals and hold whispered communications with allies as they are to use it for an ambush. 4E took the 3E durzagon and effectively made it the default duergar for that edition, introducing devil-worshiping duergar whose greatest enclaves are stone citadels covered in hellfire that rise from deep rifts. 5E brings back Laduguer but ties him to Asmodeus (with Rime of the Frost Maiden even featuring a duergar ruler who believes he serves Laduguer but is actually a puppet of Asmodeus) while also introducing new interesting bits of lore, such as the idea that alcohol elicits pleasant ancestral memories in dwarves but inflicts the ancestral memories of oppression by the mind flayers.
3) Want to roleplay as someone unlike myself. Mordenkainen's Tome of Foes provides guidance on roleplaying duergar as being raised as perpetually unsatisfied to keep them from ever growing content, spurring them on to constantly amass proof of their worth as an individual for all their days. This coupled with their dour seriousness would be an interesting roleplaying challenge for someone like me.
In typing all that out I think I just realized I like duergar even more than I thought I did.
Now that I've given three examples, I'm curious to see how others respond.
Last edited: