Ondine Publishing has just released
Whispers of the Dark Daeva
by Richard Green, a brand new 5th Edition adventure for 1st-level characters, set in
Parsantium: City at the Crossroads
.
As the boat town of Flotsam gets ready to celebrate the Festival of Flowers, a series of violent deaths threatens to spoil the upcoming festivities. When the PCs delve into what's been going on, they uncover an ancient evil lurking in the Hidden Quarter below the city streets that must be stopped before more innocents die…
Set on the run-down streets and houseboats of the Dock Ward in Parsantium's Old Quarter, this adventure for four or five 1st level characters brings them into conflict with a powerful evil intent on increasing its power by spreading murderous carnage throughout the city.
Part mystery, part dungeon crawl, this standalone 5th Edition adventure is the ideal way to kick off a new campaign set in Parsantium: City at the Crossroads. The scenario can also be readily adapted to other published campaign settings or your own game world.
* Designed to be easy to run by the GM – all monster and NPC stat blocks are presented alongside the encounter text
* Contains a fiendish new 5e monster – the dark daeva
* Price $4.99 or £4.00, 38 page PDF
Buy from drivethrurpg.com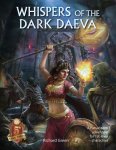 About Parsantium
Parsantium is a melting pot, a cosmopolitan city where trade routes meet and great cultures collide. Inspired by real-life Byzantium with its rich Greco-Roman heritage, the setting is packed with characters, monsters and magic from the Tales of the Arabian Nights, ancient India and the Far East, alongside traditional medieval fantasy elements.
"Parsantium BREATHES authenticity and love – New York City meets Byzantium, modern metropolis meets swords & sorcery – this book actually manages to portray a believable, interesting, unique city that oozes the spirit of Al Qadim, early weird fiction and recent phenomena like the god of war-series, all while staying believable." – Endzeitgeist
About Richard Green
Richard Green has been playing D&D since 1980, running the game in all five editions, as well as plenty of other RPGs. He is the author and publisher of
Parsantium: City at the Crossroads
, a city sourcebook for use with the Pathfinder RPG and all editions of D&D, and co-wrote the
Midgard Bestiary for 4th Edition D&D
(Kobold Press). He has written over a dozen RPG products for Kobold Press and Raging Swan Press.
Last edited: