On July 16th-17th WotC is running their now-traditional online streaming event, D&D Live. The press release is below.
"D&D Live 2021 will be streamed on July 16th & 17th and will feature star-studded casts playing with expert DMs, special product announcements, giveaways for those with high enough INT rolls & more!"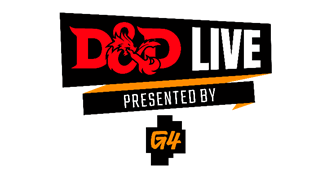 Last year,
D&D Live 2020
featured a bunch of celebrity guests, and the announcement of
Rime of the Frostmaiden
and some other accessories. This one mentions product announcements, so we have our first official announcement of an announcement of the year, coming in July!
This morning I rolled a critical success on a d20, valiantly earning the right to announce Wizards of the Coast and G4 are partnering for D&D Live 2021, a special two-day streaming event on July 16-17 and continuing with four all-new limited-run campaign series to premiere on G4 this Fall.

"D&D Live 2021 is going to be an innovative event with new forms of interactivity for a live streaming audience and the perfect D&D introduction for new audiences," said Brian Terwilliger, 12th level VP of Programming and Creative Strategy at G4. "We're thrilled to partner with Wizards of the Coast to give fans adventure, comedy, and an incredibly entertaining journey into the theater of the mind."

"D&D Live has been such an exciting event for both fans and Wizards, and it's amazing how it has grown each year. In 2021, we are expanding D&D Live's impact by partnering with G4," said Nathan Stewart, Level 20 Wizard of the Coast, Head of Franchise. "With G4 joining our party, we aim to bring even more fans to Dungeons & Dragons by showcasing friends adventuring together."

D&D Live 2021 will take place on the 16th and 17th of Flamerule (which is equivalent to "July" in the Forgotten Realms calendar in case you were rusty). The two-day event will feature four games with star-studded casts playing with expert DMs, as well as hosted content featuring games, interviews, special product announcements, a Dungeon Master roundtable, and exclusive giveaways for those with high enough INT rolls. The timing and casts will be announced soon, and my halfling rogue is always good to go in case they need backups.

This alignment – which I'd totally call Chaotic Good - will continue through G4's official launch later this year as the two brands party up for a limited series premiering after the network's launch. The series will follow four campaigns with a mix of G4 talent, veteran D&D players, and celebrities for a new generation of D&D fans.

"As we continue to interact with our audience leading up to the launch of the network, one of the most resounding requests was for tabletop gaming content," said Kevin Sabbe, Head of Content, G4, who looks great in a hooded traveler's cloak, I must admit. "This partnership reinforces our focus on authentic gaming content that will entertain existing D&D fans and those new to the world of tabletop as well."

The announcement comes as G4 continues its Epic April celebration, a classic G4 tradition where the network unveils an ogre's load of talent/programming announcements, summons big giveaways, and generally behaves like a dwarven berserker nine espressos in. Previous announcements include G4's partnership with WWE for a competition video game series, the return of the fan-favorite classic Ninja Warrior to the network, and the introduction of Alex "Goldenboy" Mendez and Kassem G as G4's newest cast members.

Roll for excitement - nat 20!

Sincerely,
Phil "Philandraell" from the Marketing Guild
WotC is partnering with a 'next generation network'
called G4
. "G4, the next-generation network created for gamers, by gamers. Authentic to its legendary roots, G4 returns in 2021 with classic shows and brand-new original content driven by a passion to entertain, unite and inspire gaming's enthusiastic and diverse communities. Based in Los Angeles and available everywhere gamers congregate, G4 is committed to bringing the industry together through content, commerce, and experiences that set a new standard for gaming innovation, inclusion, and accessibility. Reinvented by Spectacor Gaming, owner and operator of a growing portfolio of gaming and esports assets – including Overwatch League's Philadelphia Fusion and T1 Entertainment & Sports – G4 is also connected to and inspired by the technology and creativity of Comcast NBCUniversal."
This is what G4's website says:
Like for real. It's really coming back. There's a website with a fancy purple shape design with stars in it and everything. You might be asking, "Why relaunch a TV network about video games now? We already have Twitch and YouTube!" Great question, we'll think about it. In the meantime, here's what we CAN tell you...

G4 is a digital first network going live in 2021.
Will it be on TV? Comcast pays the bills, so take a guess!
The network will feature gaming and pop culture shows plus epic live special programming. And an alpaca every now and then.
It will look awesome, but also kind of low budget at the same time.
We're doubling down on reruns of COPS and Cheaters.
Okay, that last one was a joke. The rest is true.
Last edited: