As we do every year, we
took nominations
and then asked everybody to vote for their favourite tabletop RPG podcasts of 2020! Thousands of votes later, we counted down the results last week on our podcast! But for those who are looking for podcasts but don't want to listen to a podcast, here's the list in text format!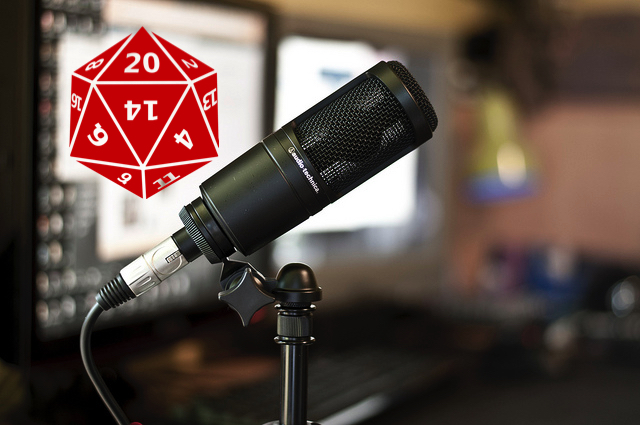 There are two categories, ACTUAL PLAY and TALK. The winner of each category each year enters the
Hall of Fame
!
---
TALK
TALK podcasts include interviews, reviews, discussion, opinion, advice and news. The previous years' winners were
The Grognard Files
(2019) and
The Good Friends of Jackson Elias
(2018), which are now in the
Hall of Fame
, and were not eligible to enter this year.
1 What Would The Smart Party Do?
-- WINNER 2020!
The UK's Premier RPG Podcast
2 Ken & Robin Talk About Stuff
Ken and Robin Talk About Stuff is the podcast of authors and game designers Kenneth Hite and Robin D. Laws. Stuff talked about includes hobby gaming, history, occultism, chrono-travel, food, cinema, narrative, art, politics, food, maps, Cthulhiana, and in fact any matter subject to jocular yet penetrating erudition.
3 Beholder to No One
A Dungeons and Dragons Podcast. Mondays we have discussions on TTRPGs and D&D. Thursdays we have episodes of either non-D&D TTRPG One Shots or a D&D 5e horror-esqe Actualplay
4 Mud & Blood
Tabletop Roleplaying on the dark side
5 Effekt Podcast
The Year Zero Engine podcast, celebrating (mostly Swedish) RPGs including, but not limited to: Coriolis; Forbidden Lands; Vaesen; Tales from the Loop; and, Alien.
6 Appendix N Book Club
A podcast about the fiction that inspired D&D and how we use it in our gaming today.
7 Plot Points
Plot Points has been discussing role-playing games as literature since 2013. The podcast takes a deep dive on the influences, origins, joys, and meaning of tabletop role-playing games. The Plot Points gang talks about new releases, old gems, and speaks with the most influential and exciting creators in the tabletop role-playing game space.
8 Monsters & Multiclass
We are a 5e discussion podcast and we want to inspire your [D&D] sessions!
9 Gaming & BS
A system-agnostic tabletop role-playing game podcast hosted by Brett and Sean
10 Morrus' Unofficial Tabletop RPG Talk
A
podcast all about the latest tabletop roleplaying game news! From D&D and Pathfinder to the latest indie games, it won't necessarily be accurate, or informative, or even competent, but we will try to have fun! Join ENnies creator, EN Publishing CEO, and EN World owner Morrus and the Southampton Guild of Roleplayers founder Peter Coffey each week. You might learn something. But you probably won't.
---
ACTUAL PLAY
ACTUAL PLAY podcasts are podcasts where the podcasters play an actual tabletop RPG for your listening enjoyment. The previous years' winners were
Tablestory
(2019) and
The Adventure Zone
, (2018), which are now in the
Hall of Fame
, and were not eligible to enter this year.
1 The Unexpectables
-- WINNER 2020!
Follow the travels and tribulations of Task the Kobold Ranger, Greckles the Kenku Rogue, Panic the Tiefling Bard, and Borky the Orc Barbarian, as they traverse the dangerous and mysterious lands of Alivast, and the Capital City that hosts a bungle of characters, magic and villains.
2 Glass Cannon Network
The Glass Cannon Debuted In June Of 2015 As A Weekly One Hour Actual Play Podcast Of Paizo's Giantslayer Adventure Path. In June Of 2016, They Launched A Behind The Scenes Talkback Show Called Cannon Fodder Which Takes A Look Back At Each Week's Episode While Also Answering Gm And Player Questions From Listener Mail All Around The World. In 2017, They Announced A Partnership With Paizo, Inc. To Become The First Officially Licensed Podcast Of The Pathfinder Game System.
3 Sweden Rolls
Four actors play the best of swedish RPGs with one of Swedens most experienced and appreciated podcast GMs
4 Not Another D&D Podcast
Three unlikely adventurers attempt to right the wrongs caused by a party of legendary heroes who screwed up the world while trying to save it. DM Brian Murphy is joined by Emily Axford, Jake Hurwitz, and Caldwell Tanner for this D&D play podcast.
5 Dungeons & Daddies

Using the dice-rolling framework of the classic tabletop role-playing game Dungeons & Dragons, it tells the story of four suburban dads from our world flung into a world of fantasy and magic in a quest to rescue their lost sons.
6 Ain't Slayed Nobody
We play Call of Cthulhu by Chaosium in our tabletop RPG podcast. Join Y'all of Cthulhu - our first season of actual play comedy-horror. Saddle up and ride Down Darker Trails from the beginning.
7 Red Moon Roleplaying
We play tabletop roleplaying games set in dark worlds and turn it into a podcast. Our current campaign is "The Black Madonna" for KULT: Divinity Lost.
8 How We Roll
HowWeRoll Podcast is a UK and Ireland based Actual Play Show, focusing on Dungeons and Dragons 5e and Call of Cthulhu 7e. We have been going for a while now, so there is a ton of content for you to enjoy
9 High Rollers
Welcome to High Rollers, a live-play Dungeons & Dragons podcast! Join Dungeon Master Mark Hulmes and his players as they explore the world of Aerois on Europe's biggest RPG stream!
10 Twelve-Sided Stories
Twelve-Sided Stories is a group of hard-working gamers, who are also hard-working actors, sound designers, and composers, dedicated to bringing you actual play RPG podcasts produced at the highest possible level. We will be playing several systems to bring you various types of stories, including Call of Cthulhu, an array of games powered by Apocalypse, Gumshoe, Vampire the Masquerade, Hack the Planet, and many more!
Last edited: