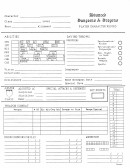 or nostalgia's sake, I'm posting the first AD&D (first edition) character sheet I ever made, circa 1989. Before that I was using photocopies of the ones TSR put out. I believe I used MacPaint and SuperPaint on my Mac SE/30 to create a two-page bitmapped sheet. Alas, I don't think I have the original files any more, so this is a scan of an old printout...
This work is licensed under a
Creative Commons License
. Character sheet created by
Mad Irishman Productions
.