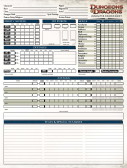 Well, the newest edition of D&D is upon us...I'm not sure what to make of it yet. But I have dutifully updated my character sheet for use with this edition...doubtless it will need some tweaking, so I welcome your input. As always, play with the layers to customize the sheet.
Beta 3 update: Page 3 is now all powers, giving you more room and allowing you to see the fronts of page 1 & 3 at the same time. Check boxes for Second Wind and Death Saves. More header bar options. Moved Powers text and Item slot names to their own layers.
Beta 4 update: fixed a problem with the Powers layers.
This work is licensed under a
Creative Commons License
by
Mad Irishman Productions
.