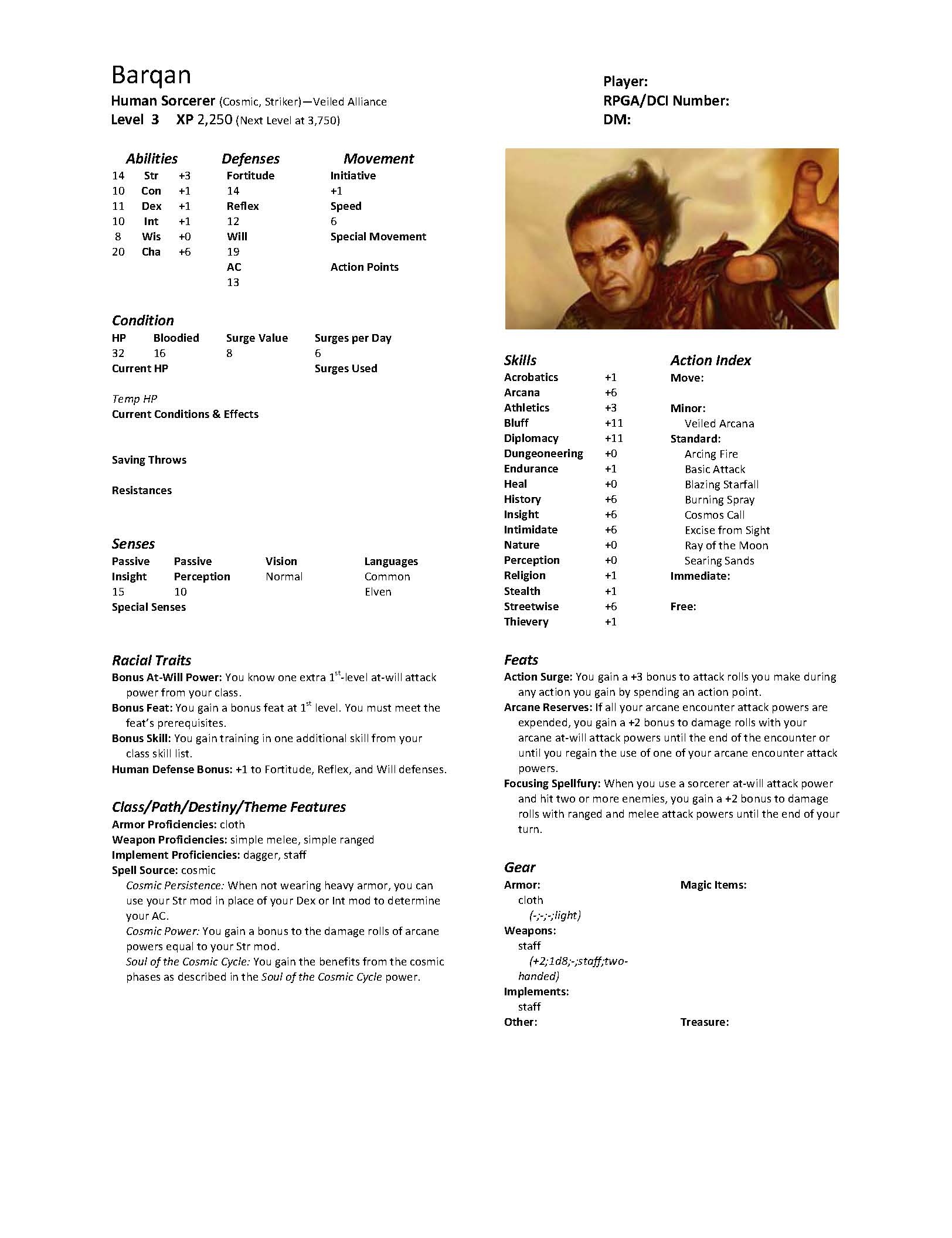 After multiple requests here and more than half a decade of evolution (neverending!) I am happy to finally present Tikkchik Fen Tikktikk's Ultimate (Editable!) Character Sheet. What is so "ultimate" about this sheet?
Everything an experienced player needs to play the game is on one--the first--page. Ignore the other pages if you want.
The first page has been carefully laid out so everything is where you need it, expect it, and want it to be to make checks easy and combat speedy.
Action Index on the first page!
Complete descriptions for racial traits, class/path/destiny/theme features, and feats on the first page!
The second page is a role-player and journaler's dream, with lots of room for character description, notes on the current campaign, etc.
The third page (through to the magic item and ritual pages once you get to the higher levels) contains complete power descriptions! This can't be emphasized enough, and I highlight the benefits below.
Pages beyond the third have room for full magic item descriptions and ritual descriptions, formatted similarly to my custom power description!
It's printed, not handwritten, so you can actually figure out your character's state and options at a glance while avoiding mistakes in rulings.
Unlike the Character Builder sheet, this is nice to look at and easy to read (I am biased).
And, as opposed to all of those gorgeous sheets that can only been written on by hand or edited with expensive design software, it's editable in the darn-near universal word processor!
Why am I so excited by my custom power description layout?
It is more condensed but easier to read and use than the official layout.
It includes the complete power description--including flavor text--while being easier to read and use than the power card layout.
Pre-calculates accuracy and damage, speeding up combat
Indicates the range thanks to @Daelkyr's Attack Icon Font
Technical Notes:
The blank template is the file "4E Full Page Character Sheet TEMPLATE.doc".
It is created in Word 2007 for Windows, though in the 97-2003 format.
They require the Calibri typeface and the afore-linked Attack Icon Font.
I've tried opening this in Open Office, Pages, and Word 2003 for Mac (don't have access to 2008, sorry) and they all destroy the table and column formatting on import. I haven't been able to recreate this sheet to my liking in any of those programs either. Sorry to support the Microsoft monopoly, but I have found Word is the best tool for this job. I've really tried to make a Pages version since I'm almost Mac only at home, but I've failed and stopped trying since I think that time is probably better spent on a web-version that outputs to pdf. (That will probably never happen, but it's nice to dream.)
When editing in Word, make sure you have "View Gridlines" turned on. It's under the Layout tab on the ribbon.
I've included PDFs as reference material.
The template is completely empty. The Barqan Lvl 3 .doc uses the most recent power description format for you to use as an example.
The Dak (level 2 Githzerai Monk) character is an example of the sheet from Spring 2010, and the Lamothi (level 5 Elf Wizard) character (requires the Futura Book typeface and the Attack Icon Font) is an example of the sheet from Summer 2008.
I hope you find it as useful as I do. Constructive criticism is welcome.
The content of this post including its attachments are licensed under a Creative Commons Attribution 3.0 License
Read more:
http://www.enworld.org/forum/showth...ate-(Editable!)-Character-Sheet#ixzz2kO8T7Lb1