One of my monster conversions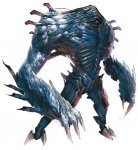 Ethereal Slayer
Large aberration, neutral
Armor Class
17 (natural armor)
Hit Points
178 (17d10 + 85)
Speed
50 ft.
STR DEX CON INT WIS CHA
25(+7) 14(+2) 20(+5) 8(-1) 16(+3) 9(-1)
Skills
Athletics +11, Perception +7, Stealth +6
Condition Immunties
blinded
Damage Resistances
bludgeoning, piercing and slashing from nonmagical weapons
Senses
blindsight 60' (blind beyond this radius), passive Perception 17
Languages
--
Challenge
9
Blind Senses.
A slayer can't use its blindsight while deafened and unable to smell.
Ethereal Jaunt.
As a bonus action, an ethereal slayer can magically shift from the ethereal plane to the Material Plane, or vice versa.
Keen Hearing and Smell.
The slayer has advantage on Wisdom (perception) checks that rely on hearing or smell.
Innate Spellcasting.
The ethereal slayers spellcasting ability is Wisdom (spell save DC 15). The slayer can innately cast the following spells.
At will:
detect magic
2/day each:
misty step, blink, dimension door
Magic Resistance.
The slayer has advantage on saves against spells and magical effects.
ACTIONS
Multiattack.
The slayer makes two claw attacks.
Claws.
Melee Weapon Attack: +11 to hit, reach 10 ft., one target. Hit: 25 (4d8 + 7) slashing damage.
Grapple.
If both of a slayer's claw attacks hit (and if the target is medium or smaller), the target is grappled (escape DC 19). Until the grapple ends, the target is restrained, and the slayer can attempt to ethereal jaunt with its victim to the ethereal plane (DC 15 Intelligence save negates).
Psychic Scream (recharge 5-6).
The slayer magically emits psychic energy in a 30'foot radius. Each creature in the area must succeed on a DC 15 Intelligence save or take 55 (10d10) psychic damage and be stunned for 1 minute. A creature can repeat the saving throw at the end of each of its turns, ending the effect on itself on a success.
Last edited: