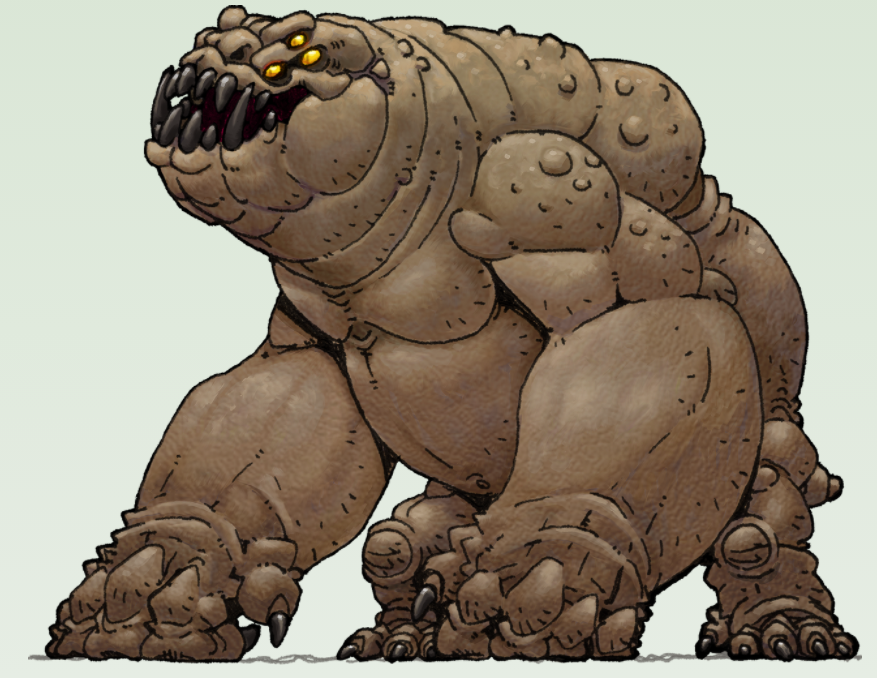 Gray Render
by Hologramzx
| | |
| --- | --- |
| Grey Render | Challenge 11 |
| Large elite monstrosity, typically chaotic neutral | 14,400 elite XP |

Armor Class
19 (natural armor)
Hit Points
210 (20d10 + 100; bloodied 105)
Speed
50 ft.
| | | | | | |
| --- | --- | --- | --- | --- | --- |
| STR | DEX | CON | INT | WIS | CHA |
| 21 (+5) | 13 (+1) | 20 (+5) | 3 (-4) | 9 (+0) | 8 (-1) |
Savings Throws
Str + 9, Dex +5, Con +9
Skills
Athletics +9, Intimidation +3, Perception +8, Stealth +5
Damage Resistances
cold, fire, poison
Condition Immunities
frightened
Senses
darkvision 120 ft., passive Perception 18
Languages
--
Proficiency Bonus
+4;
Maneuver DC
17

Brute.
A melee weapon deals on extra die of damage when the gray render hits with it (included in the attack).
Gray Endurance (Elite Trait, 1/Rest).
When the gray render is first bloodied, all conditions and effects it is suffering end for it, its elite traits activate, and all of its abilities recharge. Additionally, on its initiative count +10, or in place of an Action on its turn, the gray render can use an elite action.
Natural Camouflage.
The gray render has advantage on its Hide attempts when in areas of rock or bare earth.
Spell Resistance.
The gray render takes half damage from magical effects and spells.
Elite Recovery.
At the end of each of its turns while bloodied, the gray render ends one negative effect currently affecting it. It can do so as long as it has at least 1 hit point, even while
unconscious
or
incapacitated
.
ACTIONS
Multiattack.
The gray render makes two claw attacks.
Claw.
Melee Weapon Attack:
+9 to hit, reach 10 ft., one target.
Hit:
18 (3d8 + 5) slashing damage. If the target is Large or smaller, the target must succeed on a DC 17 Strength saving throw or be grappled or knocked
prone
, the gray render's choice.
Bite.
Melee Weapon Attack:
+9 to hit, reach 5 ft., one target.
Hit:
24 (3d12 + 5) piercing damage. This attack is a critical hit if the gray render has advantage on the attack and both rolls hit.
BONUS ACTIONS
Vicious Bite.
The gray render can make a bite attack against a target that is prone, incapacitated, or it has grappled.
REACTIONS
Bloody Rampage.
When the gray render takes damage, it makes one attack with its claws against a random creature within its reach, other than its master.
Rend.
If a creature ends its turn grappled by the gray render, the creature takes 25 (6d8) slashing damage.
ELITE ACTIONS
Dash.
The gray render moves up to its speed. Attacks of opportunity have disadvantage to hit the gray render during this movement.
Hide.
The gray render can take the Hide action.
Rending Claw.
The gray render can make one claw attack against a target it has grappled.
Last edited: