Rog
(by thirteenspades w/ revisions by Dave2008)
The mighty rogs were created by the Prince of Undeath to command his undead armies for he no longer trusted the schemes of the balors and other might demon vassals.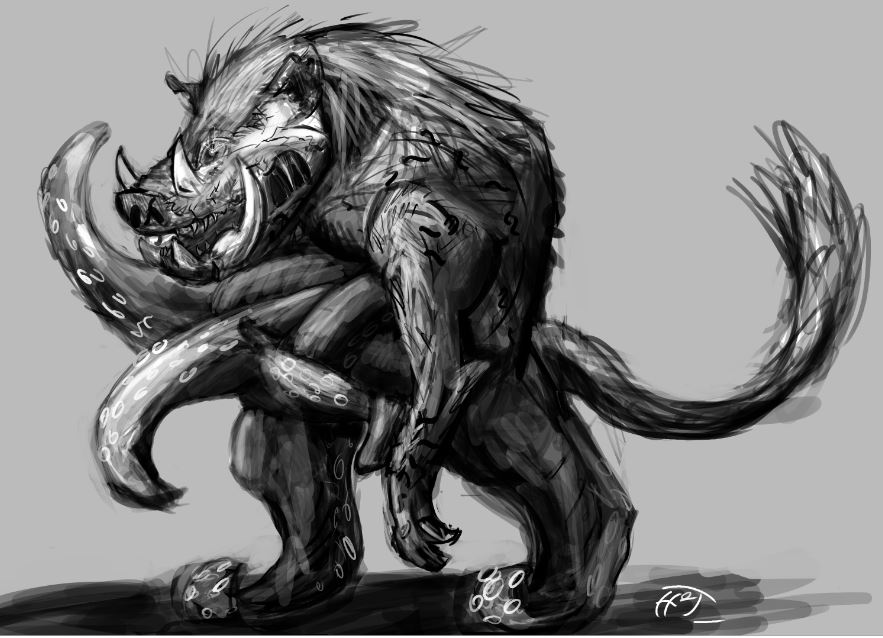 ---
Rog
Large fiend (demon), chaotic evil
Armor Class
18 (natural armor)
Hit Points
351 (26d10 + 208; bloodied 175)
Speed
40 ft., fly 80 ft.
| | | | | | |
| --- | --- | --- | --- | --- | --- |
| STR | DEX | CON | INT | WIS | CHA |
| 26 (+8) | 18 (+4) | 26 (+8) | 22 (+6) | 20 (+5) | 21 (+5) |

Savings Throws
Str +14, Dex +8, Con +12, Wis +9
Skills
Arcana +10, Athletics +14, Intimidation +17,
Damage Resistances
cold, fire, lightning; bludgeoning, piercing, and slashing from nonmagical attacks
Damage Immunities
necrotic, poison
Condition Immunities
charmed, exhaustion, frightened, poisoned
Senses
blindsight 180 ft., truesight 120 ft., passive Perception 20
Languages
Abyssal, Celestial, Common, Infernal, telepathy 240 ft.
Challenge
20 (25,000 XP)
Proficiency Bonus
+6
Death's Call.
Creatures within 90 feet of the rog have disadvantage on death saving throws.
Magic Resistance.
The rog has advantage on saving throws against spells and magical effects and any creature that makes a spell attack against the rog has disadvantage on the attack roll.
Magic Weapons.
The rog's weapon attacks are magical.
Marshal Undead.
Unless the rog is incapacitated, undead creatures of its choice within 90 feet of it have advantage on saving throws against features that turn undead
Obscene Magic (2/Short Rest).
The rog can use a bonus action to cast an at will spell.
Reactive.
The rog can take one reaction on every turn in a combat, but only one can be used for its Chomp action.
Reanimation.
Any creature killed by the rog is reanimated. as in the spell
animate dead
, at the end of the creatures next turn. The creatures are animated as zombie versions of their creature type.
Unstoppable (3/Short Rest).
The rog can use a reaction, take 30 hit points of damage, and end one condition or effect it is suffering.
ACTIONS
Multiattack.
The rog makes three attacks: any combination of two claw or tentacle attacks and one bite attack.
Claw.
Melee Weapon Attack:
+14 to hit, reach 10 ft., one target.
Hit:
18 (3d6 + 8) slashing damage and 11 (2d10) poison damage. If the target is a creature, it must succeed on a DC 19 Constitution saving throw or be diseased. The diseased target can't regain hit points, and its hit point maximum decreases by 10 (3d6) for every 24 hours that elapse. If the disease reduces the target's hit point maximum to 0, the target dies.. The curse lasts until removed by the
remove curse
spell or other similarly powerful magic.
Tentacle.
Melee Weapon Attack:
+14 to hit, reach 10 ft., one target.
Hit:
18 (3d6 + 8) bludgeoning damage plus 11 (2d10) necrotic damage. The target's hit point maximum is reduced by an amount equal to the necrotic damage taken. The reduction lasts until the target finishes a long rest. The target dies if this effect reduces its hit point maximum to 0.
Bite.
Melee Weapon Attack:
+14 to hit, reach 5 ft., one target.
Hit: 24
(3d10 + 8) piercing damage and the target must make a DC 18 Strength saving throw or be grappled. If he target is a Medium or smaller creature, as long as it is grappled this way it is also restrained.
Chill Touch.
Ranged Spell Attack:
+11 to hit, range 60 ft., one target.
Hit: 16
(4d8) necrotic damage and the target can't regain hit points until the start of the rog's next turn.
Icy Soul (Recharge 5-6).
The rog becomes incorporeal and moves up to is flying speed. When it moves this way it can move through other creatures and objects. The first time it enters a creatures space during this movement, the creature musts make a DC 19 Constitution saving throw, taking 22 (4d10) necrotic damage on a failed save, or half as much on a successful one. Additionally, the rog regains hit points equal to half the amount of necrotic damage dealt.
Innate Spellcasting.
The rog's spellcasting ability is Charisma (spell save DC 19, +11 to hit with spell attacks). The rog can innately cast the following spells, requiring no material components.
At will:
charm person
,
chill touch (see "Actions"), detect magic, dispel magic, fear
3/day each:
animate dead, counterspell, greater invisibility, teleport
1/day each:
create undead, finger of death
REACTIONS
Chomp.
If a creature ends its turned grappled by the rog, the rog can make a bite attack targeting the grappled creature.
Parry Missile.
The rog adds 5 to its AC against a ranged attack that would hit it. To do so, the rog must see the attacker.
Last edited: