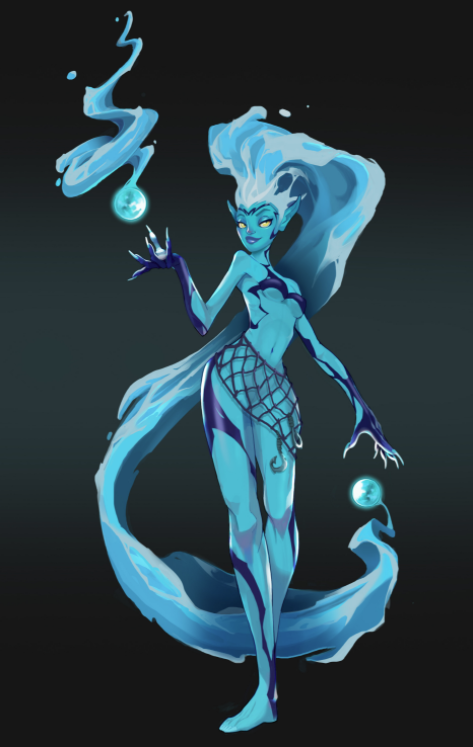 Nereid
by Benjamin Karr
U
NDINE
Source:
@the Jester
An undine is a water fey that looks like a beautiful. Blue-skinned, elfin-featured woman garbed in a swirling dress made of water. Usually friendly if approached with respect, the undine is as flighty and unpredictable as water itself, and is usually encountered in or near running water. If her wrath is aroused, her enemies will discover, to their chagrin, that she can use the water itself as a weapon- and if no other water is available, she can use the water she is wearing.
Keeper of Watery Secrets.
An undine is usually aware of several underwater caves, areas hidden behind waterfalls, concealed coves, and similar areas. Sometimes, one will know the location of shipwrecks, submerged cities or dungeons, or lost treasures. However, the fickle undine's favor must usually be earned before it will reveal its knowledge. It might want an enemy or a local predator that it fears destroyed, a gift of pearls or shells, or some other desire fulfilled to share such information. Often, a bargain with an undine involves fulfilling some kind of whimsical or childish whim.
Undine Treasure.
An undine's lair is 40% likely each to have 1d10 gems (often pearls) and 1d6 pieces of jewelry, and 15% likely each to have 1d2 pieces of magical jewelry (1-3) or miscellaneous magic items (4-6).
| | |
| --- | --- |
| Undine | Challenge 1 |
| Medium fey, chaotic neutral | 200 XP |
Armor Class
14 (water armor)
Hit Points
21 (6d6; bloodied 10)
Speed
30 ft., swim 50 ft.
| | | | | | |
| --- | --- | --- | --- | --- | --- |
| STR | DEX | CON | INT | WIS | CHA |
| 8 (-1) | 13 (+1) | 10 (+0) | 12 (+1) | 13 (+1) | 15 (+2) |

Saving Throws
Dex +5, Wis +4
Skills
Acrobatics +3, Athletics +1
Damage Resistances
fire
Damage Immunities
cold
Senses
passive Perception 11
Languages
Aquan, Sylvan
Proficiency Bonus
+2;
Maneuver DC
11
Aquatic.
The undine can breathe both air and water.
Green Eyes.
The undine can see twice as far underwater and has advantage on Wisdom (Perception) checks that rely on sight underwater.
Water Mistress.
The undine is unaffected by currents, rapids, or other hazards caused by or composed of water.
ACTIONS
Rush of Water.
The undine chooses one creature it can see within 60 feet of it and unleashes a barrage of water at it. The target must make a DC 12 Strength saving throw, taking 14 (4d6) bludgeoning damage and be moved up to 20 feet in a direction of the undine's choice on a failed save, or half as much damage on a successful one.
REACTIONS
Watery Wrath (1/Day).
When the undine first becomes bloodied, it can immediately use Rush of Water against up to three different targets.
Last edited: