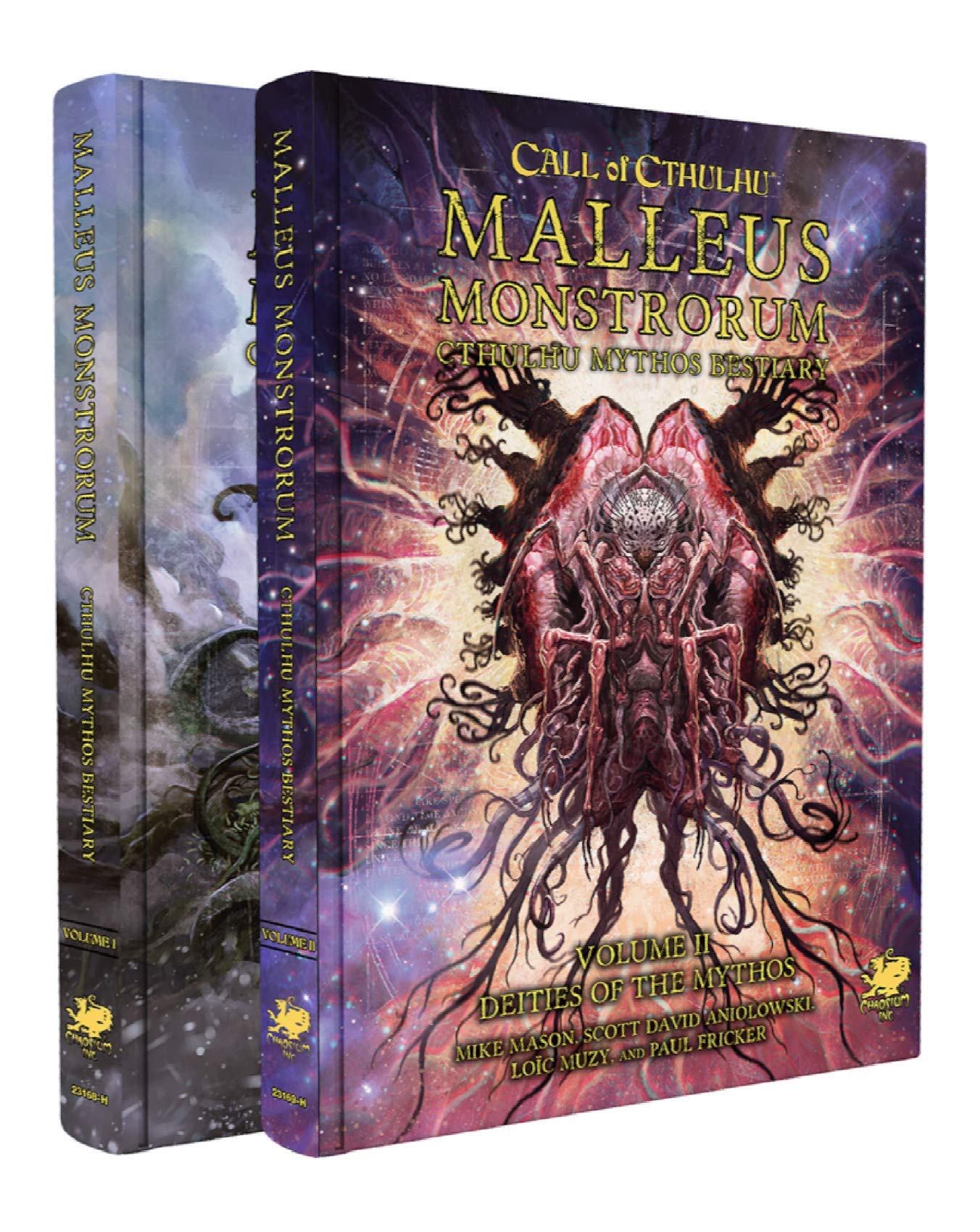 A monster manual for
Call of Cthulhu
always struck me as an odd proposition. It is not a game of heroic combat. It's a game where players flee the monster until they can attack on their own terms, if at all. The game operates on a sense of mystery and the unknown. Players who can quote Deep One game statistics chapter and verse run the risk of deflating the atmosphere. The most recent release for
Call of Cthulhu 7th Edition
,
Malleus Monstrorum
, not only updates a 2006 collection of monsters, but doubles down with a two-book slipcase edition that greatly expands the previous edition. Chaosium sent me the books full of forbidden knowledge to review. Let's see if they are worth the cost in money and sanity.
The first book focuses on the monsters of the Mythos. But before getting to the shoggoths, there's a solid discussion how to make monsters more effectively scary. Keeping the creature in shadow and describing it without using its name is a classic Cthulhu keeper tactic, but the chapter goes into detail about how smells and tastes can convey ideas as much as sound or sight. Most players likely don't know what a dead body smells like, but talking about a smell like rotted chicken or chunky milk can convey the revulsion of seeing a creature much more directly.
The chapter also offers design guidelines for new creatures along with a couple of pages of random charts for inspiration. This is not a game about meticulously balanced adversaries but the notes do talk about weaknesses and other ways that a new monster can be driven off if not killed. I found this chapter to be the most useful from a designer standpoint. There's something of an unspoken assumption that a Keeper will use classic Lovecraftian baddies, but designing new ones fits the collaborative nature of the original Mythos as well as keep those players jaded by Cthonians on their toes.
The monster entries dig from all over the Mythos and the history of Call of Cthulhu. Each one starts with an evocative bit of prose, some alternate names to sprinkle in those in-game texts, and then the usual skills, spells and abilities. The more popular entries also get variants or unique entities that are a stand out version of the common creature. A few of the creatures also get a bit of boxed text to describe when they die and the investigators stand, bloody yet triumphant, over their bodies. I wish this was something they had done with every entry.
The first book also includes more common supernatural creatures and animals. There's a short discussion about whether or not vampires and their like should be included in
Call of Cthulhu
, which has been an argument between Keepers for years. The book comes down on the positive side, saying that a regular old werewolf can cleanse the palate between Mythos Gods. I was hoping for a discussion on including what I've called "Scooby cases" as a Keeper, where the supernatural mystery is actually something quite mundane. I'm not sure if this book is where that topic goes, but I think it's an important discussion between Keeper and investigator. The first book ends with a pronunciation guide as they say these names around the Chaosium office, which seems to be as close as we'll get to anything official any time soon.
The second book gets to the main course more quickly as there are dozens of Old Ones and Outer Gods packed into the Mythos contained within. Each entry sets up the creature as a main villain with an expansive write up over a few pages. Some of the big names get avatars as well, similar to the different aspects of the Crawling Chaos. A particular favorite is a modern Cthulhu avatar that preys on dreamers who are zoned out in front of the TV. These write up include the kind of cults the deity has worshipping it as well as some suggestions on the spooky abilities the alien might bequeath on those cultists in exchange. There are also some pronunciation guidelines for the things in this book as well as a few loose guidelines for designing new Mythos gods.
All in all, I felt the
Malleus Monstrorum
was a good addition to my Keeper resources, but I also hit what seems to be the target audience: experienced Keepers who are looking for ways to keep things fresh. If you want to inject a little of mystery back into your
Call of Cthulhu
games, consider picking up these volumes.