The
original Appendix N
in the 1e AD&D DMG includes a large number of authors and works. To prioritise my own reading I have created a shorter list.
Anderson, Poul: Three Hearts and Three Lions
Burroughs, Edgar Rice: A Princess of Mars; The Gods of Mars; The Warlord of Mars
de Camp, L Sprague and Pratt, Fletcher: The Roaring Trumpet; The Mathematics of Magic; The Castle of Iron
Howard, Robert E: Conan stories
Leiber, Fritz: Swords and Deviltry; Swords Against Death; Swords in the Mist; Swords Against Wizardry; The Swords of Lankhmar
Lovecraft, HP
Merritt, Abraham: The Moon Pool; Dwellers in the Mirage; Creep, Shadow!
Moorcock, Michael: The Stealer of Souls; Stormbringer
Tolkien, JRR: The Hobbit; The Lord of the Rings
Vance, Jack: The Dying Earth; The Eyes of the Overworld
Zelazny, Roger: Jack of Shadows; Nine Princes in Amber; The Guns of Avalon
Why these authors and works?
Chainmail names Tolkien, Howard, Anderson, and Moorcock. The OD&D foreword talks about "Burroughs' Martian adventures" featuring John Carter, "Howard's Conan saga", "the de Camp & Pratt fantasies", and "Fritz Leiber's Fafhrd and the Gray Mouser". Tolkien's name appeared several times prior to the 1977 'cease and desist' letter. A 1974 Gary Gyax article in La Vivandière, "Fantasy Wargaming and the Influence of J.R.R. Tolkien", mentions Tolkien, Howard, Anderson, de Camp and Pratt, Leiber, Lovecraft, Merritt, Moorcock, Vance, and Zelazny. According to Appendix N: "The most immediate influences upon AD&D were probably de Camp & Pratt, REH, Fritz Leiber, Jack Vance, HPL, and A. Merritt". A Gary Gygax article in Dragon #95, "The influence of J. R. R. Tolkien on the D&D and AD&D games" states that "the major influences are Robert E. Howard, L. Sprague de Camp and Fletcher Pratt, Fritz Leiber, Poul Anderson, A. Merritt, and H. P. Lovecraft. Only slightly lesser influence came from Roger Zelazny, E. R. Burroughs, Michael Moorcock, Philip Jose Farmer, and many others."
My list has ended up looking like a shorter version of
Appendix O
, which seeks to "compile a 'core' list".
All of the authors and works in my list also appear in the proto-Appendix N in Dragon #4: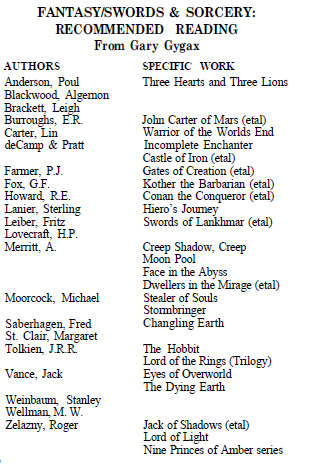 Last edited: