(Wasn't sure how to move a thread from the lifeboat forum to here so I'm just reposting it)
[h=2]
The World Needs the Avatar, now more than ever: A "Way of the Four Elements" mini-guide
[/h]
So, you have decided to go beyond a mere fist and quarterstaff and instead choose to wield the very elements of the world as your weapon!
What the Subclass looks like on paper: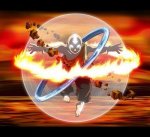 How it feels in game: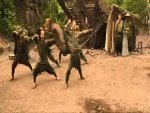 This is written as a supplement to the very excellent

Monk guide by Yunru

please refer to that for the main points of the class. I will be using the standard

terrible

lousy

mediocre

good

great

amazing

and

situational

color codes.

Subclass breakdown:

Benefits:
Flavor

: Throwing around ice and fire is without a doubt fun. Probably the biggest draw of the subclass.

Utility:

Who knows, maybe you will encounter lots of enemies perched on rooftops or balconies, or you will need to freeze a path across a pond and no-one has any ice or water related spells.

Range

: This is the biggest mechanical strength of the subclass. Monks are normally SoL when faced with enemies who can fly or who are on the other side of a chasm.

Area effects

: Sometimes you want to take out a whole crowd of goblins at once. Punching them individually might be easier and more likely to kill one or two, reducing the damage they deal back next round, but why get your hands dirty?
Note: With the Sword Coast Adventurer's guide, the Sun Soul monk can attack at range and with area effects just as well as the 4EM, and without being as reliant on ki points. So there's that.
​
Drawbacks:
Ki usage

: One of the biggest weaknesses of the Monk class is that so many of their class features rely on a very limited number of ki points. Element monks burn that already short candle at both ends. Expect to either be constantly pestering your DM and fellow players about short rest opportunities or be in perpetual "but I might need it later" paranoia paralysis.

Lack of Synergy

: Many of the powers this subclass grants do not work with with core Monk features, and in most cases directly preclude them. Further, some of them are concentration spells, which can make fighting in melee risky.
Limited Choices: Aside from the mandatory not!cantrip, you only get 4 powers over your entire career, 5 if you swap out Elemental Attunement. Choose wisely.
Overview:
Originally I rated this subclass
mediocre
but with the release of the Elemental Evil campaign player's companion and Sword Coast Adventurer's Guide it has dropped to
bad
. Probably the closest thing to a trap class 5e has. Now don't get me wrong- a 4 Elements Monk isn't useless by any stretch, they can still contribute to an adventuring party in and out of combat, just not as well and not as often as other options.
As a Monk, most of the time simply stun-punching an opponent is a faster, easier, and more reliable solution to a problem than any of the not!spells in the 4EM's repertoire. Why they didn't just make it a 1/3 spellcaster, I'll never understand. The ratings I give below are compared mostly to other powers within the monk class, and tend to assume opponents that are too distant, too numerous, or otherwise can't simply be hit with regular punches.
TL;DR:
Want to be a mystic who can command the elements of nature?
Be a Druid, Cleric, or Sorcerer.
Want to be a dexterous and mobile warrior who backs up their martial prowess with magic?
Be an Eldritch Knight or Bladesinger wizard
Want to be a monk, but also hit things that are far away?
Be a Sun Soul
Last edited: