An eclectic mix of new Miskatonic Repository scenarios here, showing the versatility of the
Call of Cthulhu
RPG!
The Grindhouse: Volume 1
Alex Guillotte, Ian Christiansen ($2.95, 40 page PDF)
grindhouse [grahynd-hous] n. – A grindhouse or action house is an American slang term for a theatre that mainly shows low-budget horror, splatter and exploitation films for adults.
Friday Night Double Feature!
The Crimson King:
This scenario takes place in the early 1980s. The characters have been invited to an exclusive nightclub that features early goth music with industrial and punk influences. Illicit drugs and overt sexuality are ubiquitous with the underground nightclubs of the time, and by all accounts The Court of the Crimson King is no exception.
Isle of the Damned:
Set on a small island off the coast of Maine, this scenario takes place in the summer of 1974. A group of friends have rented a small vacation house with the intent of spending a week fishing, drinking, and maybe smoking a little weed. Things begin to go sideways when they hear a noise from beneath the cabin that leads them to a hidden door. What lies beyond will change their lives forever.
These aren't your typical Call of Cthulhu scenarios where some classy, well-dressed investigator sips tea and pours over leather books in some wood paneled library. These are burning dumpsters of pure horror where a fleeing private investigator limps through some filthy back alley on a busted ankle while a howling pack of mutants try to beat them to death with the limbs of their dead friends. In other words, these are not for the faint of heart, and are intended for mature audiences only. Player discretion is advised.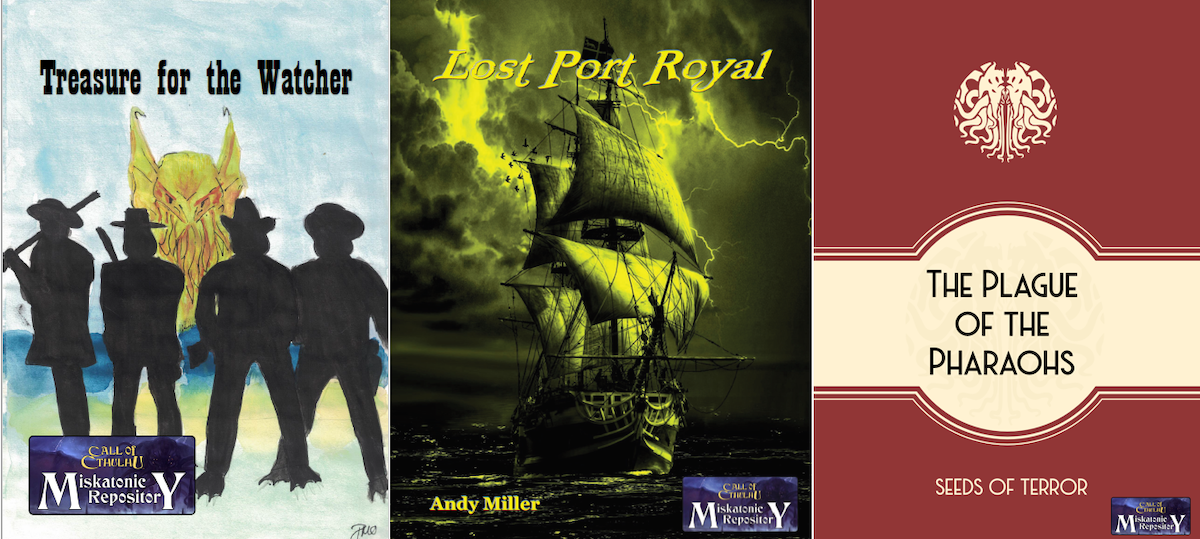 Treasure for the Watcher
Paul Owen ($2.50, 14 page PDF)
A bank robbery leads the investigators into a deeper plot in this
Down Darker Trails
scenario. The package contains the adventure, pre-generated characters and maps.
Lost Port Royal
Andy Miller ($5.99, 66 page PDF)
Both residents and visitors of Port Royal, Jamaica, in June 1692 have noticed odd things occurring in the town. It's about to get a lot worse. As madness and strangeness spread through Port Royal, only a small group of locals and sailors can hope to stop what is happening in the British colony. Who or what is causing the increasingly odd occurrences in the "Wickedest City on Earth" and why? If the investigators don't find out and stop it, it could be the end of Port Royal. It might be anyway.
A Stuart-Era scenario set in the waning years of the Golden Age of Piracy in the West Indies, now known as the Caribbean. In the age of tall ships and flintlock pistols, the bustling town of Port Royal, Jamaica, is in deadly danger and only the investigators can possibly save it. Or can they?
The Plague of the Pharaohs
Allan Carey ($8.99 $4.50, 33 page PDF)
"Some things should remain buried and forgotten by history. When a team of explorers and Egyptologists take shelter in the Lost Pyramid of Renpet, they find out exactly why..."
Brought to you by
award-winning
Chaosium licensee, Type40,
The Plague of the Pharaohs
is the twelfth Call of Cthulhu adventure in the monthly Seeds of Terror range.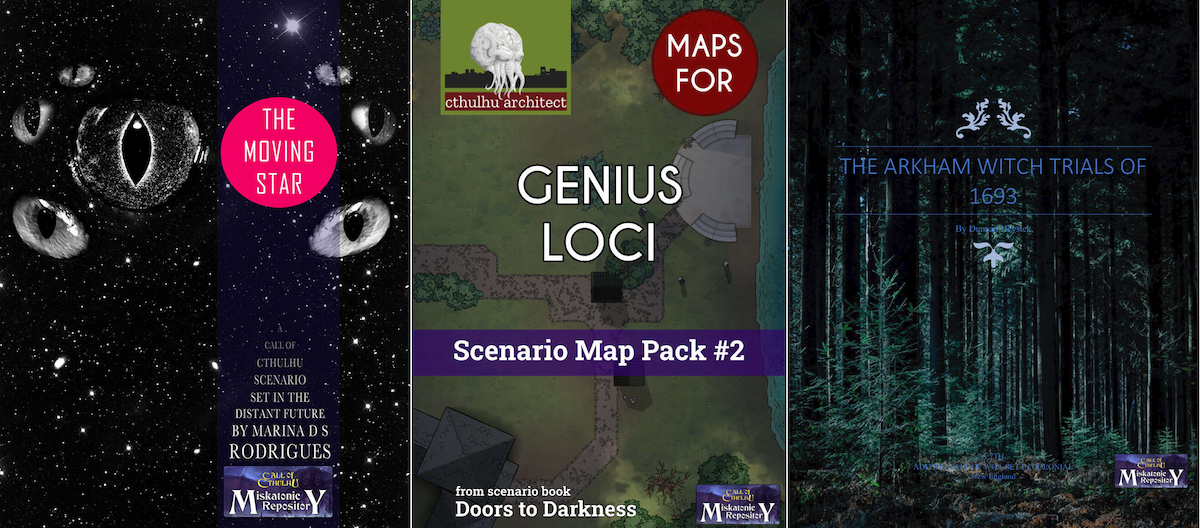 The Moving Star
Marina D S Rodrigues ($5.99, 43 page PDF)
The year is 2936. Almost half of Earth's land is now a watery and icy wasteland, but thanks to the discovery of wormhole technology humans have been exploring outer space. For the last 200 years humanity has colonized a planet christened 'Spero', where 70% of the human race now lives.
A slow burn
Call of Cthulhu
scenario set in a cyberpunk future. Board
The Moving Star
, the largest commercial spacecraft travelling between Earth and Spero -
we at The Moving Star promise you a journey you will never forget.
Cthulhu Maps - Scenario Map Pack #2 - Genius Loci
Cthulhu Architect ($7.99, 26 maps in PNG format)
All the maps needed to play
Genius Loci
from
Doors to Darkness
, available with grid or without grid and in high (140 PPI) and low (70 PPI) resolutions. Suitable for use with VTTs.
The Arkham Witch Trials of 1693
Duncan Heystek ($2.25, 21 page PDF)
The sleep town of Arkham has suffered a lot this past year. Like Salem, a bloody witch hunt has been conducted, seeing many innocents to the gallows for no logical reason. However when an old widow in town has been accused of witchcraft, strange thing begin to seep into this silent little town. Can it be mere coincidence, or is there truly witches among them?
A scenario for new players or inexperienced Keepers set in 1693 colonial Arkham.
Grieving Skies
The Death Die Club ($3.99, 32 page PDF)
The adventure takes place in Mexico in 1928 during the Cristero War. This conflict between the Mexican government and the Roman Catholic church lasted 4 years and claimed over 80,000 lives. The investigators are part of a government platoon tasked to visit towns, bolt shut churches and imprison dissidents. When the group locates the hideout of Don Jose Garzon, a prominent Cristero leader, they can´t pass up the opportunity to capture him. Unfortunately, none of them where ready for what they were about to face inside the hacienda.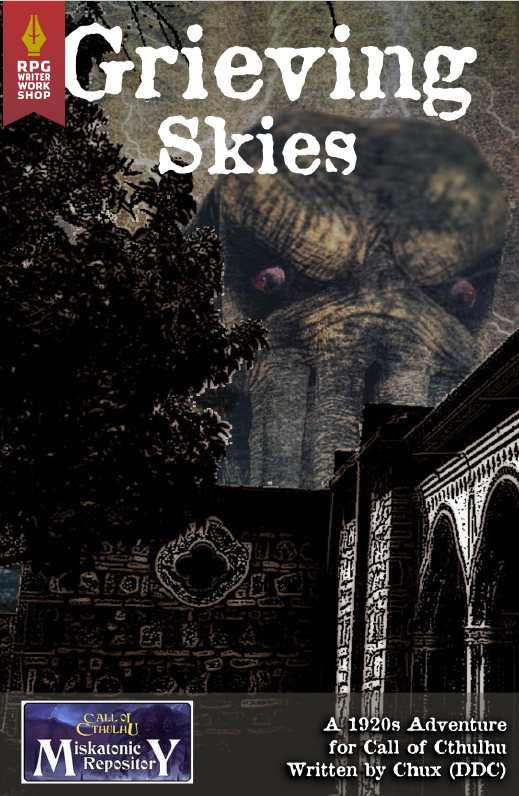 The
Grieving Skies
scenario was created as part of the Storytelling Collective's "Write Your First Adventure" course. Do check out the two
Call of Cthulhu
Writers Workshop Bundles
on offer, with thirty-eight adventures written by fellow alumni from the Summer 2021 course!
Plus new titles in Korean, French, and Bahasa Indonesia!
WANT TO TAKE PART IN THE MISKATONIC REPOSITORY COMMUNITY PROGRAM?​
Under the
Miskatonic Repository
community content license,
Call of Cthulhu
fans can make their own work for use with the game line available to the public, using
guidelines, templates, and art
provided by Chaosium.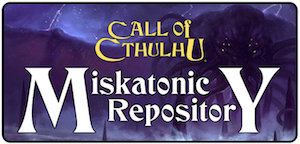 Whether you share your content for free or put it up for sale, this program is a digital home for terror that joins the dreamscapes of all who peruse it.