When
my editor at EN World
shared this project with me, it struck just the right cord. A rules light, story first RPG for kids that focuses on crafts and activities to keep its audience engaged speaks to my love of children's games. As a box/kit, the
Crafty Quest Box
lets your youngest try out roleplaying while keeping them entertained with projects that relate to the story. I wanted to learn more and Michael Best, the creator of this project, agreed to talk about the kit, where it came from, and how kids react to them.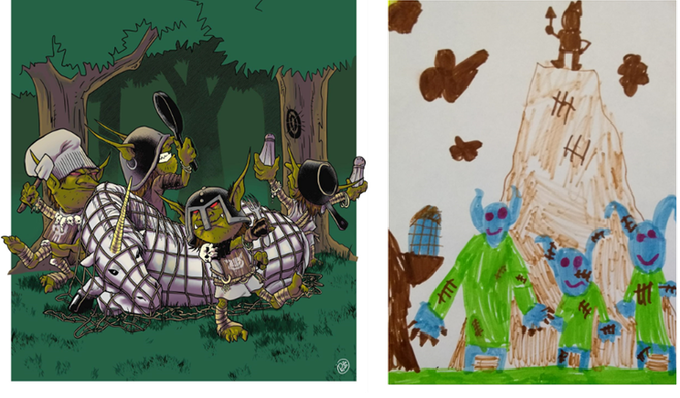 EGG EMBRY (EGG): Michael, thanks for taking the time to share about your Kickstarter. What is the
Crafty Quest Box
?
MICHAEL BEST (MICHAEL)
: The
Crafty Quest Box
is a boxed adventure meant for kids age 5 and up. The adventure consists of an intro to character building and a series of fun crafting tasks the hero completes in order to complete the quest at hand. There is a map of the realm that they follow and a story to go guide them on their journey. Everything (but potion water) is included in the box and it is meant to be an all inclusive kit, right down to the pen and paper.
EGG: Is this a standalone RPG or a project to enhance existing games for kids?
MICHAEL
: It is an adventure that kids complete on their own. Younger kids will need a storyteller to help them read the story and instructions, however. The focus is heavy on crafting but it also teaches them some basics about RPGs and allows them the freedom to conjure up any character they wish. They will learn many fantasy references that are used later on in fantasy RPGs.
EGG: What inspired this project?
MICHAEL
: The box is based on our elementary school K5 after school club. We began the club in 2018 and had more kids than we knew what to do with. They crafted, sang songs, told stories, made characters, and gamed. When the pandemic lockdown happened and we could no longer meet in person, I wanted to give the kids a creative outlet they could work on at home. We wanted to keep the momentum of the club going and also wanted to brighten the days for these kids all stuck at home. I took several of our tried and true crafts from the club, wove them into a fun fantasy story and the
Crafty Quest Box
was born!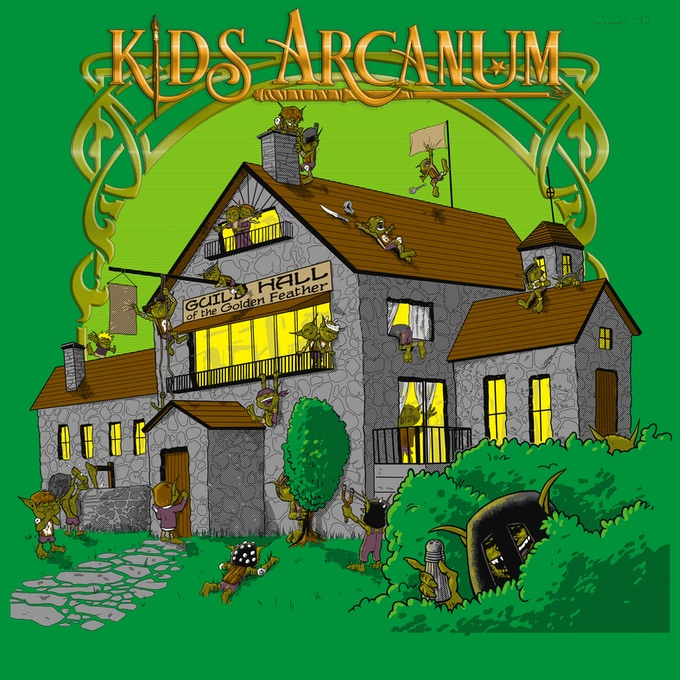 EGG: This is craft-centric, what kinds of crafts does this include?
MICHAEL
: The crafts in the box include coloring a unicorn mask, painting wands, brewing potions, making a character with a profile picture, a dig it up fairy, a fairy jar and an epic story scroll to decorate. Many of the activities come with educational add-ons that help kids learn basic RPG concepts. There's even a glossary of fun fantasy items, terms and creatures.
EGG: What age range does this target?
MICHAEL
: Kindergarten through 5th grade. Again, younger kids will need help reading, but they can complete all the crafts independently.
EGG: That's a good age range. What have kid reactions to these boxes been like?
MICHAEL
: Utter joy! We beta tested this adventure with dozens of kids and they couldn't get enough. Parents reported that kids talked about the story for weeks afterward and continued to enjoy the crafting items they created. Six months later, parents are still commenting to me that their kids play with potions and fairy jars and wands. It was very satisfying to bring some joy to these kids in such a confusing time for everyone.
EGG: Who is working on this project with you?
MICHAEL
: My wife Maureen is the master of video,
Kickstarter
page design and keeping this project on track. We have a good friend, Bruce Tracy, who is a local professional artist and is creating every bit of original art in this project. Nobody can draw goblins and fairies better than him! He also teaches dance and art online at
The Vault After School Arts
. Lastly, a close friend of ours and club volunteer, Bobby Shaddox, is working on the layout of our storybook. Watch him sing in our
Kickstarter
video and you have all you need to know about Bobby the Bard!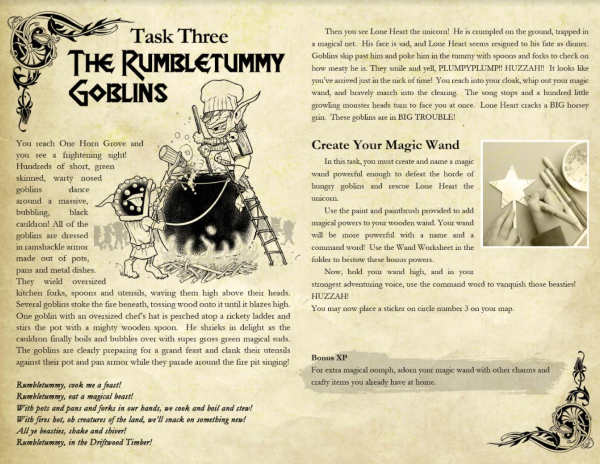 EGG: Is this a one-and-done or are you planning to make this a subscription?
MICHAEL
: We have big plans! The box is not a subscription but we are plotting a trio of boxes with one continuous story arc and have already tested the crafting activities for the next two boxes. We are also scheming on other things, but one thing at a time. That being said, now that our
Kickstarter
is fully funded we are confident we can pull off some epic things in the future.
EGG: Beyond Crafty Quest Box, are you working on anything else?
MICHAEL
: Oh yes. Our company is new and we are just starting to learn what works and what doesn't but we definitely want to explore the realm of online event hosting and cosplay birthday parties. Post COVID, we'd like to do the same in person. We also want to go to as many cons as we can and hope to host crafting activities and local community events.
EGG: Thank you for talking with me. Where can fans go to follow you, the club, and this campaign?
MICHAEL
: Thanks for your time, Egg! They can follow us on
Facebook
under
Kids Arcanum Kickstarter
or they can go to our project on
Kickstarter
.
Crafty Quest Box: Your Kid's First Fantasy Adventure
from Kids Arcanum
End Date: Thu, March 25 2021 3:59 PM EDT.
"A roll-playing fantasy craft kit where your kid gets to be the hero."
Egg Embry participates in the OneBookShelf Affiliate Program and is an Amazon Associate. These programs provide advertising fees by linking to DriveThruRPG and Amazon.