This week I review RPG crowdfunding projects that end between March 27 and April 2. From RPGs featuring mechs, superheros, and horror to RPG zines and gaming accessories, there's variety to consider.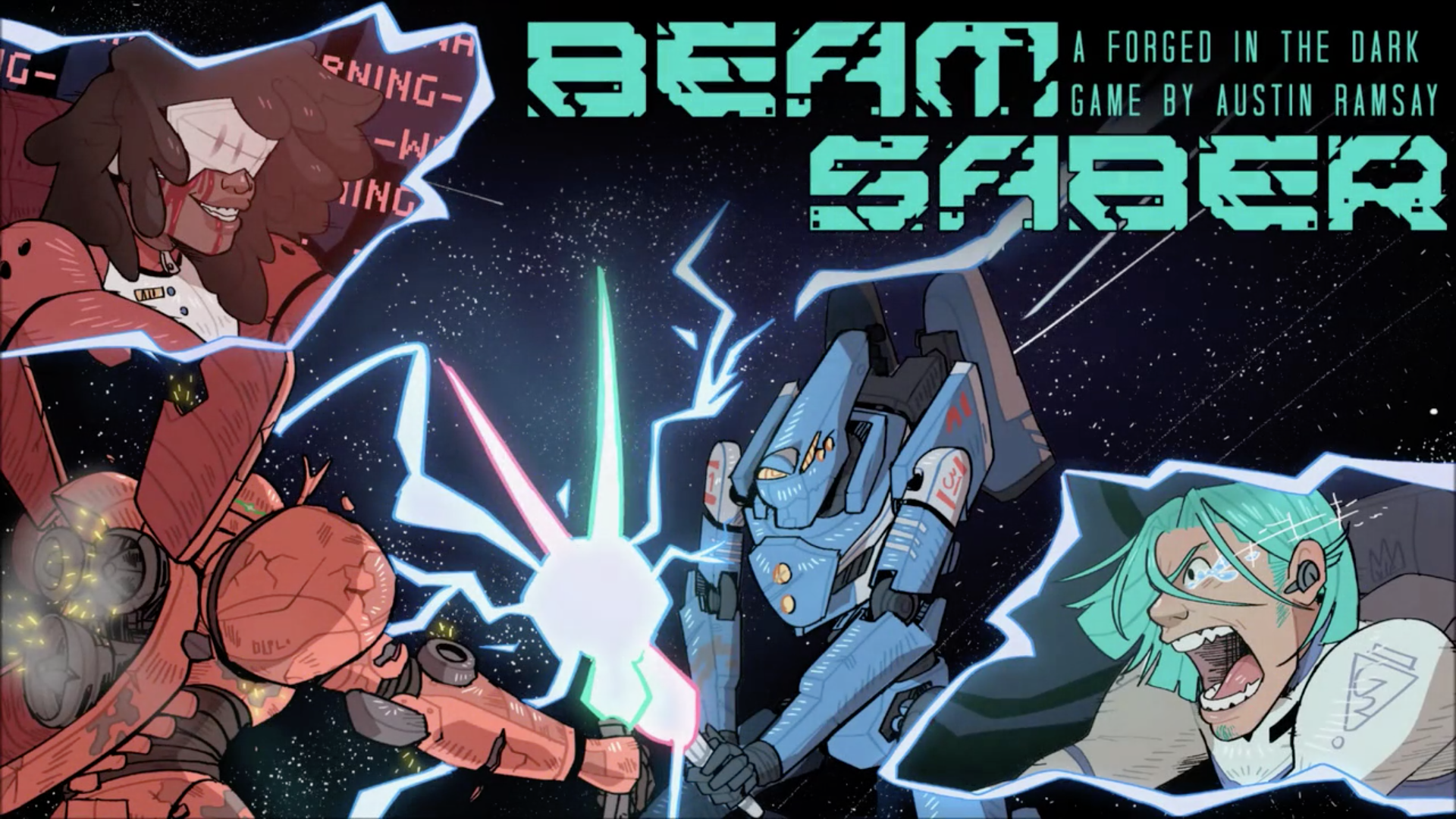 Beam Saber - #RecognizeKSRU
by
Austin Ramsay
END DATE: Wed, April 1 2020 7:00 AM EDT.
SYSTEM(S): Forged In The Dark
PROJECT TYPE: Core rulebook
MOST POPULAR PLEDGE: CA$55 + CA$12 US S/H for the PDF and hardcover of the book
"Beam Saber is a Forged In The Dark game about the pilots of powerful machines in a war that dominates every facet of life. They are trying to do their part, then get out physically and mentally intact. The organizations that perpetuate The War throughout all of known space are too incomprehensibly huge to take down. There is no "winning" The War, there is only surviving it. Hopefully you can help others get out too. Beam Saber is a military science fiction setting with elements of cyberpunk. The universe is full of factions that span star systems warring with each other, soldiers carrying bullet spewing assault rifles covered in mud, artificial intelligences with their own alien goals, and of course powerful machines piloted by a single person. The rules contain extensive directions for you to create your own setting, from the notable characters to the regions they live in to the empires they fight for."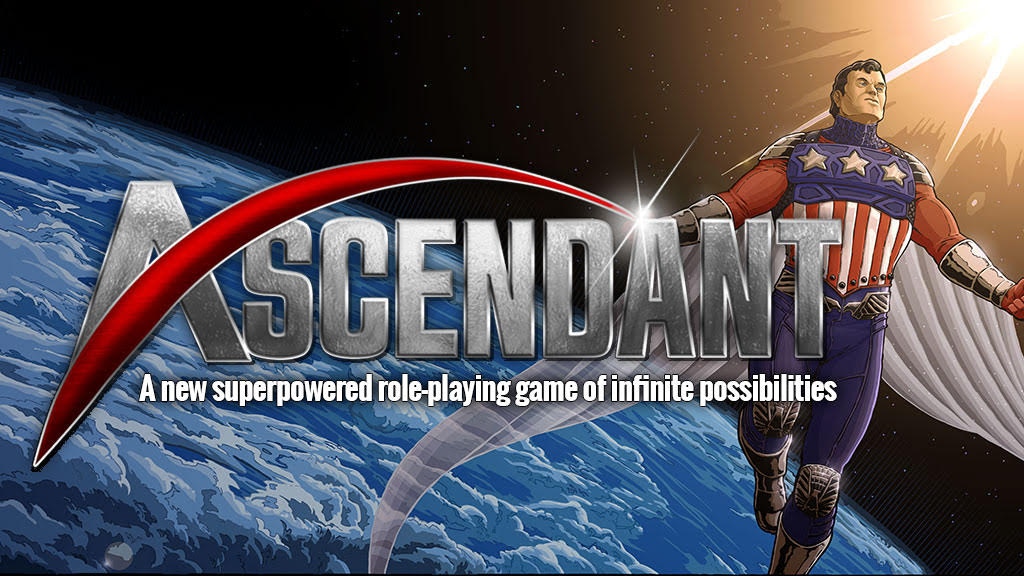 ​
Ascendant
by
Autarch LLC
END DATE: Wed, April 1 2020 1:00 PM EDT.
SYSTEM(S): An original system
PROJECT TYPE: Core rulebook
MOST POPULAR PLEDGE: $90 + S/H for the PDF and hardcover copies of the book
NOTE: You can try the free Ascendant Preview at DriveThruRPG (here)
"Ascendant™, a new superpowered role-playing game of infinite possibilities. Comic book RPGs tend to be sub-divided into "descriptor-based" and "effect-based" games. "Bolt of Fire" is a descriptor, while "Ranged Attack that deals 50 points of damage to one target" is an effect. A descriptor-based game prioritizes the descriptor over the effects. An effect-based game prioritizes the effects over the descriptor. Ascendant strives to be neither a descriptor-based nor effect-based game. It is, rather, a physics-based game. The game mechanics are intended to be the physics engine of the game world. Powers have both descriptors and effects. Our physics-based system aims to let players simulate a comic book world. To do so, we have created logarithmic chart-based universal mechanics, a style of design that has not been widely used in the last two decades, but which will be instantly familiar to fans of the classic FASERIP and MEGS RPGs from the 1980s."
​
The Midnight World
by James Davey
END DATE: Sun, March 29 2020 12:46 AM EDT.
SYSTEM(S): An original system
PROJECT TYPE: Core rulebook
MOST POPULAR PLEDGE: $45 + $5 S/H for the PDF and hardcover versions of the book
"A Tabletop Horror RPG that explores themes of anxiety and PTSD in a world full of monsters. In The Midnight World, you are one of the Touched, people who have all had encounters with the nightmares beyond the veil of reality. Together with a handful of other survivors, you will find yourself submerged once more in the terror of that moment long ago. Your decisions will guide whether or not you survive again, and whether the machinations of the demonic Dread Beings can be stymied for a while longer. The Midnight World shares a lot in common with the Horror TTRPGs you've already played. Unlike those games, though, The Midnight World focuses on mental health as a central concern for every character. While some horror games toy with the notion that a mind can be broken by a traumatic event, The Midnight World explores how a psyche might instead be wounded and eventually recover. The result is a carefully crafted system that handles mental illness in a more respectful and more representative way than similar games, but remains accessible and fun for any kind of story your table may want to tell."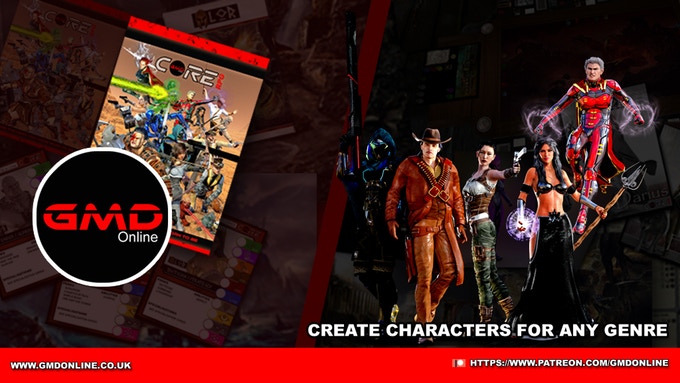 ​
GMD CORE RPG: Relaunch
by GMD Online
END DATE: Mon, March 30 2020 7:00 AM EDT.
SYSTEM(S): An original system
PROJECT TYPE: Core rulebook
MOST POPULAR PLEDGE: £30 + S/H for the PDF and hardcover versions of the game
"The CORE RPG is a universal cinematic roleplaying game. It can be used for any genre and any style of roleplaying game. The rules are ideal for a dungeon crawling hack and slash, or an intense drama filled roleplay story. Or even a mix of everything. It has rules for combat with all technological levels of weapons, from swords and bows to laser pistols and energy swords. The rules also cover different types of Powers from arcane energies of a wizard, faithful prayers of a cleric or even fantastic superpowers of a superhero. There are rules to cover different types of scenes including fast action-packed combat scenes and deep drama scenes that require a battle of words rather than swords. This ruleset allows you to forge incredible stories and legends, design exciting characters and villains - both as Players or as the Games Story Teller, (Games Master)."
​
Kingdoms: a Zine of Generational Proportions
by Sophia Tinney
END DATE: Fri, March 27 2020 5:42 PM EDT.
SYSTEM(S): "Light OSR-inspired rules"
PROJECT TYPE: RPG zine
MOST POPULAR PLEDGE: $15 for the PDF and the RPG zine
"Lead your civilization, birth heirs, slay the beasts, and over generations, conquer this sunless world. Kingdoms is a dark role-playing game set to the dawn of civilization, with the birth of man in an untamed sunless world. You will lead your civilization, birth heirs, fight back the terrible monstrosities, and as generations pass, eventually, form nations. The game is designed to run out of box with light OSR-inspired rules that push the focus of gameplay onto the player's own decisions and immersion rather than their character sheet. You are not a grand hero, no matter what your myth may be at the end of your life, but instead a human struggling along with your people to make solace in this dark world. As the leader of a small tribe of humanity, you will found the very foundations of civilization in the face of the suffocating darkness and the horrors within. You will explore the continent, experiment with strange discoveries, invent tools and culture, and, most importantly, slay and harvest the dangerous abominations. Once your threats are slain, you will settle; fortify; and expand your dominion. You will die, be it to disease, age, or slow liquefaction by stomach acid. But fear not, as quickly as you came, your heir will rise to your place and the cycle will continue unto larger kingdoms and greater threats. This is the way of Kingdoms, with the goal of playing out the succeeding generation each session."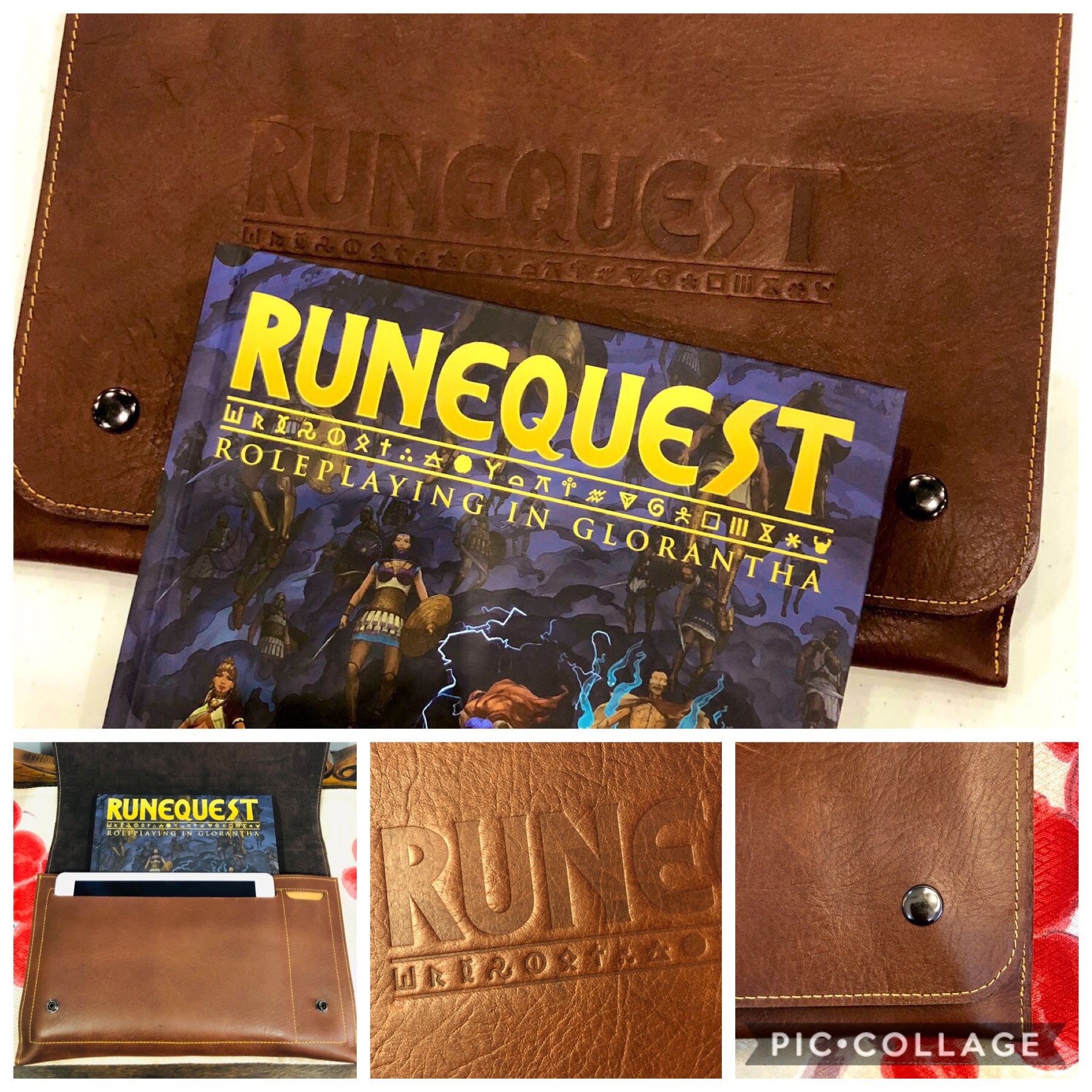 OFFICIAL RUNEQUEST LEATHER DOCUMENT WALLET
by
TYPE40
END DATE: 03/31/2020 04:00 (GMT-4)
PROJECT TYPE: RPG accessories
MOST POPULAR PLEDGE: $100 + S/H for the "real leather document wallet for your rule books"
NOTE: "Officially licensed by Chaosium and produced by TYPE40."
NOTE 2: This campaign is available via GameOnTabletop
EGG'S THOUGHTS: At Gen Con 2019, I interviewed Allan Carey of TYPE40, and examined some of their gaming accessories. They've successfully created similar products via Kickstarter. Their work is high end featuring beautifully crafted products. While not for every budget, they're striking options that elevate the aesthetic of tabletop roleplaying games. These products are built to amaze at the gaming table while also being conversation pieces for your living room.
"Official Runequest Rule Book Document Wallet. Specifically designed to fit your gaming books, the document wallet can hold the core rule book, bestiary and GM's screen easily. It also has a handy pocket for an iPad or notpad, as well as a pocket for pens. The front is heat and pressure embossed with the Runequest logo and runes."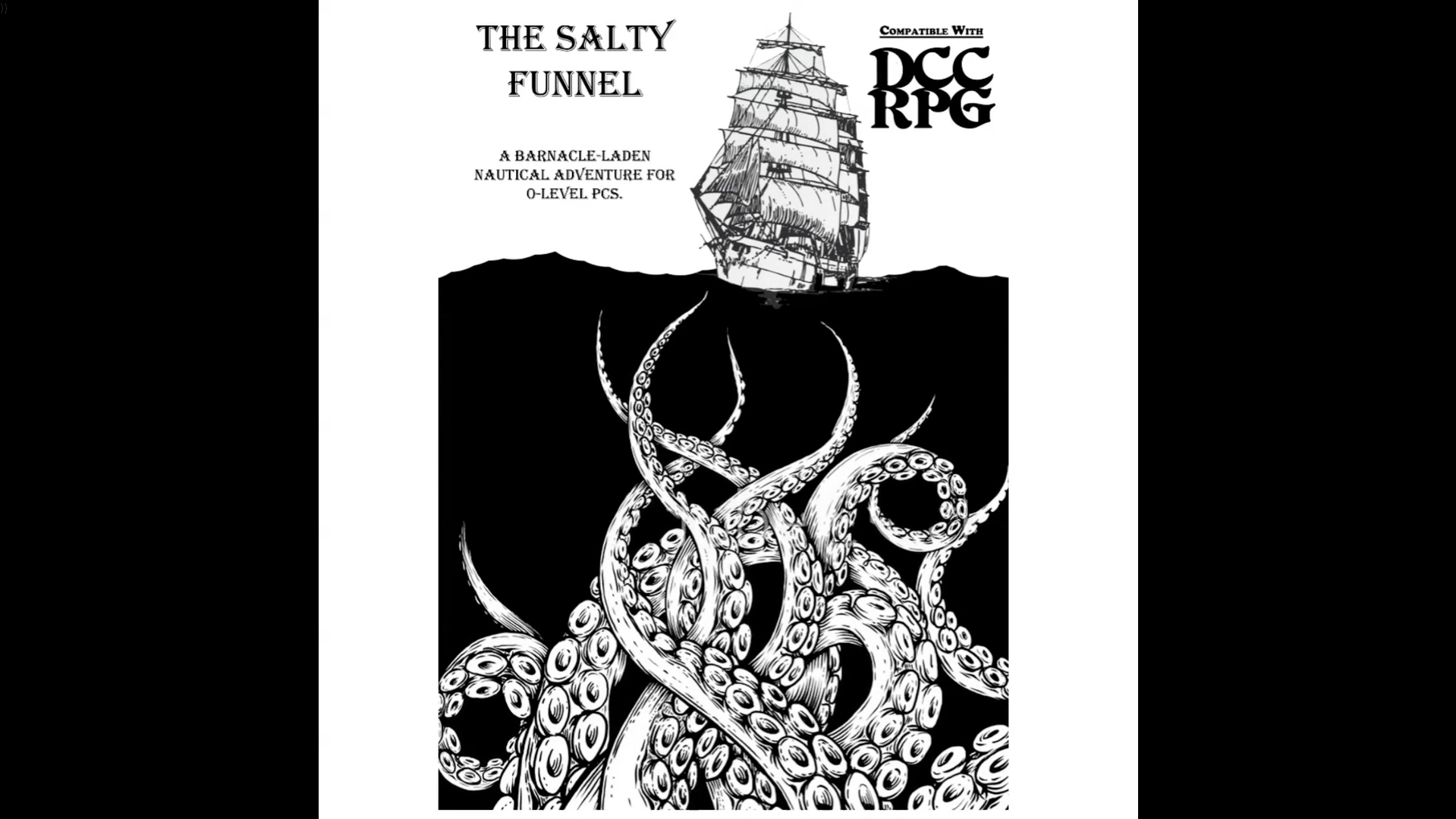 ​
The Salty Funnel for DCC RPG
by 2 Old Guys Games
END DATE: Fri, March 27 2020 8:00 PM EDT.
SYSTEM(S): DCC RPG
PROJECT TYPE: Adventure module
MOST POPULAR PLEDGE: $6 for the PDF version
"The Salty Funnel is a multi-themed nautical 0-level funnel for use with DCC RPG from Goodman Games. It will be an 8.5x11" format delivered in PDF. The expected page count is 20-25. Printed rewards for Real-Life Swabbie and Real-Life Pirate Player rewards will be 8.5x11" printed format with notes by the game runner and signatures of the 2 Old Guys and the players if they so choose to sign it."
RPG QUICK HITS
Kingdom of Lothmar Campaign Setting for 5E, Pathfinder, D20
by
Griffon Lore Games
END DATE: Tue, March 31 2020 9:56 AM EDT.
"A fantasy campaign setting where feudal intrigue is precipitating a kingdom to the brink of war."
Fate of the Oracle: A Greek Adventure for 5e
by
Arcana Games
END DATE: Thu, April 2 2020 2:59 AM EDT.
"A level 1-5 Adventure for 5e, inspired by Ancient Greek Mythology."
Devil's Bridge: Dungeons and Dragons (D&D 5E Compatible)
by
Tomorrow River Games
END DATE: Fri, March 27 2020 9:37 PM EDT.
"The final adventure in the Mescalaro Prophecy series!"
Midderlands 5e
by Necromancer Games
END DATE: Thu, April 2 2020 2:30 PM EDT.
NOTE: For those concerned about coverage of a project from a subsidiary of Frog God Games, I'm linking the Joint Statement of BJ Hensley and Frog God Games
"A Fifth Edition Weird Fantasy Setting Guide."
Magwa's Magic Item Compendium: Hardcover
by Knights of Vasteel
END DATE: Fri, March 27 2020 9:00 AM EDT.
"An RPG resource book of unique magic items compatible with 5th edition."
THE GRAND TOWER HOTEL
by Matt Madigan
END DATE: Sun, March 29 2020 1:27 PM EDT.
"A system neutral RPG source book for adventures in a 1925 luxury hotel."
Gods from Mythology for D&D 5e and Pathfinder
by
Ty Hulse
END DATE: Thu, April 2 2020 7:26 PM EDT.
"This book will use mythology to help you understand the gods of old & include them in your campaign as NPCs or PCs."
The Little Game Master: Of Bards and Bullies
by Randall Hampton
END DATE: Sat, March 28 2020 10:53 AM EDT.
PROJECT TYPE: Novel
"Where Dr. Seuss meets D&D. Again."
Egg Embry participates in the OneBookShelf Affiliate Program. This program provides advertising fees by linking to DriveThruRPG.