Over on D&D Beyond there's an article about Wildspace as presented in the new Spelljammer slipcase.
Looking to launch into Wildspace to find epic adventures, glory, and treasure beyond your wildest dreams? Our updated guide to Spelljammer will teach yo...
www.dndbeyond.com
What's interesting is they treat things a bit harshly in a few places. This one stood out for me.
"
Merging Air Envelopes
So, you've just left your lovely clean-aired planet, and you think you're safe with your fresh air envelope on a relatively short journey to another world. Think again. If a bigger ship comes along with a not-so-fresh air envelope and merges with your ship's air envelope,
you will take on the atmosphere of said ship
.
This can cause quite a dire situation when you merge with the depleted atmosphere of a clockwork horror-crewed ship that tries to strip your vessel of parts. But, don't worry, after you're finished fighting off the waves of killer robots, you can refresh your air envelope at any nearby planet (assuming you don't suffocate first)."
That's a...bit more punishing than I'd expect from WotC. There's going to be a lot of people needing to look up the rules for suffocation soon, I'd imagine.
The way they're dealing with gravity planes is a bit wild, too. The ship with more hit points inflicts its gravity on the ship with fewer hit points. That makes sense from a "bigger ships will have more hit points" perspective, but knocking a big ship's hp down then colliding to force your gravity plane on them seems like it shouldn't work as it's too good of a tactic.
ETA: Since the article was originally posted it has mysteriously been pulled. It was posted Wednesday morning and has disappeared overnight.
The most interesting bit is this piece of art...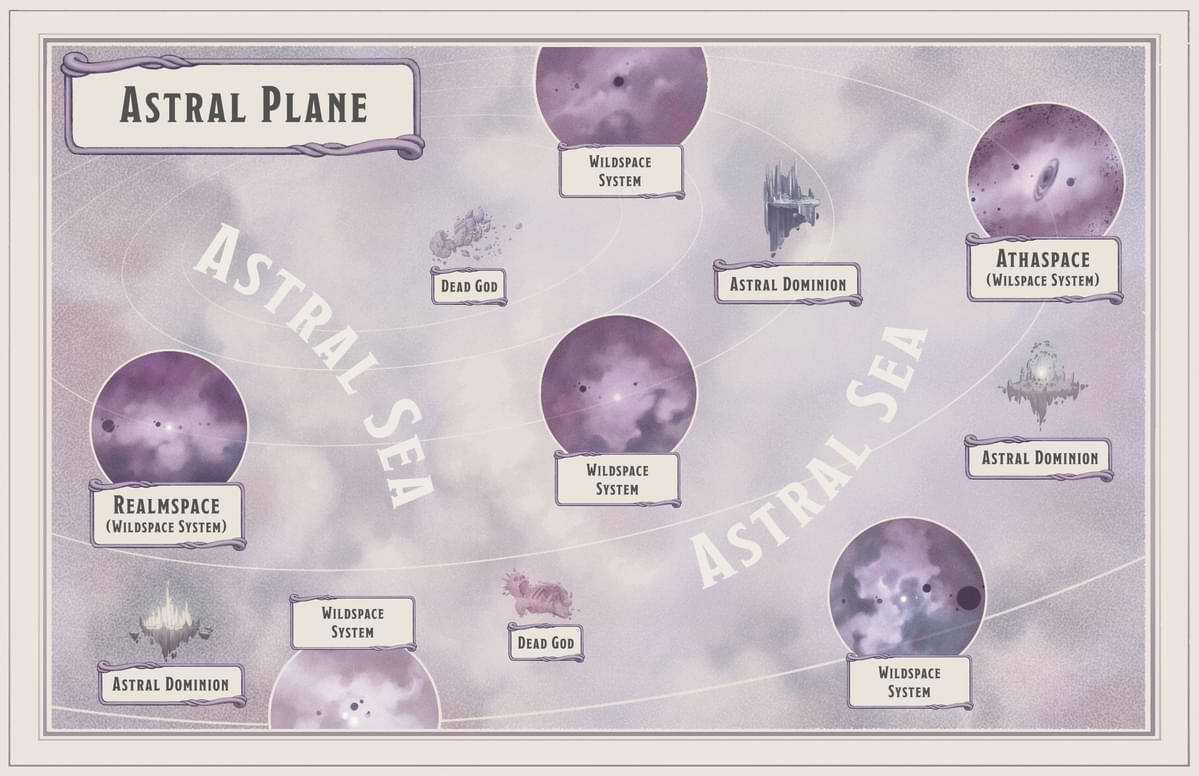 Note the top right circle says "Athaspace" (aka Dark Sun), but also note the typo in the label..."Wilspace System" instead of "Wildspace System".
ETA2: To make things weirder...the article is listed as having been published on Apr 26, 2022...and there are three pages of comments from that time...yet the byline lists the article as published "7/27/2022 2:08 PM" which lines up with the first mentioning of this art discrepancy.
Last edited: