Yes, you are reading that right,
Tails of Equestria
, that horse game. I am indeed talking about that game following the adventures of Pinky Pie, Twilight Sparkle and their friends in the magical land of Equestria where 'My Little Pony' is set. What is so great about it I'm adding it to a series that has previously featured Pendragon? Well, not only is it actually a great game (and I say that not as a 'brony') but I'd happily use its system for something more 'adult', and in this article I'll tell you why.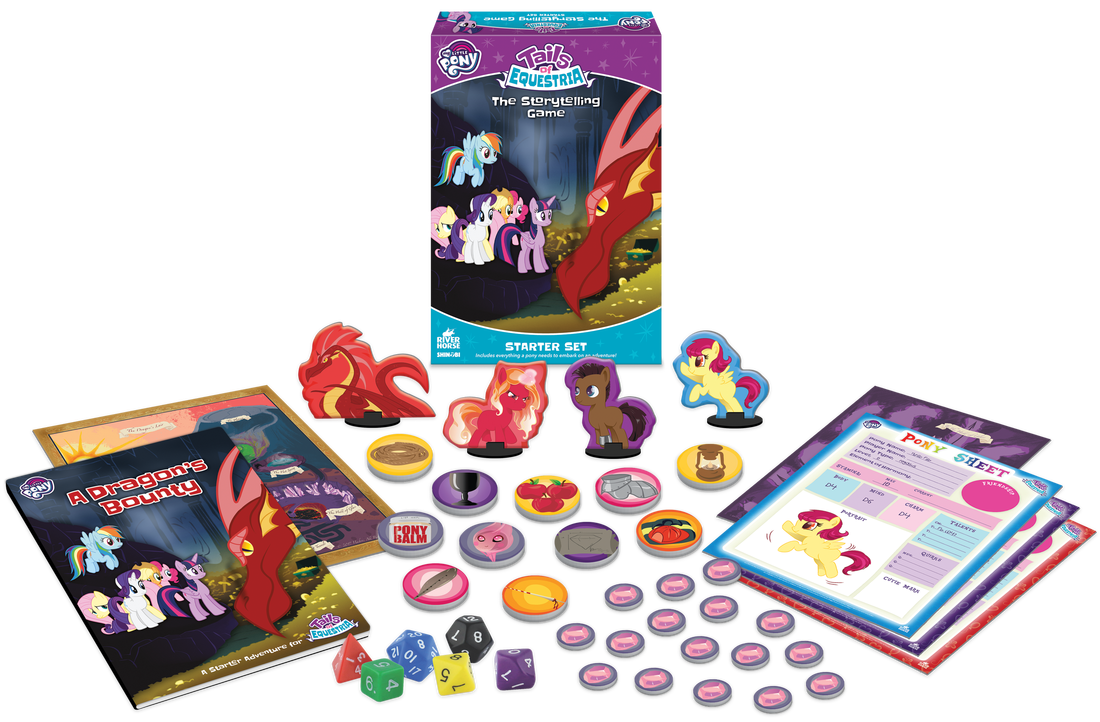 Aside from rules, I would like to offer some kudos to
Tails of Equestria
as a game that gets children role playing. Thankfully, there isn't anything special about that these days. We have plenty of great games to get kids gaming, from 'No Thank You, Evil', to 'Warhammer Kids' and 'Pilgrims of the Flying Temple'. This new generation of games are doing exceptionally well at making RPGs work for kids rather than trying to force kids to fit the games. While everyone loves rolling dice, children are a very different sort of player. They are more instinctive, sometimes more intuitive, and usually more interested in telling the story that adding up numbers and consulting tables. They also have a tendency to think of things adults won't, like making friends with enemies rather than killing them!
As a side note, I also love the convention support I've seen for some of these games. River Horse bring low tables and chairs for the players to game around (regardless of how uncomfortable they may be for the adult GM) and they are always full of children playing or coloring in their character sheets. Monty Cook Games have a special area of bean bags for the kids to sit around and game at. Such spaces aren't just logistically useful for smaller players who can't get to the table but say 'this space is for you, these games are for you'.
But anyway, back to system design. What is so special about
Tails of Equestria
? For me, it masters an age old problem we often find with a simple game system. The problem of game mechanic complexity runs like this. Make the game full of rules and you can probably cope with every eventuality. Make it simple and the broad strokes you are forced to use may not be right for every situation. However, the more rules something has, the more clunky it gets, until you spend more time flipping through the rulebook than playing the game.
When you try and fix the simple system, you generally start creating contingencies. "Combat usually works in this simple way, except grappling, which uses the following extra rules". Do this too often and what was a simple basic system is now a maze of addendums that need to be consulted before any dice roll. While complex systems are complicated by their very nature, they are built that way from the ground up, so they usually remain very consistent. A simple system weighed down under new exceptions gets very clunky very quickly.
So, what I'm getting to here in
Tails of Equestria
is that it manages to do a simple system that stays simple. To be fair it is a little easier in this setting. You won't need to know the damage values of a semi automatic pistol versus a grenade launcher when helping Fluttershy take care of her pets. But even in a children's setting, the same player initiated madness can occur and the system needs to cope with it.
Tails of Equestria
does this by making each skill roll determined by a different dice depending on the character's skill level. If your skill is low you roll a D4, if it's really high you roll a D20, beat the difficulty number and you succeed. But, how do you offer a difficulty number for a skill that can be rolled 1-4 or 1-20 and still make sense? Here is where
Tails of Equestria
is very clever. Firstly, if you roll the highest number the dice can roll, you can roll again on the next dice up and see if you can do better. Roll a 4 on the D4 you can roll a D6. If that rolls a 6 you can roll a D8 etc. But if the D8 rolls a 1, you can still keep the 6 that was your best roll. In this way you can give someone with only a D4 a difficulty of 10 and they might be lucky. Luck is also on your side as the fewer sides the dice has, the more chance it will roll its maximum and give you a reroll.
The other clever thing
Tails of Equestria
does is that it doesn't use a linear curve for difficulty numbers. Usually you would find a system like this offers a difficulty from 1 to 20, with 10 being an average test. That might sound fair but even with the rerolls the lower skills are not going to do well. So in
Tails of Equestria
, while 1 is easy and 20 is impossible, 4 is average and 6 is hard, 8 is really hard etc. This means that if you roll a D20, you probably have it in the bag, but you can always roll a 1. When it comes to opposed tests, the highest result is the winner. Most likely this is the person with the best die, but not always.
All this means that regardless of how low a character's skill, they can potentially achieve very difficult test with a bit of luck. It also isn't too unbalancing if you have high skills as anything up to a D10 is on much the same scale and anyone with a D12 or D20 is the sort of masters who should succeed pretty much all the time. So instead of offering a Novice to Master skill gradient,
Tails of Equestria
offers a Novice to Grand Mega Master scale. All this means that the GM just needs to hand a difficulty number out and see what happens. No contingencies or extra rules, just roll.
While
Tails of Equestria
isn't unique in maintaining its simple system, it does it especially well. There are plenty of examples of systems that are still quite simple, but have added odd tweaks because probability mechanics are complicated. Call of Cthulhu uses simple D100 percentages, but you have to calculate the half and quarter score for different levels of success. Buffy/Angel was a simple roll of 1D10 adding a bonus, but adds an array of combat maneuvers with special rules as fighting vampires needs something more to not get boring. There is nothing wrong with either system, they are both personal favorites. But it illustrates the point about how easy it is to stray away from the path of simplicity to fully realize your game world. So, when creating designs of your own, if you think you have a simple system, make sure you have kept it that way.