You can now download a free 'bare bones edition of the rules-lite 'doom metal' tabletop RPG MÖRK BORG. This free version has much of the iconic graphic design and art removed, and also includes the introductory adventure Rotblack Sludge.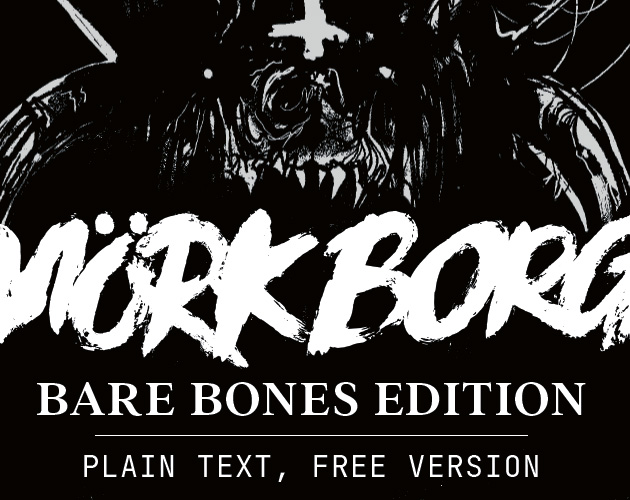 The free, plain text version of the world's loudest roleplaying game. A bit more sensible. Just as miserable.

jnohr.itch.io
One day all will blacken and burn. Just as the Two-Headed Basilisks have predicted.​
The world is dying, time is short. How will you face these last days? Robbing graves for soil-stained wealth, or facing down the apocalypse, hoping it can be fought?​
MÖRK BORG is a doom metal album of a game. A spiked flail to the face. Rules light, heavy everything else. This is the BARE BONES EDITION; free, (almost) artless and the typography and graphic design turned down from 11 all the way to a sensible 4-5. When we made the original book we sacrificed a lot of things on the experimental altar of aesthetics and theme. This edition removes all that; strips the flesh off of this monster and leaves behind a bare skeleton. Still animated, armed and anxious to reenact the satanic panic, but bare and without all the horns and ornaments.

This is FREE to download. You can choose to pay for it but please don't. It's meant to be free.

For the real deal, visit morkborg.com or your unfriendly local game store and ask for that yellow book with the blood-splattered demonic skeleton warrior. Say hi from us.