Dragon Publishing
released
The Dragon
issue 44 in December 1980. It is 110 pages long and has a cover price of $3.00. In this issue, we have Food Fight, Super Spies, and a massive round-up of Judges Guild products!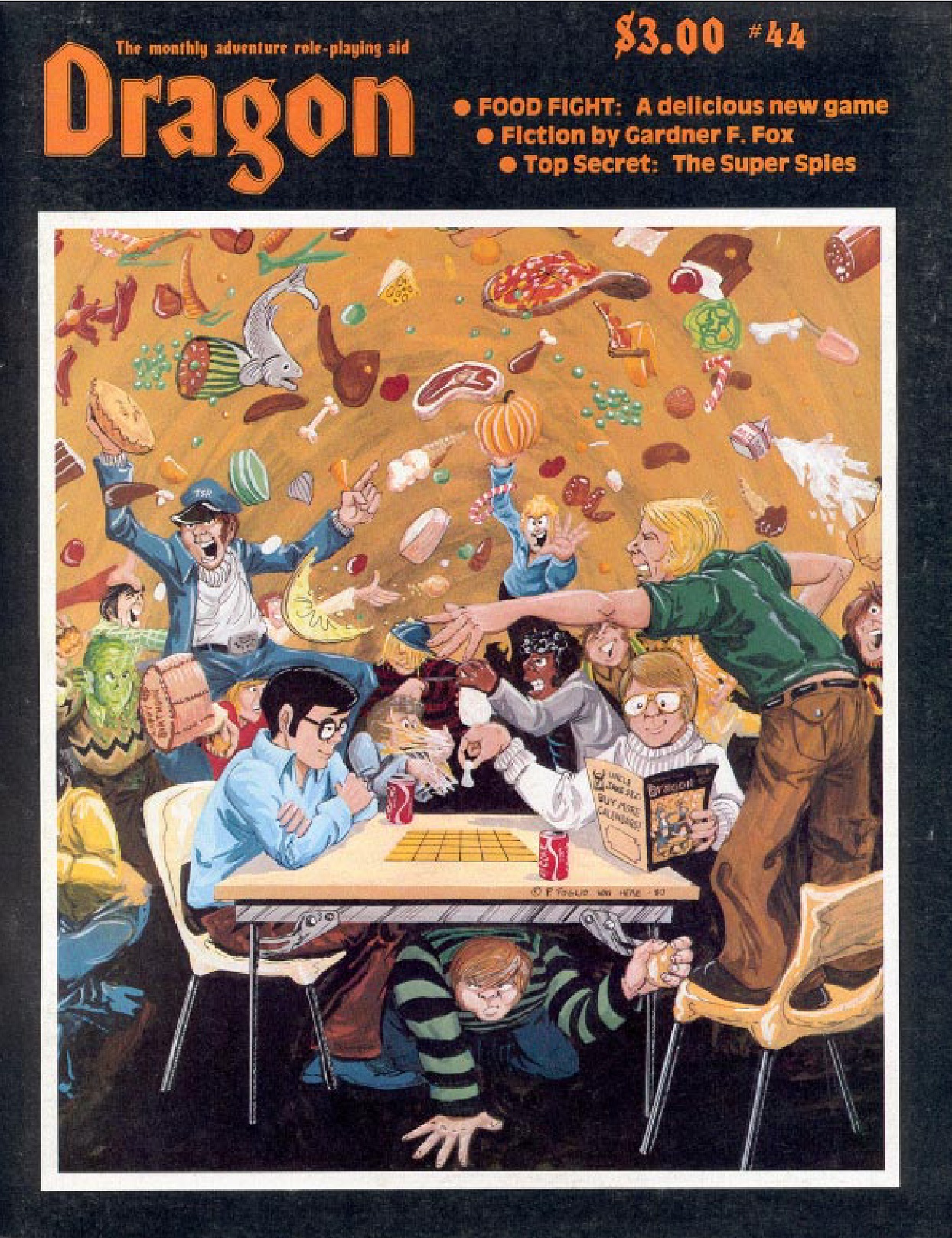 US law required the magazine to publish subscription and circulation numbers every year, providing a helpful insight into the commercial health of
The Dragon
. As of October, they had 4,558 subscribers and a total circulation of 20,155. These numbers were to rise sharply over the next few years.
The special feature this month is another lift-out game.
Food Fight
is "a complete game of cafeteria conflict" and was designed by staff members Bryce Knorr and Kim Mohan. It is aiming for the playfulness of the popular Tom Wham games but suffers from over-complexity. Some reviewers on Board Game Geek remember it fondly, but overall, it is not well rated.
We have several other features. "The Lure of the Golden Godling" is a short story by Gardner F. Fox and the latest in the "Niall of the Far Travels" series. I have found these to be very pale imitations of the Conan tales, but they had their fans--including
The Dragon
editorial staff!
"The Super Spies" by Allen Hammack gives
Top Secret
stats for a list of famous spies from TV and the movies. It includes people such as Modesty Blaise, Emma Peel, Maxwell Smart, and (of course!) James Bond. Good silly fun, and the sort of thing modern magazines probably couldn't do for IP reasons.
Mark Simmons describes a new board game,
King of the Mountain
from
Dimension Six Inc.
It is a "battle royale" style game with the goal being the first to enter the Citadel of the Peak. Modern reviewers agree the game had some good ideas marred by poor implementation.
There is a feature sub-section called "Fantasy Genetics," which focuses on
D&D
races interbreeding. "Humanoid races in review" by Gregory Rihn recaps the various humanoids in D&D and speculates on which could interbreed. "Half-orcs in a variety of styles" by Roger Moore proposes the existence of Orc-Kobolds, Orc-Goblins, etc. "What do you get when you cross..?" by John Olson discusses why cross-breeding between the vast majority of intelligent creatures is not viable. In "Half + half isn't always full," Paul Crabaugh uses modern genetics to discuss the offspring of half-orc unions. Truthfully, I struggled to find playable material in any of these articles.
"Nothing but the ho-ho-ho truth" by Douglas Loss is an attempt to stat up Santa Claus. This sort of thing is appropriate enough in the December issue, but the article probably needed a bit more humor to make it work.
On to our regular columns. Jim Ward and Will Niebling continue to dispense wisdom in "Sage Advice." It includes this interesting editorial note: "Sage Advice is not intended to be a forum for getting answers to questions that are primarily a matter of interpretation. Questions which cannot be answered absolutely one way or the other but require a judgment to be made by the answerer are less liable to be printed than questions which involve a rules clarification and can be answered definitively." I suspect it was by no means apparent to those writing in whether their question could be answered definitively or was a matter of interpretation!
"Giants in the Earth" has a new writer, with Dave Cook joining Tom Moldvay. "Zeb" Cook is one of the most celebrated writers of the
TSR
era, with credits including the
Expert Set
,
The Isle of Dread
,
Dwellers of the Forbidden City
,
The Veiled Society
, and
Planescape
. In this column, they stat up C.S. Lewis's
Reepicheep
and Arthur Conan Doyle's
Professor Challenger
. Reepicheep is a fabulous character, and perhaps he will pop up in my home campaign!
In "Leomund's Tiny Hut," Len Lakofka spends several pages refactoring the strength scores of numerous creatures from the
Monster Manual
. It's a very Len Lakofka thing to do, but I don't think this is his most helpful column. In "Simulation Corner," John Prados laments the lack of a definitive guide to the history of war games. Do we have such a guide now? Perhaps Peterson's
Playing at the World
?
"Minarian Legends" returns with everything you ever wanted to know about The Black Knight of Stubstaff Keep. Glenn Rahman clearly had a massive store of lore for his game world, and it's surprising he never thought to release it as an RPG setting.
"Dragon's Bestiary" brings us three new creatures: the hook-beaked
Koodjanuk
by Roger Moore, the cold-casting
Cryoserpent
also by Moore, and the
Ice Golem
by Rich Baldwin. The Koodjanuk, a spell-casting bird from the higher planes, is the most interesting of the lot.
There are many reviews this month. Mark Herro looks at three computer games in "The Electric Eye."
Dungeon of Death
by
Instant Software
provides a "cheap and dirty fix" for the solitaire gamer.
Android Nim
by
80-US
is "a little light entertainment," while
Time Traveller
by
Krell Software
is "not a bad game... perhaps a bit over-priced."
"Dragon's Augury"
by William Fawcett reviews nine (!)
Judges Guild
products.
Modron
, a town index, "is inexpensive and has some good expansions of ideas mentioned, but not detailed, in earlier Guild products."
Escape from Astigar's Lair
is "a thinking player's dungeon."
The Treasure Vaults of Lindoran
is "one of the highest quality offerings from the Guild in recent months," while
Inferno
is "an excellent choice" for high-level characters.
Portals of Tosh
, a planetary sourcebook, has "many ideas that are worth utilizing."
Spies of Lightelf
"adds a good deal of detail to the Wilderlands campaign and gives insight into an otherwise minor corner of the map," while
Wilderlands of the Fantastic Reaches
, a massive set of maps and indexes, is "one of the major projects in roleplaying games."
Duck Tower
is "one of the best
Runequest
scenarios available and should be a must for anyone campaigning in the system." Finally, while
City of Lei Tabor
, another
Runequest
sourcebook, presents "interesting characters for the players to interact with,"
Duck Tower
provides better value.
This issue's cover was by Phil Foglio, and other artists include Jeff Dee, Jack Crane, W. Willingham, Mike Carroll, Kenneth Rahman, Tracy Lesch, Jim Roslof, and Roger Raupp.
And that's a wrap for this month. There are no stand-out articles, though I did enjoy "Dragon's Augury" and "Giants in the Earth." Next month, we have three new NPC classes, more Bazaar of the Bizarre and the Dungeon Design Kit!