Going to Hell soon or already there?
EN5ider
has just the thing for wayward folks like yourself in
Intriguing Organizations: House of the Reclaimed Soul
!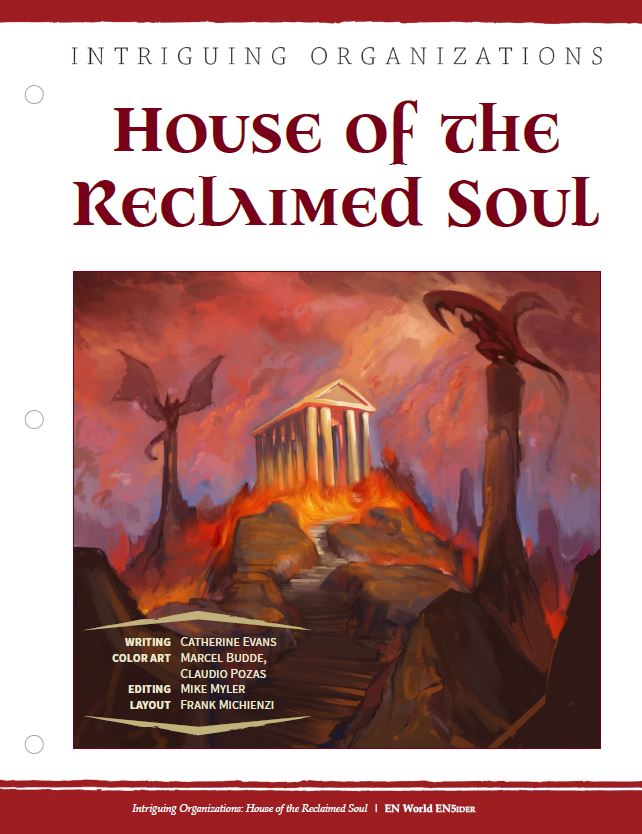 Lately on EN5ider:
#302. Intriguing Organizations: House of the Reclaimed Soul. This Intriguing Organization takes in the truly repentant and tries to lead them to find redemption. Despite the horrorscape around them these ex-clerics, warlocks, and other fools tricked into serving fiends during their time as mortals strive to do good following their deaths while purging themselves of the evils within. This article includes details for five NPCs as well as statistics for penitents (spellcasters that have devoted themselves to masochistic purges of sin). Written by Catherine Evans; illustrated by Marcel Budde and Claudio Pozas.
#301. The Not-So-Lonely Road. Make your next overland trip more interesting and really engage adventurers with the world in just a few dice rolls! This article takes a look upon our collective past, using historical information and parallels to help GMs create realistic NPC encounters outside of major settlements (with examples), providing opportunities to roleplay, pass information via highway gossip, and even trade and refresh supplies. Written by Phill Harmon; illustrated by Phil Stone.
#300. Mini-Adventure: The Titan Gates. To commemorate achieving 300 articles we've got an excellent extra special mini-adventure for today: a module that's meant for 11th-12th level play but with a little modification can be used anywhere from 3rd to 16th level. This has not one or two but THREE different maps as PCs face off against giants with portals in their chests, the mystical gateways dragging the adventurers into the dangerous challenges of the Titan Gate Gladiators—those that survive are enshrined in history as champions and gain powerful allies, as well as the ability to rapidly traverse parts of the world thanks to their hard-fought allies. Brilliantly designed by EN5ider luminary Andrew Engelbrite; illustrated by Kevin Shea; maps from Dyson Logos.
#299. ZEITGEIST 8 - Diaspora: Part 3. With their next destination revealed the PCs must begin their plans to reach the ghost city of Methia, located deep in enemy territory, and they will need to properly plan their method of insertion and extraction from the Danoran-held city. To succeed the adventurers must journey across a dead magic field, sneak past an army, unleash a colossus, temporarily wind back time 5 years, face the villain Nicodemus, and escape capture along the way! For GMs not already using this adventure path, this PDF includes TWENTY (!) creatures and NPCs to add to your gaming toolbox.
#298. Villain Spotlight: Rosie Arkwright. Halloween is later this week and to help spookify your games we've got an unassuming horror to titillate, captivate, and eviscerate adventurers: the undead ragdoll Rosie Arkwright. Despite her small size she is durable, deadly, and able to create legions of creatures like herself, vastly outnumbering victims before swarming upon them with mystical needle and thread used to sew up mouths, eyes, and lives! Brilliantly penned by Andrew Engelbrite with a wonderful illustration by Xanditz.
#297. Monster Salvaging. Get the adventurers rooting about in cadavers after a battle ends in search of monster reagents they can transform into items that enhance spells, help concoct virulent poisons or useful potions, and even replicate the abilities of the creatures they've slain. Written by Michael Ohl; illustrated by Herman Lau.