Well, that was fun
Staff member
In A5E, we (of course) provide starting wealth levels for characters above 1st level.
Many people creating a higher level character for a one-shot or who don't enjoy browsing equipment lists may enjoy one tool we have included in the LU core rulebook. It's just a little addition, an advisory tool to help players equip their characters easily.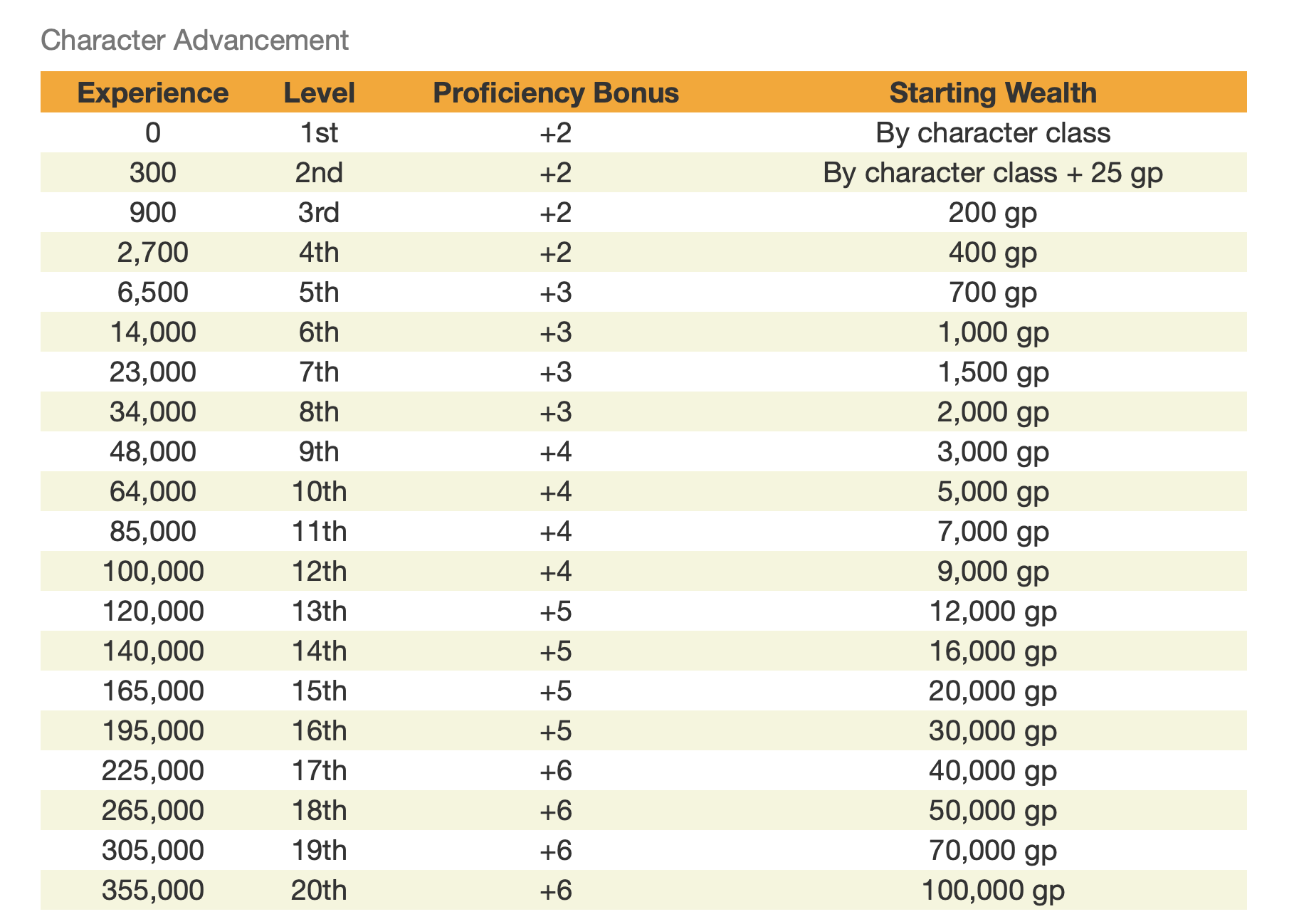 You already know about suggested starting equipment packages for 1st-level characters. They are in O5E, and they are in A5E. But we have suggesting starting equipment packages for each tier of play (1-4, 5-10, 11-16, and 17-20). Each item listed has its price next to it, so you can swap things out easily (because we can't predict your chosen build!)
For example, the ranger might look like this (may and likely will [and possibly already has!] change before print):
Tier 1 (150 gold): ​
Deep Delver's Package (cost 144 gold): Longbow, quiver of 20 arrows, 2 shortswords, dungeoneer's pack, and scale armor.
Marksman's Package (cost 86 gold): Longbow, quiver of 20 arrows, 2 simple melee weapons, explorer's pack, and leather armor.
Tier 2 (700 gold): boots of elvenkind (300 gold), bead of tracking (200 gold), plus 200 gold.​
​
Tier 3 (7,000 gold): lantern of revealing (3,500 gold), cloak of protection (500 gold), two +1 scimitars (1000 gold), message stones (450 gold), quiver of the hunt (300 gold), plus 1,250 gold.​
​
Tier 4 (40,000 gold): oathbow (6,000 gold), scimitar of speed (6,000 gold), dragon scale mail (green or black) (15,000 gold), quiver of the hunt (rare version) (4,000 gold), helm of telepathy (1,000 gold), plus 8,000 gold.​
Each has money left over to purchase earlier tier packages, and we'll also list a number of other items you could consider, especially because since we provide starting wealth by level tables, you know how much extra gold you have if you are not level 1, 5, 11, or 17.
Of course, every character is different, and these are just jumping-off points and suggestions to help you on your way. Some players may prefer to browse the core rulebook and equip their character item-by-item, while others might enjoy one of these packages and customize it to taste.
Additionally, we list other popular items (
bags of holding
, horses, etc.) which are useful to any character.
Last edited: