The adventure starts with all members of the party on the ship All-wake, as they are about to enter the Bay of Chult. The group was hired by Syndra Silvane ten days ago in Baldur's Gate.
When the group met with Syndra at her residence ten days earlier, a uniformed attendant lead them up a grand staircase to the third floor, where they were ushered into a wood-paneled room with a fireplace, comfortable chairs, and a heavy table bearing goblets and bottles of wine. The darkly paneled walls were hung with maps and sea charts. Racks, shelves, and cabinets hold hundreds more rolled-up maps and charts.
Syndra was seated in an overstuffed chair near the fire. The group couldn't discern a gender, because only Syndra's head emerges from under a heavy blanket draped over the chair, and an embroidered hood and silver mask concealed the wearer's face. Even Syndra's dry, raspy voice provides no clue.
Over the course of the night Syndra revealed several pieces of information to the group.
I was an adventurer years ago. I died once and was raised from the dead. I have since closed the door to that stage of my life.
The death curse you may have heard about has struck me. I don't know how much longer I'll last before I perish. Clerics have no help to offer. They're stymied by what is happening.
My contacts in the Harpers have learned that the cause of the death curse is a necromantic artifact called the Soulmonger. According to their sources, the Soulmonger is somewhere in Chult
Chult is a peninsula ringed with mountains and choked with rainforests. Enormous reptiles, savage goblins, and an army of undead prowl its jungles and ruins. Mapping the place has always been nigh impossible, and nothing is known about the region's current geography beyond a few miles from the coast.

Working from dozens of sea charts, log books, and explorers' journals, I assembled everything known about the current state of Chult into one map. I'll provide it to you if you undertake my mission.
While Syndra is confident the treasures recovered by the party will more than pay for the risk, and the honor and fame from ending the death curse would have its own rewards, she also offers a rare or uncommon magic item, delivered upon successful completion of her quest. Syndra also offer's 50 GP each once they reach Chult to help pay for any equipment needed for the expedition.
After the group was onboard the All-wake, they were given several pages of information on Chult and the Port city of Nyanzaru
Weather
– Chult is hot humid and rainy throughout the year. The temperature regularly climbs as high as 95 degrees F during the day and seldom falls below 70 degrees even at night. A day without rain is rare, but rain varies from steady mist to drenching down pours. Visibility in heavy rain is limited to 50 yards and ranged weapons, effective distances are halved.
Guides
are available and encouraged for any travel out of Port Nyanzaru or Fort Beluarian. All legal guides work for the Merchant Prince Jobal, though there is a black-market for guides run by the Zhentarim.
[sblock=Chult Special Rules]
[sblock=Travel distance] each hex measures 10 miles across. Traveling at normal pace per costal, jungle, mountain, swamp or wasteland is one square per day. You can travel two hexes per day by canoe on the river or over lakes.
If you move at a fast pace I roll a d4, on a roll of 3 or 4 you advance 1 additional hex that day. You have a -5 penalty to passive perception scores moving at this pace.
If you move at a slow pace I roll a d4 on a roll of 1 or 2 you advance one fewer hex per day, on a 3 or 4 you cover the same ground as normal. You also have the ability to move stealthily and attempt to surprise or sneak by other creatures.[/sblock]
[sblock=Navigation]
At the start of each day one person is picked to be the Navigator, unless the group chooses otherwise this will default to the guide
I will make a Survival check on behalf of the navigator. The DC will be based on the day's most common terrain and the group will get a +5 bonus if traveling at a slow pace and a -5 penalty if traveling at a fast pace.
On a success the group moves forward as usual, on a fail the group will become lost. [/sblock]
[sblock=Dehydration]
At the end of each day, any character who hasn't drunk at least 2 gallons of fresh water much succeed on a DC 15 con ST or suffer 1 level of exhaustion. This check is made at a disadvantage if the character is wearing medium or heavy armor, or heavy clothing. [/sblock]
[sblock=Diseases]
With the exception of rain water the water in Chult is not safe to drink unless it has been boiled, there are several diseases that can be contracted from either drinking contaminated water or from the swarms of insects that inhabit the jungle. Insect repellant can be picked up at most of the markets in Port Nyanzaur. [/sblock]
[/sblock]
[sblock=Map of Chult]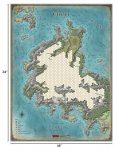 [/sblock]
http://www.enworld.org/forum/showthread.php?607891-Tomb-of-Annihilation-RG&p=7310909#post7310909

[url]http://www.enworld.org/forum/showthread.php?609282-E-s-Tomb-of-Annihilation&p=7315251#post7315251
[/URL]
Last edited: