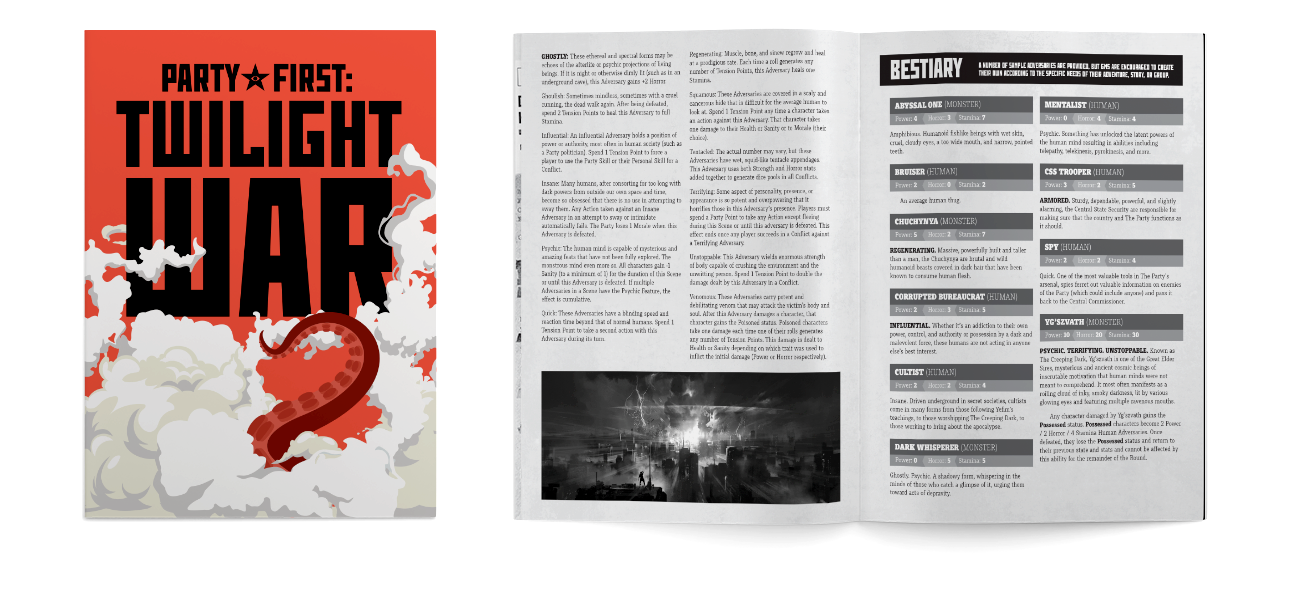 We're down to
the final 48 hours
, and I would love to have your support in making
Twilight War
and all the other cool things that we have planned for the
Party First
universe a reality.
You may already have the
Party First
core book, but this campaign also gives you the chance to get a variety of other
Party First
content or even extra copies of the core book at a large discount!
If you like the 80s, alt history, cosmic horror, communist bureaucracy, d6s, spies, and more, then drop in and check it out! Originally inspired by things like Cthulhu,
The Hunt for Red October,
and more, we're now bringing you an espionage book inspired by films like
James Bond.
Interested in some of the things this expansion brings to the table?
Information on notable spies and intelligence organizations such as CIS director Gen William "Wild Bill" Buffalo, Stephanie Carrington, codename "Baroness," and the dreaded East Tyrsland "Tset."
4 New Classes: Diplomat, Double Agent, Mercenary, and Savant.
13 new Advantages all featuring new ways to spend Party Points
Rules for Vehicles including new challenges and a mix and match system for GMs to build their own vehicles for any situation.
Rules for Time Tables to help manage the progression of the clock during fraught scenes and how they interact with Tension.
16 New Adversaries from human assassins to monstrous Vacant Men.
2 New Adventures designed to show off the breadth of new systems introduced in Twilight War.
Final Page count TBD, but expected to be 40-50 pages.
Party First: Twilight War Kickstarter copies will be fulfilled through DriveThruRPG in order to match the binding and size of the core POD book.
The inter-dimensional Gloam has been breached and The Dread is now aware of us. The Vacant Men are coming.