Printing Character Sheets on 2 pages
This is my favorite character sheet maker. I wish the spell sheets could be printed in two sheets because the font comes out so small.

I have one other request. I like to use *only* the first sheet. That means I can't use sheet 4 for the character picture. Since I have only 2 weapons, I'd like to paste a jpg on top of weapons 3-6. When I do so, it tells me the page is protected, and when I try to unprotect, it asks me for a password. Is it possible to unprotect the sheet, or just not password protect the next version?
Printing Character Sheet III (Spell sheet) on two pages can be achieved by following the steps below: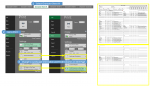 If you want to be fancy, grab some scissor and tape and join the sheets to make it neat and tidy.
If you would like to add an image (recommend .png file and good resolution) to Character Sheet I this can be done by changing an existing unlock image on the sheet, follow the steps below: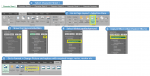 Note: Hide the ElementalEvilSkin if you want to use the default Dragon skin.
Last edited: