Here's

an old rpg.net thread about the changes in the North between 1e and 2e.
I know, that was me, back when I first discovered that the region was overhauled.
The following post from Reddit matches with what I've found when doing comparisons:



It's a bit more complicated than this, because there has been a lot of squishing going on. From what I can tell, the 2nd edition map is traced perfectly over the 1st edition map, with only some bits in the very west and south cropped off, so I assume they didn't mean to make any adjustments.
But I managed to get the other four maps to the same scale and overlay them for comparison. Since four transparent layers are a total mess, I picked a couple of reference points that are on all four maps and highlighted the lines connecting them, resulting in this.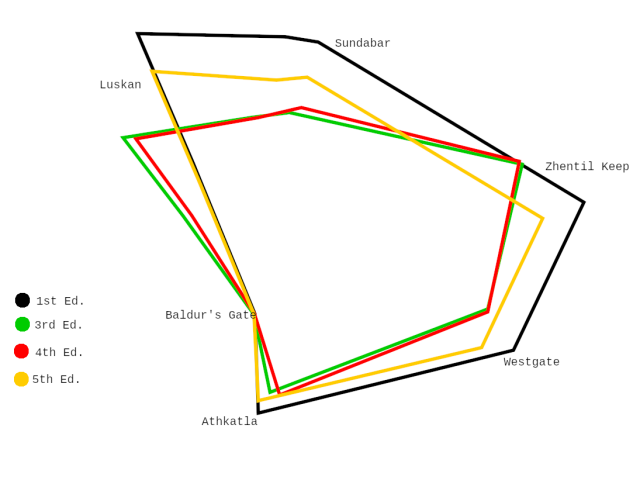 As can be seen, the Northwest quarter of Faerûn (which is all I have for 5th edition) was shrunk down significantly in 3rd edition but remained effectively unchanged in 4th.
5th edition looks once again much more like 1st edition, though halfway between 1st and 3rd in size.
When you tilt the 3rd/4th edition map a bit, it becomes more clear.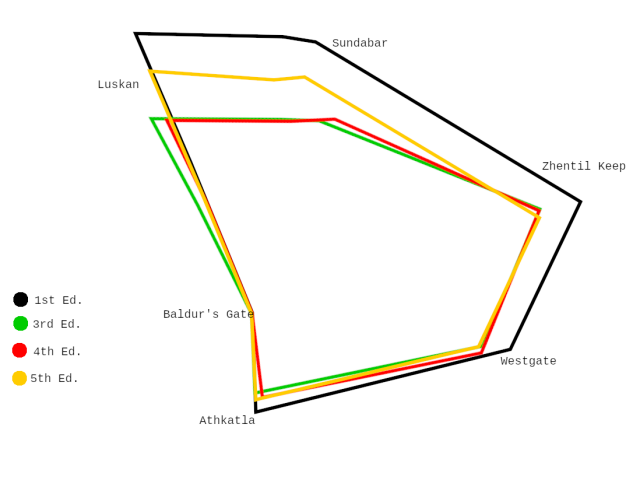 Last edited: