Gavin Norman founded
Necrotic Gnome
to produce rules, adventures, and settings for
Basic/Expert D&D
. He'd played D&D as a kid in the 80s and when he returned to gaming as an adult he tried
D&D 4E
and
Pathfinder
. Because
Basic D&D
does not have rules for everything it requires a discussion between players and GM which Gavin enjoys. Instead of rolling to detect traps a player describes what and where they are searching which he found appealing. He decided he wanted to return to a simpler game that was more open ended.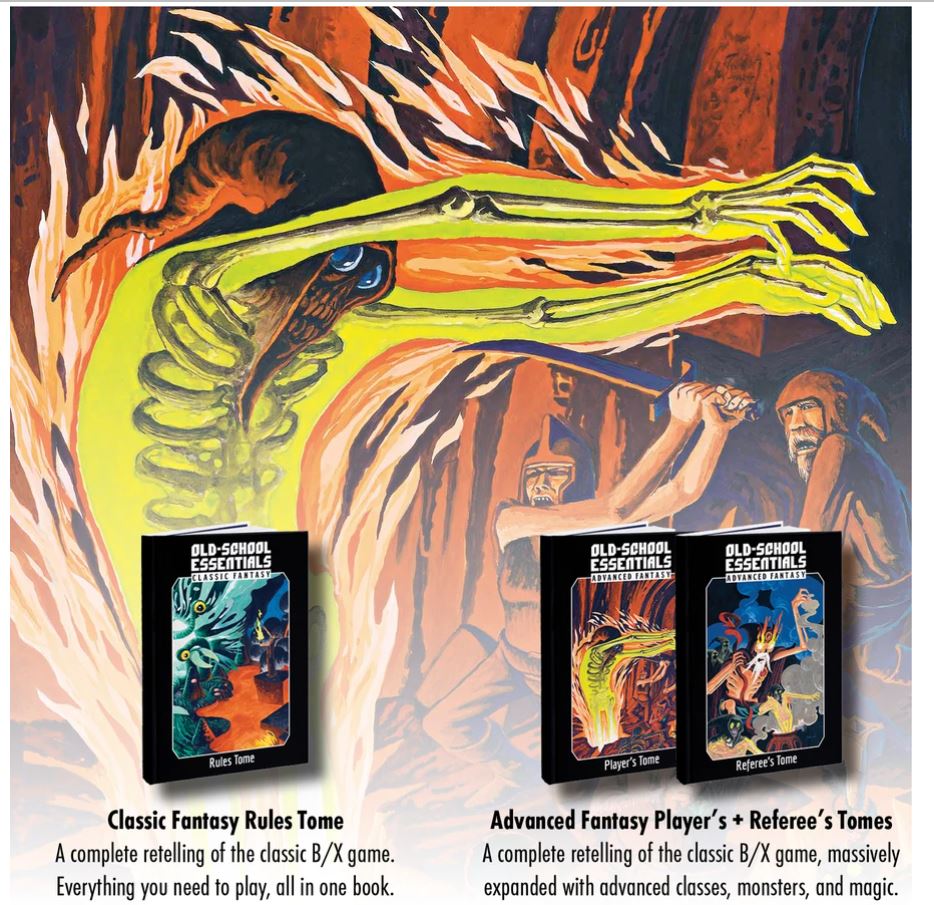 ​
While Gavin uses
Basic D&D
core rules as written he enjoys creating his own classes, magic items, spells, and monsters. His first published work, the
The Complete Vivimancer
, is a spellcasting class that warps flesh to his own ends. This zeal for creation led him to his first kickstarter and offering the
Basic/Expert
rules not only as a hardcover but also in five separate hardcover books. As Necrotic Gnome publishes future books new classes could be swapped for old or mixed and matched. Other rules can be moved in and out as well. The modularity of
Old-School Essentials
is critical to its ongoing development.
Old-School Essentials
, heavily developed and discussed at
Necrotic Gnome blog
, developed from
B/X Essentials,
a direct reproduction of the original 1981
Basic/Expert
rules.
Old-School Essentials
includes two page spreads of related rules so the rulebook can be laid up flat on a table with everything needed on a topic at the GM's fingertips.
New books are already being developed, with classes and spells from
Advanced D&D 1E
being converted to
Old-School Essentials
and more rules to come. In addition, Gavin has been building a setting called Dolmenwood in a series of zines.
An exciting development for Dolmenwood is it will be released for both
Old-School Essentials
and
D&D 5E.
His second kickstarter will be for a large campaign book for Dolmenwood with details on the history and background with 184 hexes describe (perhaps expanding into a second book). A player character book and monster book will follow. Dolmenwood can be added as a location in a larger campaign setting if desired.
A fractured fairytale campaign setting, Dolmenwood blends together the creepy, whimsical, and psychedelic into a witch's brew and unleashes it in a mythic brooding forest. This weird eldritch wood is home to otherworldly elf-lords, talking beasts, and flying witches armed with magic to enthrall the helpless wanderers of the forest.
Dolmenwood has been described in zines and adventures so far, but with the upcoming campaign book it will get the deluxe treatment. Gavin has a goal of having a full color illustration for every monster in the eventual Dolmenwood monster book.
Gavin plans parallel development of new rules for
Old-School Essentials
while working on Dolmenwood. He is working on post-apocalyptic rules, advanced monsters and treasures, adventures, and working with third parties for their development of adventures.
Gavin says that all editions of D&D have their own charm, pros, and quirks. All of them are worth checking out and running to experience their different flavors of fantasy roleplaying. He hopes players of newer versions of D&D will experience Basic D&D in Old-School Essentials.
For
D&D 5E
and Pathfinder players, Gavin recommends trying
Old-School Essentials
to find out how older games were run and played all while enjoying a modern layout and careful editing. He has a tremendous respect for the new versions of
D&D
but he also values older versions. He encourages players to try a looser style and engage in discussion between players and GMs as a world is explored through improvisation and description.
This article was contributed by Charles Dunwoody as part of EN World's Columnist (ENWC) program. Please note that Charles is a participant in the OneBookShelf Affiliate Program, an affiliate advertising program designed to provide a means for sites to earn advertising fees by advertising and linking to DriveThruRPG. We are always on the lookout for freelance columnists! If you have a pitch, please contact us!
Last edited: