We've seen
goblins
,
elves and dwarves
; now it's time to take a peek at
Pathfinder 2nd Edition's
small folk -
the halflings and gnomes
! All to be added, of course, to the
Pathfinder 2nd Edition Compiled Info Page!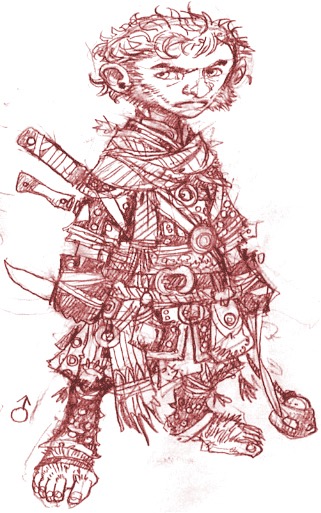 ​
Halflings --

8 racial hit points
Size small; speed 20 feet
Dexterity and Charisma boost, plus one flexible boost; Strength flaw
Ancestry feats --

Distracting Shadows (sneak using large creatures as cover)
Plucky (overcome fear)
Titan Slinger (damage bonus with slings vs. large creatures); also the sling does more damage than in PF1
Lucky Halfling (reroll one skill check or save you critically fail per day)

Gnomes --

8 racial hit points
Con and Cha boosts, plus one flexible boost; Str flaw
Low light vision
Ancestry feats --

Fey Fellowship (more charismatic when dealing with fey)
First World Magic (bonus cantrip with various options)
Discerning Smell (find invisible creatures)
Animal Speaker (talk to animals)

What do ability boosts and flaws do?

"We've mentioned ability boosts and flaws a few times now, so let's go into more detail about how those work! At 1st level, your ability scores all start at 10. Your ancestry then gives you ability boosts, each of which increases the score by 2. Most ancestries get three ability boosts, two of which have to go into specific scores. The remaining free ability boost can go into any score except the two set ones. Most ancestries also get a flaw, which decreases a designated score by 2. You can put your free ability boost in the same score as your flaw if you want to get back to 10."
[FONT=&quot]Save[/FONT][FONT=&quot]Save[/FONT]​
Last edited by a moderator: