An update on D&D from Wall Street.
In the second quarter earnings report, Hasbro called out D&D revenue growth. D&D revenue grew in both analog and digital.
"We take a holistic approach and are pleased with the direction of our digital transformation. For Dungeons & Dragons, which grew in both analog and digital this past quarter, the launch of Dark Alliance did not meet our expectations or that of our players. We'll continue to invest in improving the gameplay in downloadable content. Dark Alliance was a modest investment for us, and we do not anticipate any material effect to Wizards' results," CEO Brian Goldner said on the analyst call
"We continue to invest robustly in digital. Wizards is on track for another record year. And while much of that growth was front-half loaded, we expect growth in the second half of the year behind the positive third-quarter release slate," Goldner said.
Here's a bit from when the CEO was asked about how fast Wizards can grow revenue:
"So starting with D&D and the titles, we are going to have an array of new development in titles. Some come from third parties like, Baldur's Gate, which has performed quite well, and we'll go wide in the next period, probably in 2022. We have a number of games that we have in development.​
Some will have more modest budgets and some have larger budgets as we continue to invest in digital. While the underlying games in D&D have really grown that Drew, and we're just seeing great play, both in face-to-face role-playing as well as digital role-playing. It's really a new area for us as people are playing more online and really building that brand quite considerably. So, again, we feel very good about the slate that we have coming up and the momentum we have in brands like Magic and Arena.​
And as we said, the launch of Dark Alliance was really about listening to the players, giving them more of what they want, more downloadable content, more satisfactory, more immersive gameplay. And look, that's part of the process. And we're fully prepared to continue to invest behind the games. As we think about consumer products, clearly, for the year-to-date period, if you look at the industry data, it was up double digits.​
.
And on the upcoming live-action film and the future of Wizards:
In addition to that, Dungeons & Dragons has its live-action film in production. Currently, the team is doing a tremendous job in delivering that film. That will be for first-quarter 2023, and I've already seen a plan along with the team for consumer products and licensing were out to our global retailers and their entertainment councils. And it's really the shape of things to come as we activate more Hasbro IP and begin to take them into content, stand them up with great storytelling, and begin to activate them across the flywheel and the blueprint.
Then, of course, you're seeing Wizards really in the early stages of unlocking the opportunity there as we begin to achieve that doubling of the size of the business and start to set some new objectives and targets for that brand -- those brands and that business as we go forward. So, overall, this is a very good and important time for us. As we've said, we would return to growth. And it helps us to be as confident as we are in our full-year goals and objectives as well as our medium-range guidance that we provided.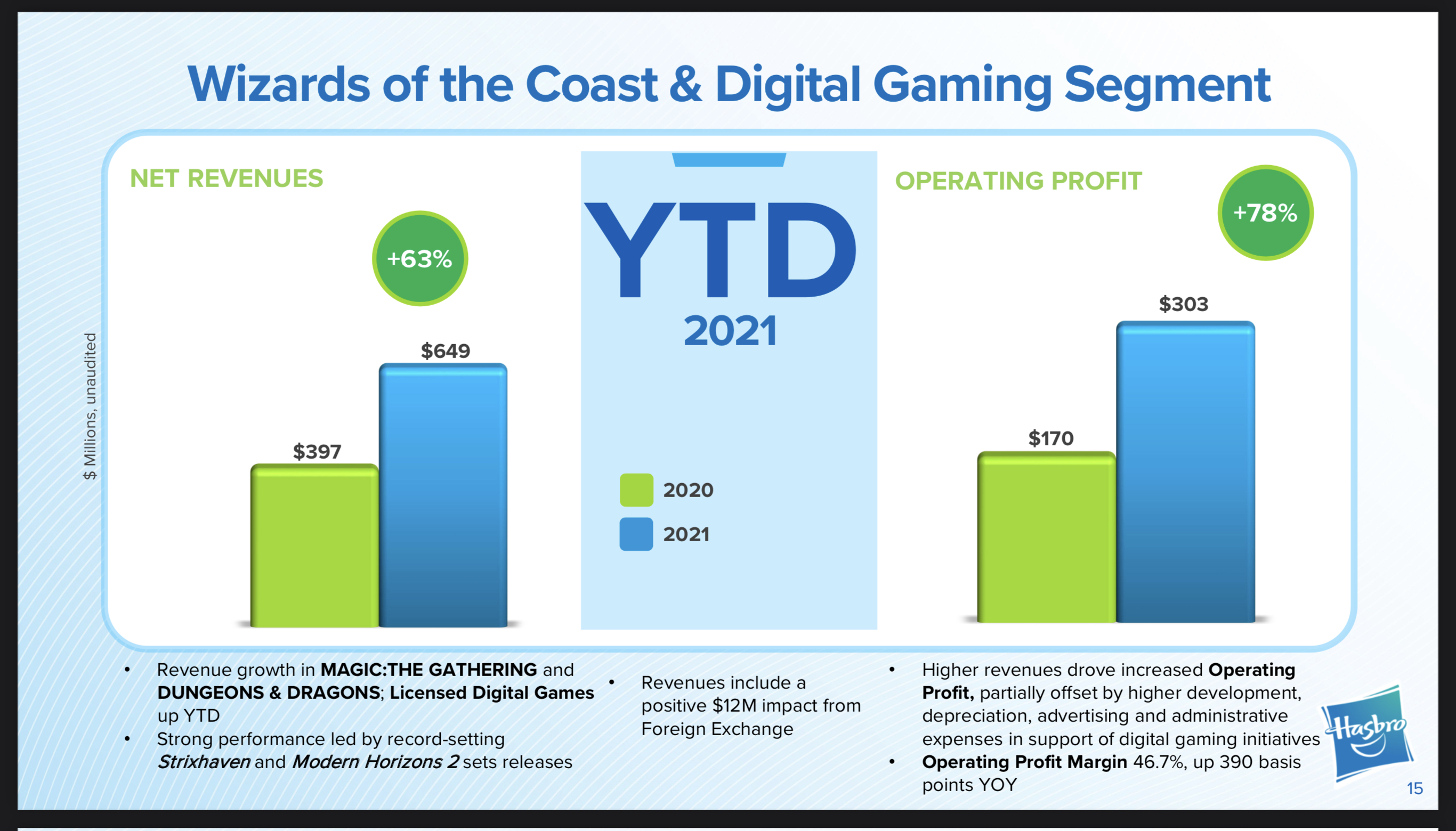 Last edited: